Have you ever scrolled through social media looking at pictures of people having fun together and ended up feeling like you didn't have a friend in the world? Seeing all the Best Friends Forever pictures can make you feel lonely when your kids have the chicken pox, and you haven't seen a living adult soul in 2.5 weeks.
I don't know about you, but I tend to let my happiness revolve around my relationships. Which works well if our family and friends are always perfect and perfectly present to us 100% of the time.
But for most of us, basing our happiness on our relationships is shaky ground. We learned that back in middle school when that girl wouldn't sit with us on the bus. As adult women, we learn it all over again when our husbands just can't quite understand us, or a friend hurts our feelings.
Do you ever wish you had a best friend who would always be there to listen and never let you down?
We forget our most vital relationship is with Jesus.
When we invest solidly in our relationship with Jesus, all our other relationships tend to improve. We feel happier and more peaceful.
In John 15, our Savior calls us friends. Jesus is the only Forever Faithful Friend who never fails to satisfy our needs. Our relationship with Him is the only solid ground we can build our lives on.
Yet sometimes everyday life gets in the way of our relationship with Jesus.
John 15 offers 3 keys to build a deeper, sweeter relationship with Christ.
Abide in Him
"Abide in me, and I in you. As the branch cannot bear fruit by itself, unless it abides in the vine, neither can you, unless you abide in me." (John 15:4)
The Lord knew the challenges and responsibilities of daily life would turn our focus away from Him, so He gave us a key command: abide. When we abide in Christ, we make our home with Him, we remember Him, we talk to Him, and we call on Him when we encounter difficulties too big for us. We rely on Him.
Abiding in Jesus requires that we intentionally turn our hearts towards Him.
Live it out: Seek to abide in Christ today by returning to Him often in your thoughts and prayers. Ask Him to bless and help you in each task. Call on Him each time you have a need throughout the day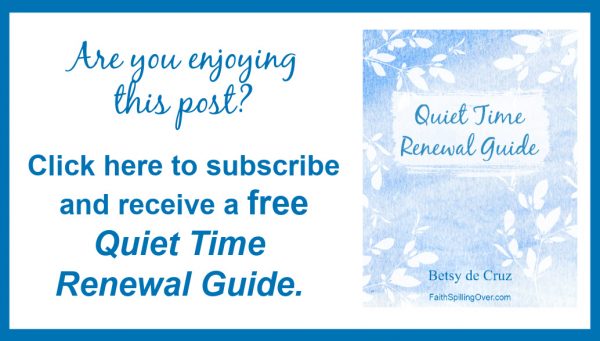 Abide in His Love
"As the Father has loved me, so have I loved you. Abide in my love."  (John 15:9)
Sometimes it's not our own busyness, but disappointment or hurt that gets in the way of our relationship with Jesus. When we remind ourselves over and over again of His great love, we abide in it. To abide in His love, we pour over Scriptures that remind us of it, and we pray, asking Him to make it more real to us.
Live it out: How about taking a moment to sit still, turn your heart towards Jesus, and thank him for His death on the cross for you? Ask Him to pour His love into your heart. Sit with that a moment and pray, "Lord, I receive your love."
Keep His Words
"If you keep my commandments, you will abide in my love, just as I have kept my Father's commandments and abide in his love." (John 15:10)
Have you ever experienced frustration in a relationship when a child or loved one totally disregards your wishes or directions? One way we bring sweetness and health to our relationship with Christ is to obey Him.
To keep His commands, we need to first read and know them. John 14 gives an important hint about keeping God's commands: "Whoever has my commandments and keeps them, he it is who loves me" (John 14:21a). I love that image of having or holding God's commandments. We cannot keep what we do not know, so to keep God's commands, we have to read His Word.
Live it out: One way to jumpstart your relationship with Christ is to set aside 10 minutes each morning to read Scripture and choose one truth you want to obey or put into practice that day.
We can build our relationship with Christ by remembering and putting into practice two simple words: Abide and Keep.
As we seek to abide in Jesus and keep His word, He promises us a fruitful life. When we seek to build our relationship with Jesus first, our other relationships will grow healthier, and our work will bear more fruit. We'll find more joy and peace when we center our lives around Jesus.
Now it's your turn: What challenges make it harder for you to live out a close relationship with Jesus?
Need ideas on how to get more out of your quiet time? I wrote More of God: A Distracted Woman's Guide to More Meaningful Quiet Times to help overwhelmed and distracted women recover a fresh sense of God's presence, learn to hear His voice, and grow their prayer lives. Click on the image below for more info: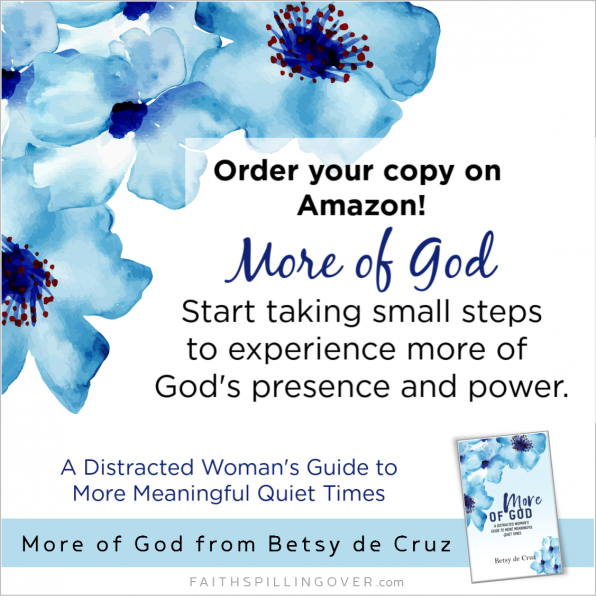 Note: This post contains an affiliate link. If you purchase, I earn a small commission towards the maintenance of this site at no extra cost to you.
Are you facing the challenges of life on an empty tank? Need help renewing your relationship with God?