I come from a long line of stubborn women. I get it from my mother, who got it from her mother. And my daughter? She can hold her own in any argument.  We're a family of hard-headed women.
I just hate to admit I'm wrong, and that's not such a good thing for relationships. (Ask my dear husband.) But being able to own our shortcomings and apologize improves communication and builds healthy relationships, especially with God.
Repentance is key to relationship with God
Repentance is a place I'd rather not go. I mean, who wants to bring up their own mistakes? But confessing our sins to God is a key to forgiveness. It's the door to entering His presence, and it's a vital step to spiritual refreshment and growth.  Acts 3:19, 20a  says it better than I ever could:
 God's Invitation:
No matter how much I complain and whine on the freeway at 5 o'clock, no matter how resentful I get during a conflict with my husband, God's arms are open wide. No matter how much my attitude stinks, God wants me. He waits for me to turn to Him even when I doubt His love for me. I have an open invitation to return and repent.
God's Gift:
If I get the grumps and walk around for days stressed out and snapping at my people, junk builds up inside me. When life's trials get tough, my burdens grow heavy.
Repentance offers a chance to lay it all down at the cross. When we confess our sinful attitudes and actions, God forgives. Having our hearts wiped clean brings relief.  There's something life-giving about getting on the same page with God and agreeing with Him that we're sinners. It frees us to enter into His presence more deeply; we receive  mercy and grace.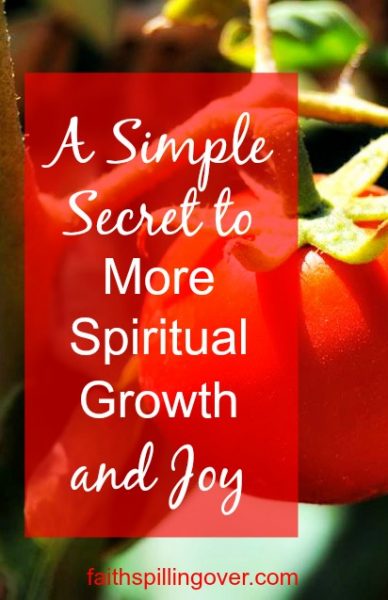 Repentance is a door to Joy and Growth
The power of repentance became real to me during a bout with depression several years ago. It was the year I prayed earnestly in January for more joy. By March a dark cloud of depression set over me. It settled and stayed 6 months. I could hardly believe it. I kept ranting at God, "THIS is how you're answering my prayer for more joy!??"
After many dark months, I felt drawn to repent for my joyless attitude towards life. [I don't mean to imply depression is sin; please see note below.] I asked God to forgive my lack of gratitude for His gifts, and I began to look for things to thank Him for. I repented of my blindness to the beauty of life, and I began to look for little things to enjoy each day. I prayed, "Lord, help me to enjoy you and the life you've given me."
Each morning, I started my quiet time by repenting from anger, self-pity, whatever came to mind. Little by little, my outlook changed, and life looked brighter. God began to free me from depression. Six weeks later, it was totally gone.
Repentance is a game-changer. It can help us navigate through hard times and come out stronger on the other side. Repentance can turn around a sour attitude or an ungrateful, complaining heart. It can bring about breakthrough in relationships, and it helps us grow closer to God.
Now it's your turn: Thoughts?
Note: Friend, I don't mean to suggest that depression is sin, or that it's your fault if you're depressed. I'm simply sharing my own experience. Clinical depression can have both physical and spiritual causes; God can use counselors and doctors to help alleviate it.