I didn't even notice the sounds of explosion and gunfire because it had been raining and thundering all day. But when my husband walked in the door and said, "There's been an explosion nearby!" I jumped.
"Are you sure it wasn't thunder?" I asked.
"No, it wasn't. Don't you hear the sirens?"
I realized I'd heard it after all. I could pinpoint the moment I heard abnormally loud, close thunder. A half hour had gone by, but we could still hear ambulance sirens from the streets around our house.
"Where's Andres?" Jose said. "Call him, and tell him not to come this way."
My son was having coffee with a friend, and he didn't respond to my call. For the next few minutes, all I could do was hope the explosion hadn't happened anywhere near him. Jose turned on his computer, and we learned that it was in the other direction from where Andres went to meet his friend. My relief faded when we read it was a terrorist attack that killed three people and wounded seven.
I was shocked to realize it happened one mile from my home.
The rest of the afternoon I was on edge. I talked to my daughter at home to make sure she felt okay. I called several friends to check on them. I tried to reassure a younger woman in tears on the phone. I didn't have any good answers to her silent question: "If God is real, why does He let this happen?"
All I knew was to say was this: "God is our refuge and strength, an ever-present help in trouble." (Psalm 46:1) And I kept saying it over and over to myself all afternoon.
All I could pray was one word: "Jesus."
And He came. I couldn't see Him, but my heart knew He was there. All it took was one word from me, and Jesus knew what I needed better than I did myself. He calmed, comforted, and strengthened me.
Have you been in situations where your heart is so overwhelmed that words fail?
Friend, your world might look different than mine, but you know as well as I do that life can explode in your face. Your child has an accident or your husband sends a text you never imagined. Your boss asks to speak with you or your doctor calls with bad news. Sometimes even the stress of daily life leaves us feeling choked and powerless.
When words fail, one word is all we need: Jesus.
His name is above all names and it holds more power than any name on earth or in heaven.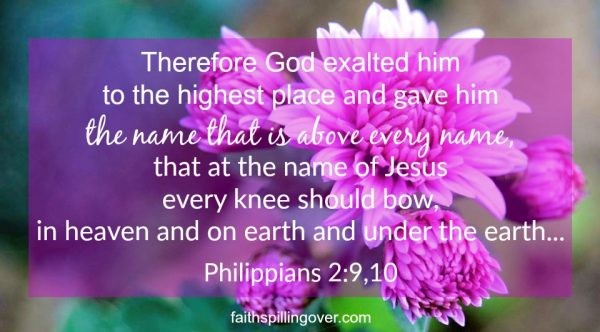 So if you're feeling overwhelmed today, call out one word: Jesus.
Jesus, come be with me.
Jesus, calm my fears.
Jesus, quiet my heart.
Jesus, meet the needs that only you know about.
Empower me now.
If stress has beat you down during a busy season or a life challenge has knocked you down, pray the name Jesus. Even if we're just having a bad day, we can call on His name. He knows better than we do what we need right now. He'll come and meet us wherever we are.