Do you ever fall into a spiritual rut? You read the Bible, but you're just not feeling it. You try to pray, but your mind wanders instead. It's easy to fall into a pattern of reading Scripture on autopilot or skipping it altogether because we're busy. We rattle off our prayers and wonder if God really hears.
I've lived through spiritually dry times too. I know what it's like to battle distraction when I try to pray or read Scripture,  That's why I wrote a book to help busy, distracted women like me discover small steps to renew their relationship with God. I want to share with you a few ideas from my book, More of God: A Distracted Woman's Guide to More Meaningful Quiet Times.
Morning Time with God Serves as a Springboard to More of God in the Rest of our Day
When we set aside daily time to focus on God through Scripture reading and prayer, we learn to recognize His presence, hear His voice, and relate to Him. Those lessons we learn spill into the rest of our day. If we spend even 5 or 10 minutes focusing on God in the morning, it's easier to recognize Him later in the day. When we hear His voice through Scripture in the morning, it's easier to hear Him later in the day.
Yet, we don't want to just check off a box and say we had a devotional time. We want to have the kind of relationship with God David talks about here: 
4 Ways to Make Time with God More Meaningful:
1. Treasure God's Presence
Often we view our quiet time primarily as an opportunity to read Scripture. Yet our time with God is not only to read His word, but also to enjoy His presence. My friend Lisa Apello says it well, "God's Word brings us into His presence."
What helps you sense God near you? Silence? Music? Reading a Psalm? Lighting a candle? Pray that God will open your eyes and heart to His presence with you during your quiet time.
What if we take time to fully savor that Presence? Let's be silent before God and behold His power and glory with our spiritual eyes. Let's open our hearts to receive His love. And when worship wells up inside us, let's not hold back.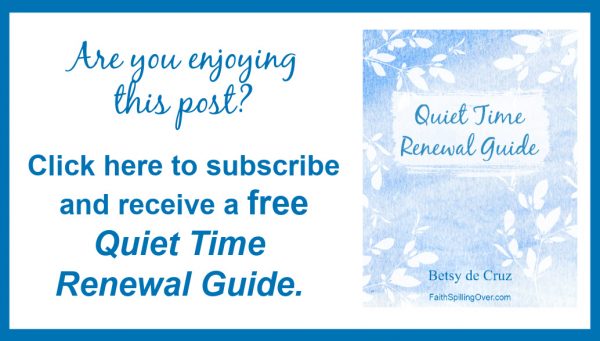 2. Ask God to Speak
As you enjoy His presence, prayerfully ask God to speak to you. What is God showing you as you read Scripture or listen to a worship song? What word of encouragement or challenge speaks to your situation? How might God be calling you to respond? What difference might that make in your day?
Don't be afraid to ask God questions. Ask Him to guide your decisions and lead you down the right path.
3. Keep a Record
God's words to Habakkuk encourage me: "Write down the revelation and make it plain on tablets" (Habakkuk 2:2). After reading Scripture, the most life-changing, faith-building spiritual habit for me is journaling. (But I use paper rather than clay tablets.)
Now before you roll your eyes and think, "No way I have time for that," remember journaling doesn't have to be rocket science. Recording even one line a day about what you sense God speaking to you will help you grow.
Writing down one sentence or recording one verse of Scripture gives you something to
Remember as you start your day.
Return to later, maybe at bedtime.
Review the next day. I love starting my quiet time each day by glancing back at the one line I wrote the day before.
4. Turn It into a Prayer for Your Day
Turning that one thought or verse into a prayer for ourselves or our loved ones helps us carry it into our day. I often write a one-line prayer in addition to my one thought, but you don't have to. Take a moment just to pray through the thought or verse you wrote. Praying the words of Scripture unleashes God's power over our day.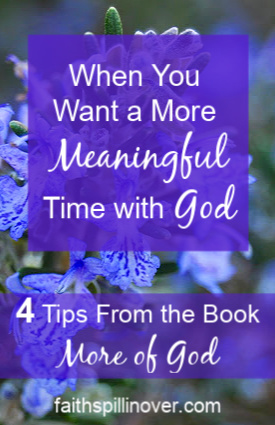 More of God in our Quiet Time and in the Rest of our Day
Small steps can help us to experience more of God's presence and power. When we hear His voice in the morning, it can affect the rest of our day if we carry those words with us. As we sense God's presence with us during our quiet time, we can draw near to Him again later in the day. I invite you to join me friend; let's discover More of God in our quiet time and in the rest of our day.
Now it's your turn: what helps you get more out of your time with God? Which one of these 4 ideas do you like best?
Note: Want more ideas on how to get more out of your quiet time and grow closer to God? Do you battle distraction when you try to read the Bible or pray? Click on the image below to check out my book, More of God: A Distracted Woman's Guide to More Meaningful Quiet Times.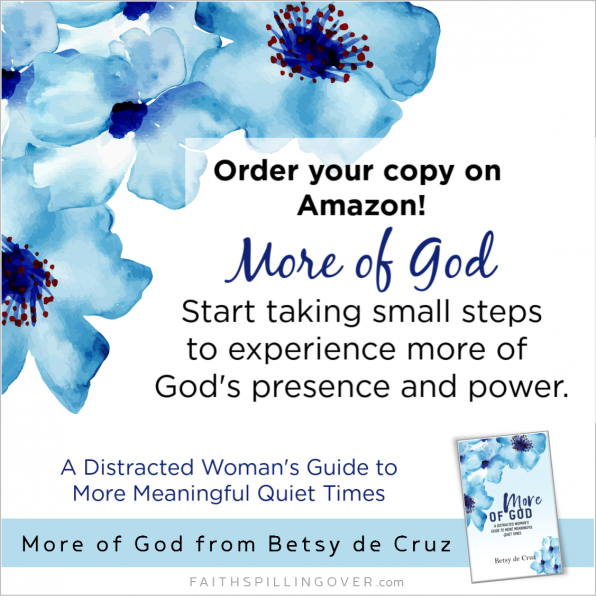 Are you facing the challenges of life on an empty tank? Need help renewing your relationship with God?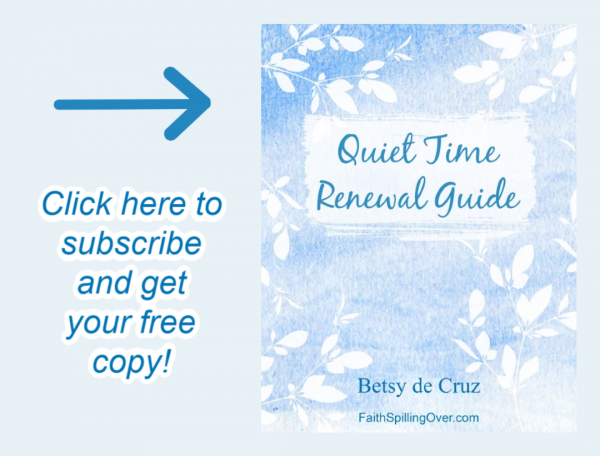 Note: This post contains an affiliate link. If you purchase, I earn a small commission towards the maintenance of this site at no extra cost to you.