7 Helpful Ways to Listen to God
Years ago I dreamed of learning to play the piano. I envisioned my fingers dancing across the keyboard making beautiful music.
And then I started taking lessons. 
Learning to read music was like learning a new language. My brain was slow to translate the notes to my hands. Fingers stiff and cumbersome, I plodded. I stumbled and plinked, making many mistakes.
Definitely not the beautiful, free-flowing music I had imagined.
When it comes to spiritual growth, learning to listen to God is also a process that takes time, intention, and effort. Because we can't see God, and most of us don't audibly hear Him, it can be frustrating to recognize His voice. Developing our spiritual ears is much like learning many new skills. 
For years, I would hear someone talk about hearing God in a way that made me feel like a second-class Christian. I wondered why God didn't speak to me in the same way.  It was easy to feel impatient with the process of spiritual growth.
Beyond the borders of the pages of the Bible, God also speaks through our thought, intuition, and conversation, as well as through the preaching of His word and the wise counsel of other Christians.
As we grow in our relationship with God and get to know Him through His Word, we begin to recognize how He communicates with us. The more we know Him, the more we make intentional choices to trust Him moment by moment. 
7 Helpful Ways to Listen to God
1.  Believe God desires to speak to you.
Trust God with the process and be willing to learn at His pace. Set aside your expectations and let God know how much you want to hear from Him. Remember that He is your heavenly Father who loves you deeply.
2.  Cultivate quiet.
The world is a noisy, busy place, and so is our mind. When our thoughts race with too many concerns, we struggle to focus and listen.
There are two dimensions of silence—external and internal. I'm learning to be still,  physically, mentally and emotionally. This isn't always possible, but it's worth the effort. 
"My soul, wait in silence for God only,
For my hope is from Him."—Psalm 62:5
To wait for God is to be still, to make quiet, to stop, to rest, to quiet myself and to hold my peace. Waiting for God instead of allowing our thoughts and emotions to spiral helps us to hear God more clearly.
3.  Read the Bible as a conversation with God.
The Bible is God's Word to us. As we read, we are hearing from God as the Holy Spirit begins to engage our minds, drawing our attention to particular concepts. Meditating on the truths God brings to our attention is a way of continuing the conversation.
When the Spirit impresses God's Word on your thoughts, it strikes a chord. When a concept or phrase resonates or stands out, the Holy Spirit speaks the Word of God to accomplish God's purpose.
4.  Rely on the Holy Spirit to be your helper, teacher, and guide.
Listening begins with God. His Word is living and active through the work of the Holy Spirit (Hebrews 4:12).
Ask the Spirit to open your ears and empower you to perceive God's words to you. "He awakens My ear to listen as a disciple."—Isaiah 50:4b
Over time, we notice the difference between God's voice and other voices because of the truth, content, wisdom, and clarity of the thought.
5.  Pray God's Word.
Let the words of a passage guide or inspire your prayer. As the Spirit helps us to pray, He brings situations, people, truths, praises, or confessions to mind. This is an organic way of hearing from God. We respond by praying for what He brings to mind.  
6.  Ask God questions.
Questions are a powerful way to go beyond the surface. They invite exploration and discovery as well as deeper intimacy with God.
 We can ask God questions about what we are reading in the Bible:
What does this word mean? And then look up the word. 

What do you want me to understand about this passage? 

How does this concept apply to my life?
  We can also ask questions about our thoughts, feelings, and struggles:
Is there anything you want to show me about this situation? 

How can I look at this from your perspective?

Why does this situation bother me so much? 

What is this really about? 
When God speaks, it always agrees with His Word and His character. As we learn more of God through regularly reading and studying the Bible, we discern His voice more easily.
7.  Keep a journal.
There is both a spiritual and a neurological connection between the physical act of writing and understanding. An intuitive process, journaling can be a form of listening as we express and explore. God often uses writing to help us listen as the Spirit works through our thoughts, discoveries, and insights.
To sum it up, listening to God is a relational journey rather than a race.
God is working in every aspect of our spiritual lives. Learning to recognize His voice is process of growing in faith, experience, and recognition over time. But it all begins with a daily choice to seek God and listen for His words. (You can find many more ideas for spiritual growth in my book, Holy in the Moment.)
I still struggle to listen to God at times, but He has taught me many ways to listen. I trust that He will enable me hear, understand, and respond in His timing. I'm learning to be willing to wait for Him without finding fault with myself.  In other words, I'm learning to trust God with the process one moment at a time.
Now it's your turn: What helps you to listen to God?
More about Ginger:
 Selah-award finalist, Ginger Harrington is the author of Holy in the Moment: Simple Ways to Love God and Enjoy Your Life.Connect with Ginger to get a free Emotional Health workbook, read a  chapter of her book, and other resources for spiritual growth at GingerHarrington.com. A dynamic speaker, she is the wife of a retired Marine and mom to three young adults.  Helping women discover biblical ways to experience wholeness and healing in Christ, Ginger also directs publishing for Planting Roots: Strength to Thrive in Military Life.
Are you facing the challenges of life on an empty tank? Need help renewing your relationship with God?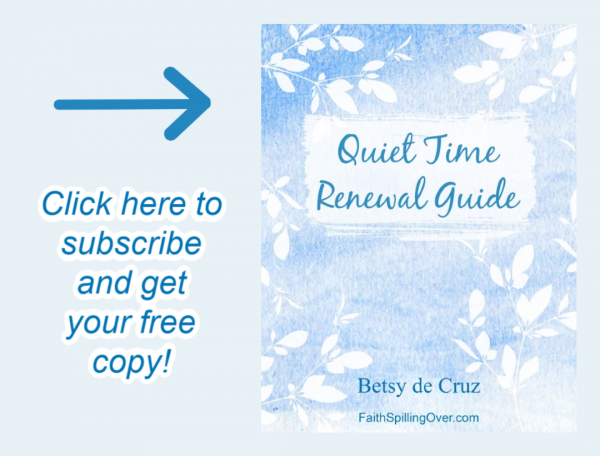 Note: This post contains an affiliate link. If you purchase a book, I earn a small commission towards the upkeep of this site at no cost to you.