As I pull into the garage at 6:15, I try to think of the fastest way to turn raw chicken into dinner, and I wonder if I can call my insurance company and do laundry at the same time. I know Jesus is the Prince of Peace, but just when I think His peace is reigning in my heart, my schedule takes a turn down the fast track. How to simplify life when it gets overwhelming?
If you are alive today—and I think you are since you're reading this post—you can probably relate to the feeling of overwhelm when life gets busy and you try to juggle responsibilities. I imagine you have your own mix of work, family, friends, and personal commitments.
Here's my story: Two weeks after my daughter got married, I started a new full-time job 45 minutes from home. I am so grateful God gave me this opportunity, but some days it feels like my commute, job, house, family, and writing all add up to overwhelm. I try to keep all the plates spinning.
You have your own plates to keep spinning too, don't you?
When Jesus said His yoke was easy and His burden was light, I don't think He had in mind that we'd be running around in circles trying to do all the things.
How can we simplify life and evaluate our priorities?
We know we need to simplify, but everything seems equally important, and we're not sure what to let go of. We overextend ourselves. How to lay it all down and carry only the light burden and easy yoke Jesus talked about when we've already taken on more than we can carry?
The Lord speaks to me again and again through one of my favorite Bible stories, the one about Martha and Mary. Martha welcomed Jesus into her home, but then she got "distracted with much serving" while her sister Mary "sat and the Lord's feet and listened to his teaching." (Luke 10:39,40)
When I listen to Jesus' voice speaking to Martha, I imagine he's saying my own name: "Betsy, Betsy, you are anxious and troubled about many things, but one thing is necessary." (Luke 10:41,42b)
What about you, friend? Maybe you hear Jesus saying your name too.
It's so easy to get anxious and bothered over all the details of our lives: the needs of our families, responsibilities at work, house chores, grocery shopping, car maintenance, and even taking care of the dog. Sometimes our commitments distract us from the one thing that helps us simplify life.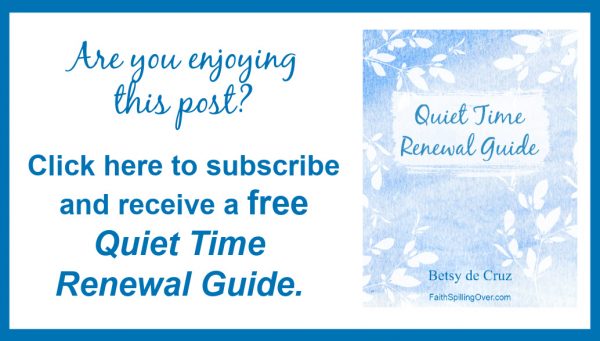 Only one thing is necessary: abiding in Jesus.
When we make abiding in Jesus our number one priority, we see our other responsibilities in light of that. As we go about our day, He'll show us what to do and what to let go of. We'll understand our priorities better when His Holy Spirit leads us. We may not be able to get through everything on our list today, but we can still focus on one thing that is most important: abiding in Jesus.
At the end of the day, we can let go of what we couldn't get done because we can trust Jesus was leading us.
When abiding in Jesus becomes our first concern, we can handle challenges with more grace. Jesus renews our peace, gives us wisdom for our next right thing, and enables us to navigate our priorities step by step.
Friend, what are the many things that distract you today?
This journaling exercise might help you simplify life:
Take a moment to prayerfully read Luke 10:38-42.
Make a list of all your responsibilities and concerns.
Surrender them to the Lord one by one.
Then write, "One thing is necessary: abiding in Jesus."
How could walking closely with Jesus change the way you view each thing on your list? How does it reorder your priorities?
When abiding in Jesus becomes our first priority, everything else falls into place.
Now it's your turn: Can you relate to feeling overwhelmed? What helps you simplify life?
Are you facing the challenges of life on an empty tank? Need help renewing your relationship with God?