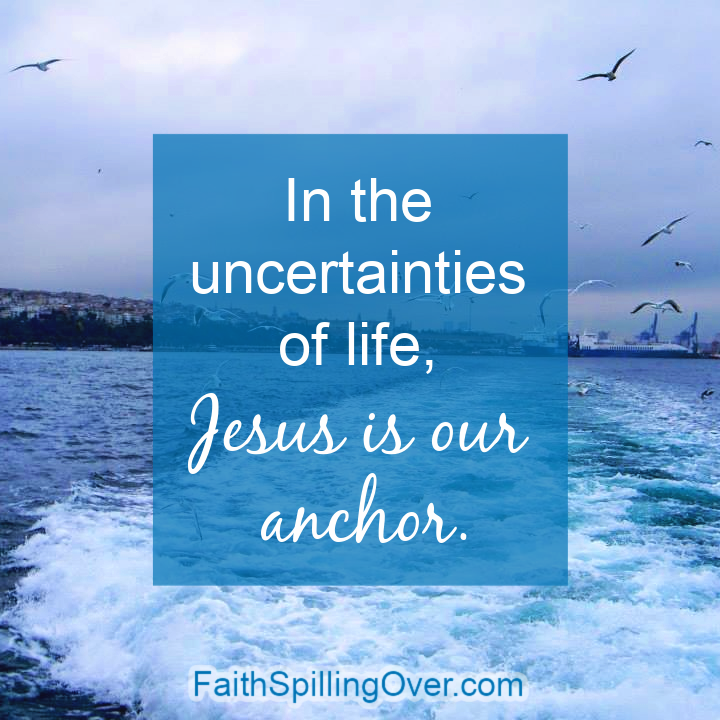 I wondered what on earth was happening when my husband came home from work to interrupt our homeschool co-op and ask me to take him to the hospital. He'd turned on his computer at the office to Google the weird symptoms he'd waken up with that morning and realized the tingling down the right side of his body might mean a stroke. How do you calm your heart as you grab your keys to take the man you love to the hospital?
My heart lurched again a few hours later when the doctor said, "Your husband has had a mini-stroke, and we need to keep him in the hospital overnight." Suddenly, the man who'd always taken care of me was lying in a hospital bed with a lop-sided smile.
The first days back home from the hospital, my husband's mental vagueness scared me. Would he be like this forever? Was this permanent? Thankfully, he got better with each passing day and fully recovered, but for a few weeks, our future looked uncertain.
I'm sure you know what it's like to fear uncertain circumstances.
We're living in uncertain times. If we'd known about a pandemic, maybe we could have planned for it, but now parent after parent tells me they don't know what's happening with their child's school or even with their own job.
Life would be easier if we could plan for challenges before they occur, but just when you think you know what's coming next, the unpredictable happens. How do you calm your heart when it starts doing flip flops inside your chest because everything around you is changing?
How do we cling to faith in God our Rock when life shakes us up?
In the uncertainties of life, Jesus is our anchor.
Jesus Christ is the same yesterday and today and forever. (Hebrews 13:8) Nothing can change the plan Jesus has for us:
You may have lost your job, but that can't alter Jesus' plans to give you a future and a hope.
You may feel alone in your present challenge, but that can't change the promise Jesus made to be with you forever and help you overcome.
Even death, our worst-case scenario, cannot take away the eternal life we will enjoy with Jesus.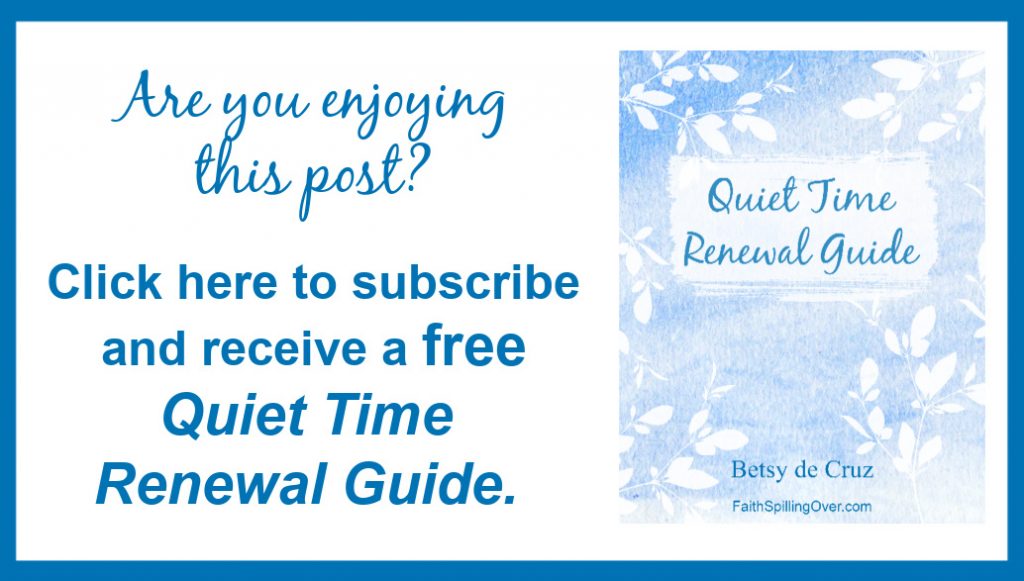 The disciples were certainly not expecting a storm when they set out to cross the Sea of Galilee one late afternoon after Jesus fed 5,000 people. They probably weren't expecting Jesus to wait until the fourth watch of the night to come to them in their time of need. (See Matthew 14:22-33.)
The story of Jesus walking on water illustrates 3 principles that help us calm our hearts when we fear the unknowns of life.
3 Ways to Calm Your Heart When Life Looks Uncertain:
1. Keep Your Eyes on Jesus.
"when He saw the wind, he was afraid, and beginning to sink…" Matthew 14:30a
Jesus is the water walker, but for a few miraculous moments, Peter also walked on water when he responded to his Master's call. However, when Peter turned his focus to the wind, he got scared and started to sink.
It's the same with us. When we keep our eyes on Jesus, we remember He stands above anything we might fear. Jesus rules over all our uncertain situations, and He has the power to calm our hearts and help us through any storm.
2. Call on Jesus.
"…he cried out, Lord, save me." Jesus immediately reached out his hand and took hold of him." Matthew 14:30b
We can learn an important life principle from Peter: When you begin to sink, call on Jesus.
I can't imagine the fear Peter experienced when he felt himself going under, but maybe you are feeling panicked yourself. Maybe life has brought you a challenge you never planned for, and bills have rocked your boat, or your child's illness has shaken your faith.
Call on Jesus today. He will reach out and take hold of you. He will steady your heart, fill you with His Spirit, and renew your hope. Call on Jesus. He is waiting to help you and hold you close.
3. Ask Jesus to Guide Your Next Step.
"And when they got into the boat, the wind ceased." Matthew 14:32
The Scripture doesn't tell us how Jesus got Peter back into the boat. Did Jesus carry Peter or take him by the hand and lead him step by step across the water? Either way, Jesus got Peter where he wanted him. All Peter had to do was trust Jesus to get him back into the boat, even though the storm hadn't stopped yet.
Friend, you may not know how your unpredictable situation will turn out. But even if you have no idea what will happen tomorrow, you can trust Jesus to show you what to do today.
Your next step may be as simple as getting out of bed. It may be praying one more prayer or going to work one more day. Your next step might be cooking dinner for your child in trouble. Or leaving a light on for him tonight. Ask Jesus to show you.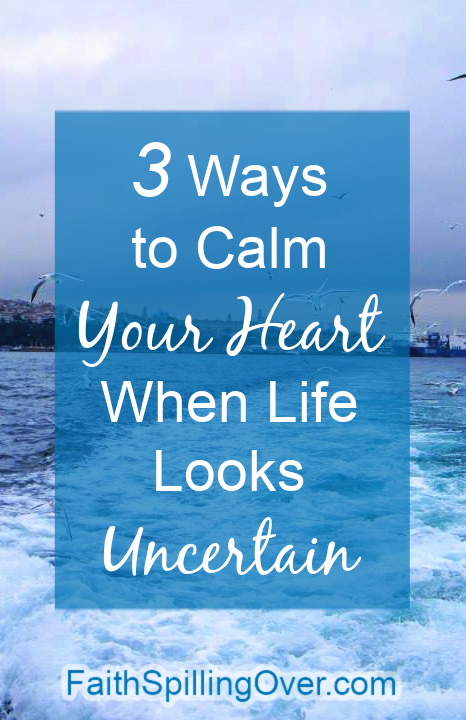 When we face uncertain times, our Savior is our anchor.
Let's keep our eyes on Him, call on Him, and follow Him as He guides our next step.
Now it's your turn: Are you facing an uncertainty? Which one of these steps speaks the most to you right now?
Are you facing the challenges of life on an empty tank? Need help renewing your relationship with God?