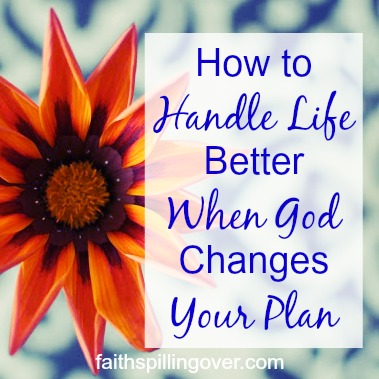 Sometimes life brings circumstances you didn't plan or hope for, and how do you handle it when God changes your plan?
I'm an organizer by nature. I love to make plans and to-do lists. But 9 times out of 10, my plans don't turn out quite as I expect. I might be skipping through my day making progress on my projects when God allows a change in my situation:
The car breaks down.
A child gets sick.
I get an emergency phone call.
I'm sure these things happen to you too, and I hate to admit sometimes I get bent out of shape when things don't go according to my plan. But I'm growing and trying to learn to adjust my expectations and accept each day as it comes.
We may not like the small setbacks that crop up in our day, but we can trust God's plan. We can trust Him to use those little disturbances to form Christ in us. I want to let go of my agenda graciously when God sends an interruption my way.
Sometimes God changes more than our agenda for the day.
Major events can change the course of our lives. When I was single, I planned to start a new job, yet instead I got severe rheumatoid arthritis and six months at home. When I was 28, I got engaged, but my fiancé changed our plans. We didn't marry until four years later.
Circumstances we don't plan or want have a way of showing up in our lives. We don't plan on infertility. We never plan to get laid off or have a child who struggles with depression, but even in heartache, we can rest knowing the God who loves us has ultimate control over our lives.
How can you move forward when God changes your plans?
1. Trust God's Love for You
"The LORD's unfailing love surrounds the one who trusts in him." (Psalm 32:10)
Even when we can't understand God's plans, we can trust His perfect love for us.  When life turns topsy turvy, we can rest safely in God's love. We can trust Him to work for our good and provide our needs while we wait to understand His plan.
2, Surrender Your Expectations
For me, the first step to moving forward with God when my plans go wrong is to let them go. When I surrender my own expectations, I'm freer to realign myself with God. Something about saying, "Your will be done" helps me get to the place of yielding myself to God's design.
3. Pray
"On the day I called, You answered me; You made me bold with strength in my soul." Psalm 138:3, NASB
When life takes an unwanted turn, we find the grace, hope, and strength we need to endure through prayer. Asking God for wisdom and patience to do "the next right thing in love" can change our hearts.**
4, Trust Him for Your Next Steps
"He guides the humble in what is right and teaches them his way." Psalm 25:9
Sometimes our next step in the midst of change is to stop and grieve, resting in God's love. Sometimes we need to move forward. In the midst of unplanned and unwanted circumstances, God gives us the grace and guidance we need.
Friend, if you're dealing with unwanted change in your life, may I encourage you to remember your Savior sees your struggle?
With loving compassion, He'll stay by your side as you learn trust and surrender in your situation. In His timing, He'll give you wisdom you need to take the right steps forward into the beautiful plan He has designed for you.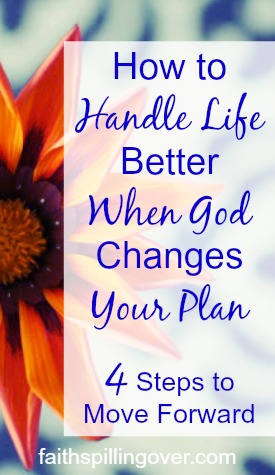 Now it's your turn: Have you experienced an unplanned change in your life recently?
**"Do the next right thing in love" is a phrase from the dear and delightful Emily P. Freeman's The Next Right Thing podcast.
If you'd like fresh servings of Faith Spilling Over delivered weekly to your inbox, enter your e-mail address in the box in the sidebar. I'd love to send you my free guide, 10 Days to More. You'll find 10 ways to study and engage with God's Word.
Linking up with Jennifer Dukes Lee's #TellHisStory, Holley Gerth's Coffee for your Heart, Crystal Storms' #HeartEncouragement,  Brenda Bradford Ottinger's #ChasingCommunity, Lyli Dunbar's #FaithonFire, and Arabah Joy's Grace and Truth. Check out these communities for more encouragement.