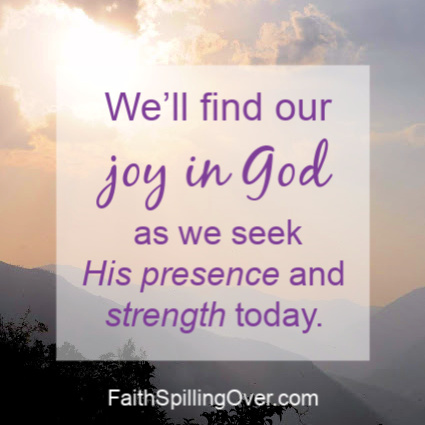 For almost a year, I let my own attitude ruin every Monday. Instead of the joy and strength God wants for me, I made Monday a day of stress and exhaustion! I dreaded Monday. I complained about it to anyone who would listen.
You see, I felt like everything piled up on me at the beginning of the week. As well as teaching prep for my online tutoring job, I had a weekly blog post to write and graphics to create. I tackled my email. After a full day, Monday ended on a stressful note as I rushed to make dinner, act like a human towards my husband, and hunker down at my computer for an 8:30 pm tutoring appointment.
Rather than give thanks for my part-time job, I complained about it. Each Monday night, I'd fall into bed giving thanks the day was over instead of giving thanks for God's faithfulness. Until I realized something important.
My own attitude ruined my day.
My day was not ruined because I had a lot of work. My day was ruined because I stressed over it. Do you ever do this? I imagine your tasks and workflow look different than mine, but do you find yourself complaining about your circumstances or a job you must do?
For me, the first step was repentance. I asked God to forgive me and help me transform my day by transforming my attitude. In the weeks that followed, God began to show me secrets to joy from the Psalms. I'm sharing them with you here in case you—like me—struggle to find joy.
1. Take Joy in Your Work
Let's face it: we spend a lot of time working, so we might as well enjoy it. God rejoices in His work! He finds joy in productivity and creativity; He made us to glorify Him through our work.
When I focus on how much I enjoy my online students—how much I delight in helping women grow their faith through God's Word—Monday becomes a day when I get to do those things.
What has God given you to do, my friend?
2. Find Joy in the Lord
When I seek to find joy in my Lord, He transforms my attitude. I feel ashamed when I think of how my ranting and complaining bring sorrow to God rather than pleasure. The Lord blesses me with work, provision, a family, and a ministry. My life overflows with His goodness. When I rejoice in Him, my thoughts—Psalm 104 calls them "my meditation"—become pleasing to God.
Psalm 105 reveals 2 additional secrets to more Joy:
"Glory in His holy name; Let the hearts of those who seek the Lord rejoice!         Seek the Lord and His strength; Seek His presence continually." (Psalm 105:3,4)
3. For More Joy, Seek God's Presence
When we make seeking God our top priority, it transforms the way we view our lives. We get to spend our days with Jesus. We get to seek His presence. We have the privilege of hearing His voice through His Word, praying, and turning to Him for comfort in our troubles.
The Lord fills us with renewed joy in His presence; we recognize our cup overflows.
4. Seek God's Strength
Even when we seek to live out our days in God's presence, some days are tough. Some days our lives burst at the seams with unfinished tasks, our hearts ache through the trials, and our shoulders sag under the weight of it all.
We need God's strength.
When we seek His strength, we find it. When we seek His Holy Spirit, God pours it out. His power rests upon our weakness. Before we know it, we get through a hard day or a hard season.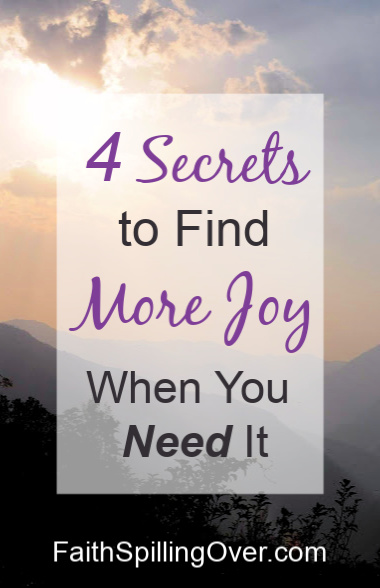 What I learned about Monday is spilling over into the rest of my week. Seeking more of God is the path to more joy. He holds the secrets to a more joyful attitude. Let's thank Him for our work. We'll find our joy in God as we seek His presence and strength today.
Now it's your turn: What helps you reset a negative attitude? Do you have a favorite Bible verse about joy?

Need ideas on how to get more out of your quiet time? I wrote More of God: A Distracted Woman's Guide to More Meaningful Quiet Times to help overwhelmed and distracted women recover a fresh sense of God's presence, learn to hear His voice, and grow their prayer lives. Click on the image below for more info:
Note: This post contains an affiliate link. If you purchase, I earn a small commission towards the maintenance of this site at no extra cost to you.
Photo credit: Melika