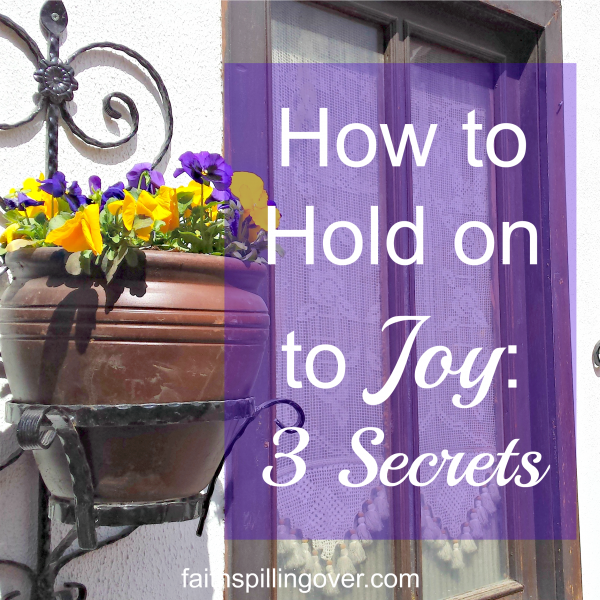 Joy might be the most important ingredient for an abundant life in Christ, yet it's the one we lose most easily. I should know. I lost mine at the mini-mart last Thursday.
I'd hoped to make a lightning-quick convenience store run to pick up a few items I needed. As I zoomed my cart up to the check out, the woman in front of me was just paying for her order. "Perfect," I thought. "I'll be out of here in no time."
However, the lady then asked for cigarettes. She got out a bank card to pay for them, but the machine wouldn't take it. The checker proceeded to just wait. Five minutes turned into fifteen as he kept trying her card. Only one register was working, so other customers lined up behind me.
I'd love to say I stayed calm and kept smiling, but instead I started fuming. I let thoughts like these occupy my mind: Why doesn't he wait on the rest of us before trying her card again? Why don't they open another register?
Ten minutes later, I huffed out of the mini-mart. I'd left my joy behind somewhere between the candy and the batteries at the check-out line.
I bet you've experienced similar hassles.
The automatic teller machine eats your bank card. Your flight is late. Your kids fight. You burn dinner. Of course these are minor trials, but irritations like these can threaten to ruin our days if we let them.
Just like we do, the apostle Paul must have experienced minor annoyances as well as more serious life challenges. In fact he penned this bit of advice from a Roman jail. It's as fresh today as when he wrote it 2000 years ago: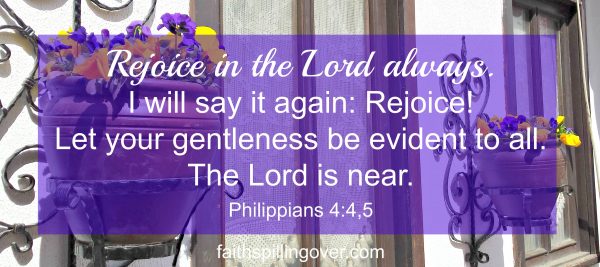 Philippians 4:4-5
More powerful than dynamite, this one little verse contains three secrets to hanging on to joy:
1. Rejoice in the Lord
Even in the waiting room at the doctor's office, we have reasons to rejoice if we look to the Lord and remember all He's done. Choosing to count God's kindnesses instead of complaining can turn a bad day around when things go wrong. No matter what happens today, you have reasons to give thanks. If you've put your faith in Christ, you're deeply loved, completely accepted, and fully forgiven.
2. Let your gentleness be evident to all
Maybe nothing steals our joy quite like encounters with problematic people. You know them. They're the ones like me in line at mini-mart: tired and grumpy. It's counter-intuitive, but gentleness can be our strongest weapon for diffusing blow-ups with difficult people. When the heat is on, a gentle word and a firm refusal to take offense can cool us down and calm the atmosphere. What if we made an extra effort to be gentle the next time our kids fight or when that person at work gets on our nerves?
3. Remember the Lord is near.
What comfort it brings to remember that God is near to us whether we're waiting at the auto repair shop or at the funeral home.  In His presence is fullness of joy. We can rest secure knowing that no matter what comes across our path, God is just a prayer a way. He's got you covered, and He'll respond quicker than you can call.
No matter what difficulties or irritations we stumble upon today, let's look to the Lord for reasons to rejoice. Breathe deep and let your gentleness shine. Remember God is with you.
Now it's your turn. What helps you hang on to joy during life's little irritations?
If you'd like fresh servings of Faith Spilling Over delivered weekly to your inbox, enter your e-mail address in the box in the sidebar. I'd love to send you my free guide, 10 Days to More. You'll find 10 ways to study and engage with God's Word.
I'm linking up with Holly Barrett's #TestimonyTuesday, Kelly Balarie's #RaRaLinkup, Holley Gerth's Coffee for your Heart, Crystal Storms' #HeartEncouragement, and Arabah Joy's Grace and Truth. Check out these communities for more encouragement.