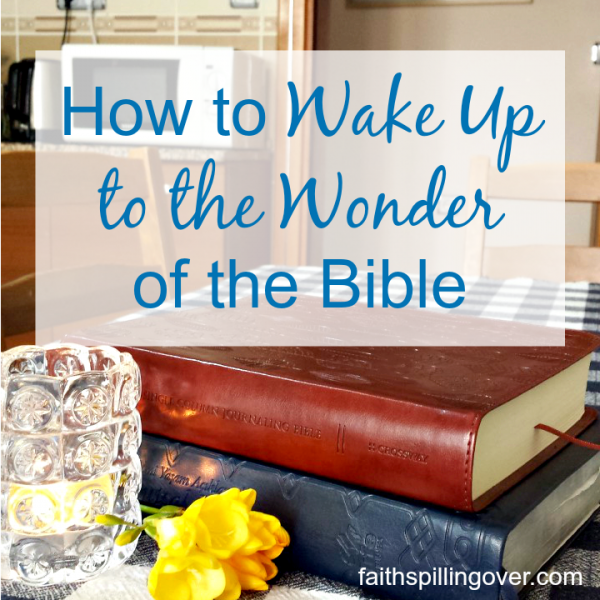 Some mornings reading the Bible feels like I'm running a treadmill on 5 hours sleep. While I race through my reading plan, I remember I've got to get to the store today because we're out of milk. I yawn because I stayed up way too late, and the Ramadan drummer woke me up at 3 a.m. (No crying babies around here anymore, but we do have a man beating a drum outside our window all month.) I look at the clock. Five more minutes before I have to jump in the shower. I flip to Mark.
Old Testament reading. Psalm or Proverb. New Testament. I check off the boxes and run to get started on my day. Catch you later, God. Nice to see you.
I know the Word of God is supposed to fuel my faith and renew my mind. Scripture encourages me and gives me the wisdom I need for life. Yet I also go through dry spells when the Bible seems silent. I can't focus. I start yawning.
Do your eyes ever glaze over when you open God's Word? When I start yawning over scripture, I try these: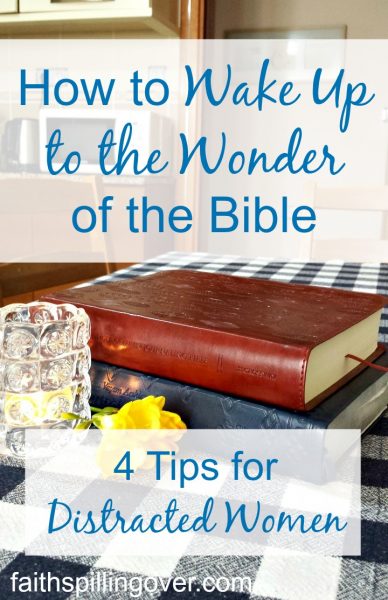 4 Ways to Wake up to the Wonder of God's Word
1. Pray
When daily scripture reading grows dull, I start praying. I pray to the God of the Bible to show Himself to me through His Word. If there's a prayer God delights to answer, it's this one:
Lord, wake me up to the wonders of your Word. Open my eyes to see you and my ears to hear you as I read.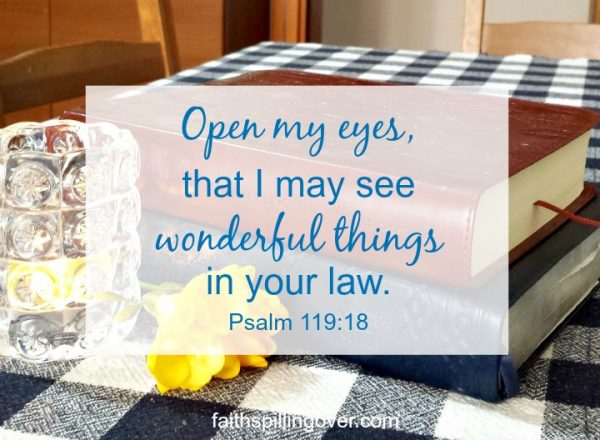 2. Read Less
It sounds counter-intuitive to read LESS when you're not getting anything out of God's Word, but it works for me. Instead of a whole chapter, I read just one section. For example, Matthew 2 is divided into several sections: "The Magi Visit the Messiah," "The Escape to Egypt," and "The Return to Nazareth," so I read it over several days. Narrowing my focus helps me to pay more attention.
I slow down and ask God to speak as I read the passage a few times. If something I read sparks a prayer, I pause to respond. Then I focus on one verse. What is God saying to me?
3. Color It Up
A few years ago, I started highlighting my Bible in different colors. Not only does it add fun and creativity to my quiet time, it also helps me explore the meaning of a passage. When I see repeated words and concepts, I highlight them in the same color. I also look for attributes of God, commands, promises, and Biblical themes like faith, hope, and joy.  I use these inexpensive watercolor pencils in vivid colors. They work great dry like regular pencils, but you can also moisten them for intense color. I have my own color code system; if you'd like to try it for yourself, click on the printable image below: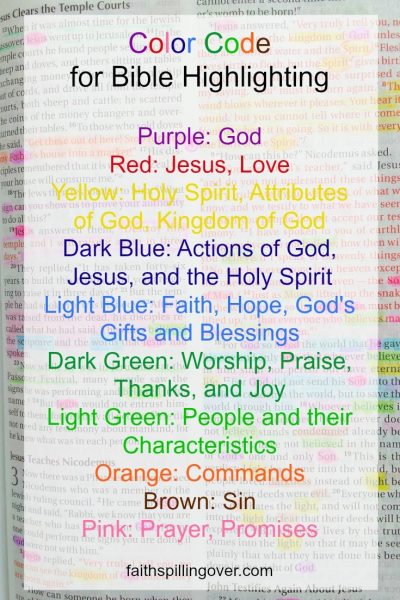 4. Write It Down
God's Word becomes more real to me when I take a few minutes to write down a verse. Again, I like to do this in different colored ballpoint pens. The physical act of writing it down helps me internalize and remember it. When I record it in my notebook in color, it comes to life and becomes mine. I can look at it again later. As I write, I ask, "Lord, what are you saying to me through this verse?"
Instead of ending my quiet time with a quick, "Catch you later, God," I want to carry His Word with me into my day, so I want to be attentive to listen for God's voice while I read it. I read less, color it up, and write it down. These help stay me awake to the wonders of God's Word.
Now it's your turn. Do you ever have a hard time paying attention to scripture when you read it? What helps you?
Note: This post contains Amazon affiliate links. If you purchase products through my links, I make a small commission towards the expense of running this site at no extra cost to you.
If you'd like fresh servings of Faith Spilling Over delivered weekly to your inbox, enter your e-mail address in the box in the sidebar. I'd love to send you my free guide, 10 Days to More. You'll find 10 ways to study and engage with God's Word.
I'm linking up with Holly Barrett's #TestimonyTuesday, Kelly Balarie's #RaRaLinkup, Holley Gerth's Coffee for your Heart, Crystal Storms' #HeartEncouragement, and Arabah Joy's Grace and Truth. Check out these communities for more encouragement.
Photo Credit: Creative Commons