Looking at Pinterest stresses me out. I know all the beautiful, creative ideas should inspire me, but instead they make me uneasy. My food doesn't look so fancy, and my craft projects look like a child's work, which isn't surprising since my DIY abilities haven't advanced much since second grade!
So Bible journaling used to intimidate me.
My journal definitely doesn't look anything like the color-coordinated, tasteful creations I see on Pinterest made with washi tape, fancy papers, and other mysterious materials, but I don't let it stop me.
Writing out the words of Scripture helps me grow as a Christian.
It helps me treasure God's Word, think deeply about it, pray the words, and seek to live it out later. For me, Scripture writing is a simple, practical way to heed this call: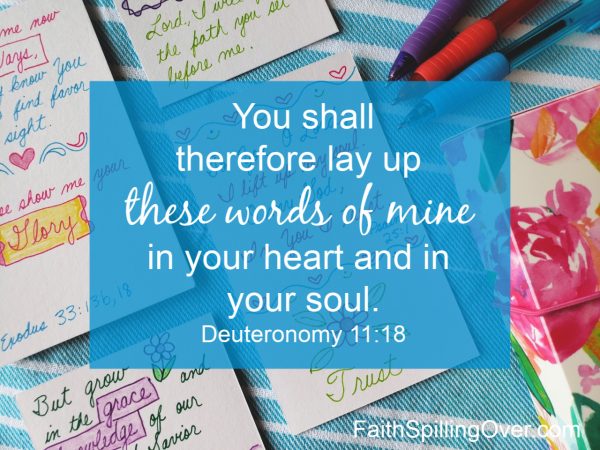 Scripture unleashes God's power over our lives. Solomon counseled his son to write God's commandments on the tablet of his heart. (Proverbs 7:3) God commanded the kings of Israel to write down their own personal copy of His law, so they could always have it with them, read it, and obey it. (Deuteronomy 17:18-19).
Today, we can easily acquire our own copy of the Bible, but writing out verses and phrases still has many benefits:
Deeper Thinking. The simple act of choosing a verse to copy makes us think more deeply about what God is saying to us through the Scripture as we ask, "What in this passage speaks most to me?"
Active Learning. Giving our hands something to do can help our minds meditate on and pray through the Word.
Sharpened Focus. Writing helps us remember. Rather than just forgetting all about it, we can go back later in the day to look at it. We have words to shape our prayers and something to put into practice for the rest of the day.
Record of our Spiritual Life. We find encouragement later when we go back and review verses God used to speak to us.
But how to get started? Bible journaling can be intimidating.
How can a woman like me, who's barely even seen the inside of a Hobby Lobby, do Bible journaling?
If you wonder what you'd even write or draw to fill one page or you feel you have to go to a class and watch YouTube videos to start journaling, try Mini-journaling.
What is mini Bible Journaling?
I call it "mini" because you use an index card rather than a whole journal page. It frees you to try your hand at journaling by starting small. Literally. All you need to get started is one 3 x 5 notecard. Anyone can take two or three minutes to write something out on a card, and if you mess it up, you're not losing much. You can always whip out another blank card.
Here's what you need:
Your Bible and a Reading Plan
3 or 4 colored gel pens
Card box to store your cards. (Got mine from Walmart for $1.99.)
Nice to have, but not necessary: colored pencils, stickers, or scrapbook material.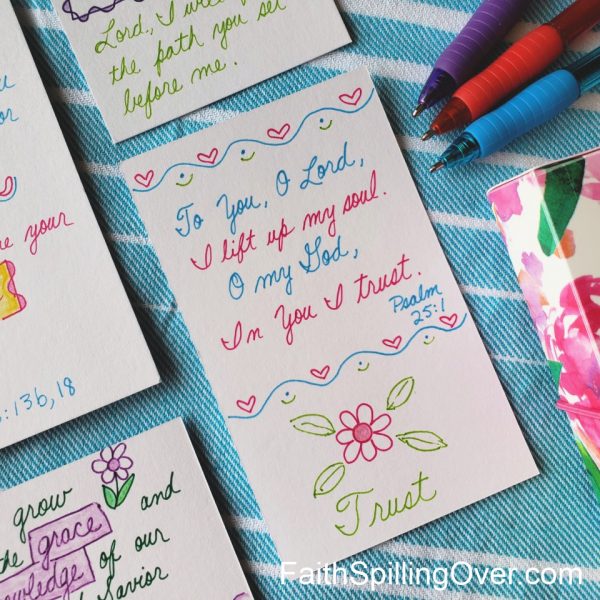 Here's how to do it:
1. As you read your Bible passage of the day, ask God to speak to you. Choose one verse that most encourages or challenges you. (For more guidance on how to have a quiet time, read this.)
2. Using two contrasting colors, copy your verse on the index card. (I like to use the card vertically, with the long side going up and down.) You can either alternate colors between lines or highlight important words in the contrast color.
3. Do one or more of these:
Circle or box the word that stands out to you.
Add color with a small drawing or detail like a flower, heart, or some scrolling.
Write your own prayer in response, using just one line or a few words.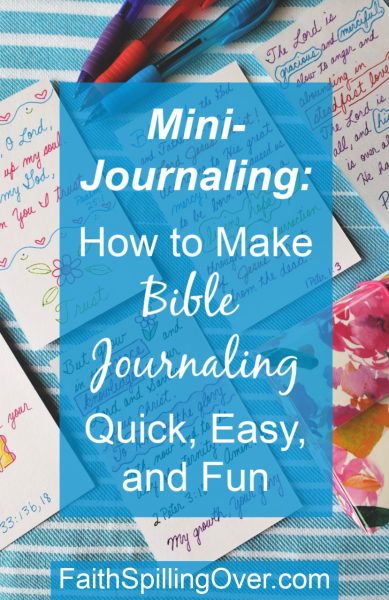 Your Bible journaling card reminds you later of the truth you've hidden in your heart.
Take your card with you or leave it where you can see it later. The following day, review the card again before you make a new one; then store it in your card box. I used the little divider tabs that came with my box to correspond to what I've read recently in my devotional times: Psalms, Mark, and 1 Peter.
I find encouragement later when I look through my card collection and remember what God has shown me and how He has spoken to me through His Word.
Mini-journaling is a fun way to start Bible journaling without the overwhelm. Even if you already journal, it can breathe new life into your devotional time. You probably already have what you need around the house, and it's something you can do in about two minutes to add a little fun and creativity to your quiet time. Why not give it a try?
Now it's your turn: Do you journal? If so, what do you enjoy about it? If not, what stops you from trying it?

Need ideas on how to get more out of your quiet time? I wrote More of God: A Distracted Woman's Guide to More Meaningful Quiet Times to help overwhelmed and distracted women recover a fresh sense of God's presence, learn to hear His voice, and grow their prayer lives. Click on the image below for more info: