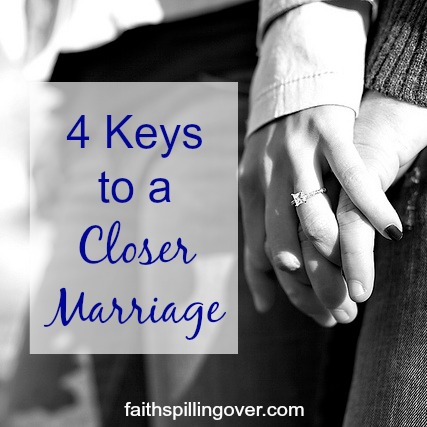 Dad's love for his wife Carole was not the kind people stand in lines to see on the big screen, but it was real nevertheless. Real love took coffee to his wife in bed every morning. Real love did the laundry and grocery shopping. Real love took Carole to the hospital and cared for her when she got too sick to care for herself.
"You never realize how strong the bond with your mate is until that person is gone."
That's what Dad said when he lost his wife of 30 years, and hearing it made both my husband and I gulp hard.
Do we really value the marriage bond we share?
Taking each other for granted is easy when you slide into the routines of life: breakfast on the table at 7:30, a quick hug when he leaves the house, a peck on the cheek when he gets back, dinner, dishes, and wrestling the kids to bed.
Before you know it you're hardly talking.
But God has something better in mind for our marriages: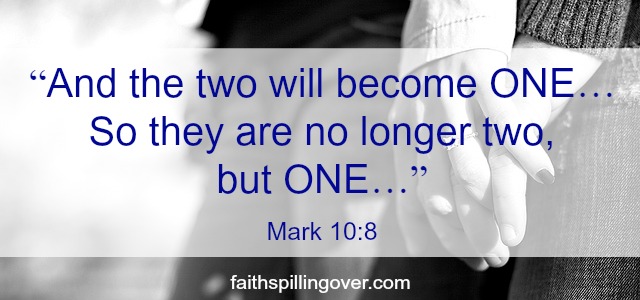 God intends for us to have marriage relationships marked by oneness. It takes a constant investment of time and energy for two separate people to grow close enough together to become one.
Let's look at 4 keys to a closer marriage
Communication
Sometimes I struggle to put down what I'm doing to give my husband undivided attention. I bet you do too. But when you think about it, what could be more important than investing in your most significant relationship? A daily decision to focus on being attentive to your mate creates closeness over the months and years.
Setting aside special times to talk might look different for each marriage. Find what works for you. In her post "The Magic Five Hours for a Successful Marriage" Modern Mrs. Darcy writes about marriage researcher John Gottman's  suggestion to come together for a 20 minute chat to debrief at the end of the day. Jose and I try to stay committed to a weekly date time. When we're having trouble finding time to talk, we know that date time is coming up.
Prayer
Coming together to pray to the One who put us together strengthens the tie that holds us together.
My husband and I struggled for years to pray together consistently. Finally in our 14th year of marriage, we attended a Navigator's Prayer Retreat for Couples. God convicted us of our need to make spiritual oneness a daily priority, so we started praying for 5 or 10 minutes at the start of each day. We've noticed that even 5 minutes a day contribute to our spiritual oneness.
Sex
This Texas woman is way too shy to say much about it, but I'll never forget what my mentor said at my bridal shower 20 years ago. Older women were giving marriage advice, and hers was this: "Have lots of sex!" She said it right out loud right in front of everyone, and I about died.
She was a wise woman. Sex builds intimacy, relieves stress, and even comforts the discouraged. (Now I've said more than I ever dreamed I would.)
Physical touch
Do you ever notice how the simple act of holding hands creates an instant bond? After reading an article about it, I've been reaching for my husband's hand more often. Many experts attest to the importance of beginning and ending the day with a hug and a kiss. Physical contact feeds closeness.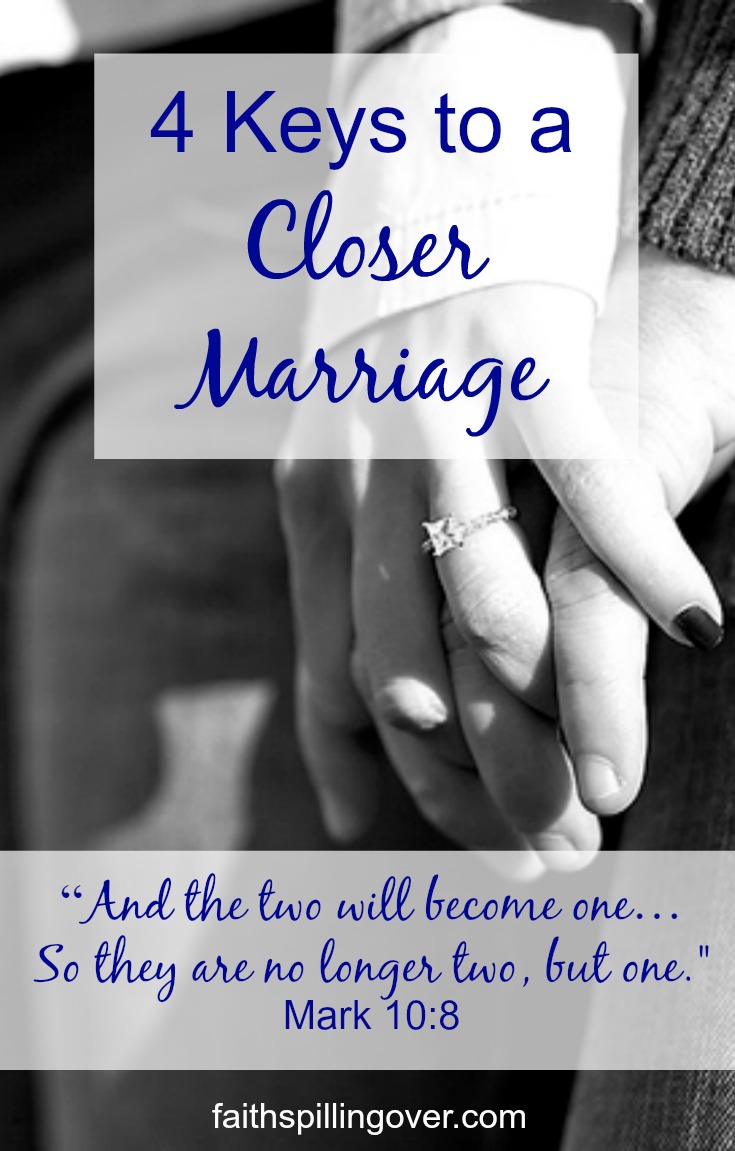 Busy work schedules and the demands of parenting can wear away at our communication, undermine our commitment to prayer, and lessen our desire for physical intimacy. But a commitment to investing in our marriages yields a great reward: the sweet companionship of a life-long partner who is our best friend.
Now it's your turn: How long have you been married? What has helped you to grow closer to your spouse?
If you'd like fresh servings of Faith Spilling Over delivered weekly to your inbox, enter your e-mail address in the box in the sidebar. I'd love to send you my free guide, 10 Days to More. You'll find 10 ways to study and engage with God's Word.
I'm linking up with Holly Barrett's #TestimonyTuesday, Kelly Balarie's #RaRaLinkup, Holley Gerth's Coffee for your Heart, Crystal Storms' #HeartEncouragement, and Arabah Joy's Grace and Truth. Check out these communities for more encouragement.
photo credit: Tela Chhe, Creative Commons