Rain was the last thing I expected for our poolside Hawaiian party. I did not plan on drizzling gray skies when we envisioned hula-dancing, a Limbo contest, swimming, and a backyard cookout for my daughter's 10th birthday. So, when we woke up to a rainstorm on Saturday morning, my heart sank. Evidently, I needed to change the plans I'd worked so hard on.
Although inwardly I dreaded 2 hours of corralling 12 lively hula-dancers in our small living room, I put on a brave smile when the doorbell rang.
You've probably also had times when your plans fell through.
Maybe it was more serious than a child's birthday party. Life can take unexpected turns that remind us we are not in control:
A pandemic that cancels all your events and trips.
A job you never expected to lose.
A relationship conflict that sideswipes you.
A loss you did not see coming.
When the day, the week, or the year we planned suddenly changes, we realize how little control we actually have over our lives. We might even feel frustrated, anxious, or fearful.
We forget we can trust the Sovereign God who rules over every situation. We can rest securely in God's great love for us, knowing He has the power to redeem every unexpected circumstance. In His perfect faithfulness and wisdom, God makes all things serve His plan.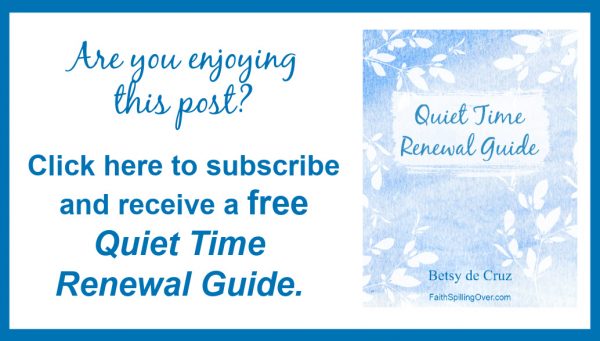 When God allows a change in our plans, we have a choice:
We can cling to the way we wanted things to be or we can surrender and trust God to work all things for our good.
On the rainy day of my daughter's party, it would have been ridiculous to cling to my plans of hula dancing on the back porch. I had to adapt to the new situation. (And we still ended up having fun.)
Similarly, when God changes our plans, surrendering to a new normal helps us align our hearts to His. We can choose to trust His sovereign control.
Surrender is our only choice, but how to do it with grace?
Remembering 3 truths helps us surrender our plans to God:
1.  God establishes our steps.
"The heart of man plans his way, but the LORD establishes his steps." Proverbs 16:9 (ESV)
Even when things don't turn out like we expected, we can rest in the fact that God is the one who orders our lives. Whether we're trying to deal with an inconvenience or recover after a major life change, we can trust God will establish our steps.
Let's pray: "Lord, establish my steps."
2.  Our lives belong to the Lord.
"LORD, I know that people's lives are not their own; it is not for them to direct their steps." Jeremiah 10:23 (NIV)
It's good to remember our lives belong to our wise and faithful Creator who is working out His design for us. No matter what situation we are living, let's make it our goal to live for Jesus.
Let's pray: "Lord, my life belongs to you."
3.  God will complete His purpose for us.
"Many are the plans in a person's heart, but it is the LORD's purpose that prevails." Proverbs 19:21 (NIV)
When hard circumstances force us down paths we never wanted to take, we can trust God will use our circumstances to shape us into the people He has called us to be. He makes everything work to fulfill His purpose; nothing can thwart God's plan for us.
We grow an attitude of surrender when we pray: "Lord, complete your purpose for me."
When our day, our week, or our year doesn't go like we planned, our Lord bends down to hold our hand and lead us forward. We can be confident that God is carrying out His perfect design for our lives.
Now it's your turn: How do you react when something you can't control changes your plans? Do you find it easy to surrender or do you tend to get frustrated?