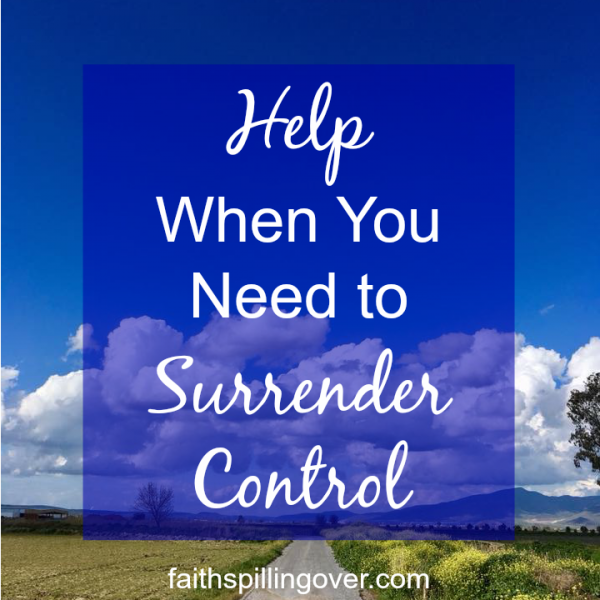 I'm a woman with micromanaging tendencies who knows she should trust God more and surrender control to Him. I have that "Be still and know that I am God" verse memorized, but I'm bad at it. I can barely sit still, and I'm terrible at resting! I can't even sit down and watch a movie in my living room without getting up 10 times to find a better pillow, send a text, or make popcorn for everyone.
Even when my body tries to sit still, my mind keeps running down its to-do list. When there's a problem, I wonder what I might do to solve it. I'm hope I can make it okay with just the right effort, just the right words, or just the right phone call. Maybe if I pray just the right prayer, I can get God to do what I'm expecting He'll do?
And even when I know I can't solve it, I worry about it.
How can a ready-to-take-charge woman learn to lay down worry and surrender control?
Lately I keep coming back to Psalm 46, and especially these words: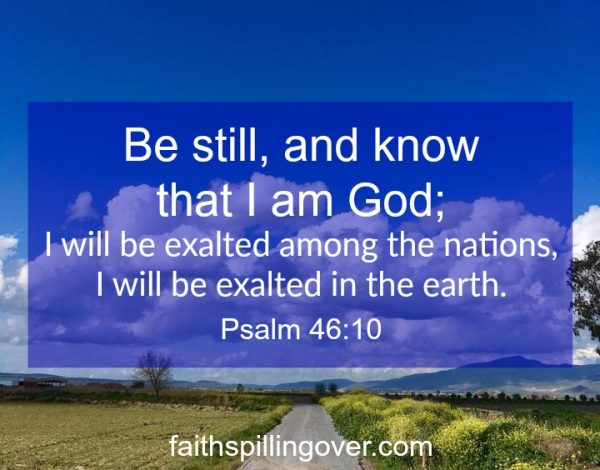 Eight little words, and two big steps. But what do they mean?
How to Be Still?
On one hand I understand the words perfectly: Be still and chill. (I love that those words rhyme.) Calm down a moment; sit and just breathe. But it's one thing to still your body and another to calm your troubled, fretting mind.
"Be still" has an additional connotation in Hebrew I find helpful: "to let go or to drop." So lately what helps me find inner stillness to ask God, "What do I need to let go of?" When things like these come to mind, through prayer, I drop them into His capable hands:
Fear or worry.
My own striving to handle a problem.
A responsibility or activity God didn't call me to.
A negative attitude.
What does it mean to Know He is God?
Psalm 46 mentions several of God's important characteristics. As we remember and acknowledge God's greatness, we find new grace to surrender our worries and anxious thoughts into His loving hands. Maybe you need a reminder of these truths too?
God is Your Refuge and Strength
"God is our refuge and strength…" (v. 1a) No matter what you're facing today, friend, in God you have a refuge and a resting place. He will give you the strength you need.
He is Your Helper
"…An ever-present help in trouble." (v. 1b) When trouble knocks at the door, you have an ever-present Helper. You will never face a situation God can't help you through.
God is Always with You.
"The Lord Almighty is with us; the God of Jacob is our fortress." (v. 7) You are never alone. The same God who was with Abraham, Jacob, Moses, and Joshua is with you today.
If you're worn out from striving and worry, how about taking a few minutes to be still?
Set a timer if it helps. Spend a few moments in prayer to surrender all that worries you into God's loving care. There is no situation God can't help you through. No problem He can't show you how to solve, and no need He can't supply. No loss He can't fill. No grief He doesn't know, and no hurt He can't heal.
How about letting go of control and letting God care for you today?
Simple Bible Journaling Idea:
Read Psalm 46 and write down v. 10 Then ask God to show you what you need to let go of and help you to surrender control of those things into His loving care. Make a list of everything that comes to mind and drop each care or worry into His hands.