"God, how is this fair? I don't get it!" I was so upset over the news I'd received that I couldn't even tell my family for several hours. My dream of a writing opportunity that seemed to align with my ministry vision ended with an "I wish I had better news for you" letter. The editor had written a kind and thoughtful letter, but disappointment weighed heavy. How do you move on with hope when a door closes?
All afternoon I stayed quiet, but my story tumbled out at the family dinner table over the chicken stir-fry with a flood of words and even a few tears. (Awkward for my 22-year-old son.)
I knew God had a purpose, but the latest shut door opened up old wounds from a recent season of disappointments for our family. What was God doing?
Friend, you may be facing your own closed doors.
You may be wondering, "Is God really working for my good? How can I trust Him with this?" As much as we wish everything in life went according to our plan, we've all faced disappointment:
You didn't get the job. (Or you lost the one you had.)
The closing on the house didn't go through.
Your child didn't make the team.
How can we hold on to hope when the door closes?
I'm learning to give God thanks for closed doors.
I always remember a coffee date years ago with an older, wiser friend. When I shared the sad news that my child hadn't received admission to his dream school, my friend said simply, "I always thank God for closed doors. If God never shut any doors, how would we know which ones to go through?"
That simple wisdom transformed my outlook.
3 Truths You Can Hold on to When a Door Closes
1.  God has ultimate control.
"What he opens no one can shut, and what he shuts no one can open." (Revelation 3:7, NIV)
I can bang on closed doors all I want, but it won't change a thing. Ultimately, I must surrender my life to God's sovereign control, trusting He closed the door for a good reason: He evidently did not want me to go through it.
After I pour out my disappointment to God in prayer, I can trust Him to open another door for me in the future, perhaps one I can't even see now.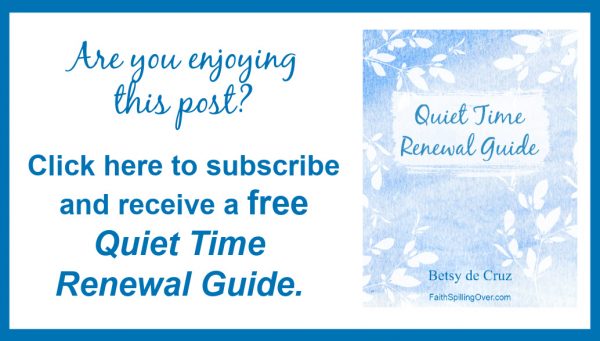 2.  We can trust God's love and faithfulness.
"All the ways of the Lord are loving and faithful toward those who keep the demands of his covenant." (Psalm 25:10, NIV)
Even when we cannot see any good in our lost opportunity, we can trust that God is choosing a path for us. A path forged by His love and faithfulness. We may not understand God's ways in our lives, but we choose to believe they are loving and faithful.
3.  We have a secure place in Him.
Surely your goodness and love will follow me all the days of my life, and I will dwell in the house of the Lord forever." (Psalm 23:6, NIV)
That evening I poured out my heart at the family dinner table, my husband reached out and gently touched my shoulder.
It helped to know I wasn't alone.
Just like my husband reached out to me, God is reaching out to us, my friend. He longs to reassure us of a promise: His goodness and love will accompany us all our days.
You may not see it now, but the closed door you're staring at is a blessing in disguise. When God closes a door, we can trust He is guiding us down the path He has chosen, a path that leads to goodness and love.
What would our lives look like if we asked God for grace to surrender and trust Him with our closed doors?
Which one of these truths from Scripture could you whisper to yourself today?
Will you pray with me? "Lord, thank you for directing my paths. When you close doors for me, would you give me the grace to thank and praise you? All your ways are loving and faithful. Blessed be your name. Amen."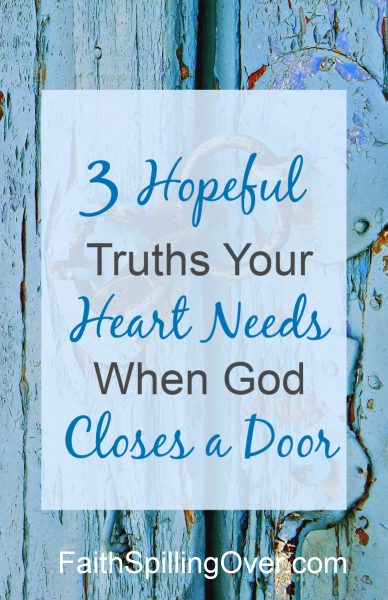 Are you facing the challenges of life on an empty tank? Need help renewing your relationship with God?