"God, how is this fair? I don't get it!" I was so upset over the news I'd received that I couldn't even tell my family for several hours. My dream of a writing opportunity that seemed to align with my ministry vision ended with an "I wish I had better news for you" letter. The editor had written a kind and thoughtful letter, but disappointment weighed heavy. How do you move on with hope when a door closes?
All afternoon I stayed quiet, but my story tumbled out at the family dinner table over the chicken stir-fry with a flood of words and even a few tears. (Awkward for my 22-year-old son.)
I knew God had a purpose, but the latest shut door opened up old wounds from a recent season of disappointments for our family. What was God doing?
Friend, you may be facing your own closed doors.
You may be wondering, "Is God really working for my good? How can I trust Him with this?" As much as we wish everything in life went according to our plan, we've all faced disappointment:
You didn't get the job. (Or you lost the one you had.)
The closing on the house didn't go through.
Your child didn't make the team.
How can we hold on to hope when the door closes?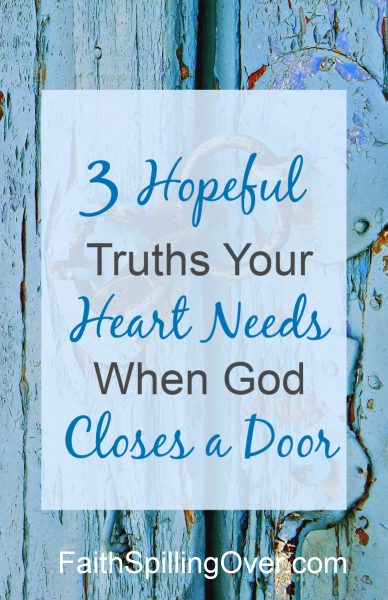 Are you facing the challenges of life on an empty tank? Need help renewing your relationship with God?