Peace flew out the window and my anxiety levels rose when I saw the text: "I think you've been hacked." During the hours that followed I received approximately 60 social media messages, texts, emails, and phone calls. You know how one little disaster can make you totally forget the presence of God in that moment?
My shoulders tensed even more when I realized the hacker had erased my entire inbox and set up a redirect so that all my incoming mail went to him. Let me tell you, prayer and praise were the last thing on my mind.
How could I recover my sense of the presence of God in the middle of an email crisis?
The next morning, I tried to have my quiet time, but while I plowed through my daily Bible reading, my mind kept going to all the texts I was still getting, the email I wasn't receiving, and the doubts I had about how low-tech yours truly could export my contacts to open a new account.
Suddenly the passage I was reading showed me just what I needed to do in that moment to regain a sense of God's presence. In 2 Chronicles 5, Solomon had just finished building a temple for the Lord. After the priests carried the ark of the covenant into the Holy Place, they raised a song of praise, and the Lord's presence filled the temple.
"When the song was raised…in praise to the Lord, "For he is good, for his steadfast love endures forever," the house of the Lord, was filled with a cloud, so that the priests could not stand to minister because of the cloud, for the glory of the Lord filled the house of God." (2 Chronicles 5:13b,14)
Can you imagine the presence of God filling the temple like a cloud so thick and heavy that the priests could not stand?
How to Regain an Awareness of the Presence of God
As I read these verses the morning after my email calamity, I longed to sense God's Spirit with me. Instead of the tension and anxiety I felt, I needed a fresh awareness of His presence and peace. Then it hit me: The Lord made His presence known when His people praised Him.  The cloud filled the temple when the priests began to worship.
It's the same for us today. When we praise the Lord, He shows His presence to us and gives us a fresh outpouring of His Holy Spirit. Our peace returns.
As I began to offer words of praise to God that morning, my email situation didn't disappear. I still had a few hours of work before me, but I did it with a lighter, more peaceful spirit. I remembered the empowering presence of God with me.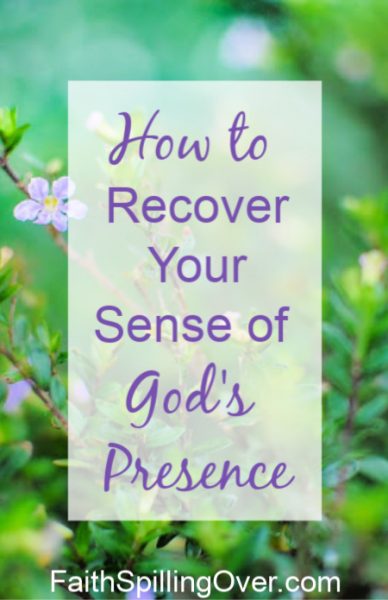 Friend, any number of situations today might threaten to steal your peace and joy, but God will still be with you.
What if you take a few minutes to forget problems and put on your praise? How might it change your day? Thank the Lord for His new mercies. Raise a song of praise or read a Psalm. Declare out loud: "For the Lord is good; his steadfast love endures forever, and his faithfulness to all generations." (Psalm 100:5)
I'll join in with my worship too, and we'll discover a fresh sense of the presence of God. He is always at our side, "our Refuge and Strength, a very present help in trouble."
Now it's your turn: What's your favorite worship song? How does it make you feel when you listen to it?
Are you facing the challenges of life on an empty tank? Need help renewing your relationship with God?