Do you ever feel like the heat of a bad moment overwhelms you? You know in your head you need to stop and remember the presence of Christ when a problem hits, but it's hard to actually do it in real life. If you're like me, you might let a flat tire, empty bank account, or doctor's appointment set off a broken record of negative talk in your mind and on your tongue.
Recently I went to a marriage seminar where I discovered I have an unhealthy thinking pattern: magnifying my problems. In other words, I make mountains out of molehills. Sometimes I allow one small mishap to ruin my whole day, or I let my whole life revolve around one problem.
This bit of information was not news to my husband. He's been married to me 23 years and has seen how I can let one difficulty define my day, week, or even month. But I'm learning I can choose to live and think differently, one small choice at a time.
I Can Choose God and His ways moment by moment.
I can choose to stop the broken record in my mind and turn to God's Word instead.
In that moment of overwhelm, I can let go of stress and choose to remember God's presence with me. "The Lord is near. Be anxious for nothing." Philippians 4:5b, 6a (NASB)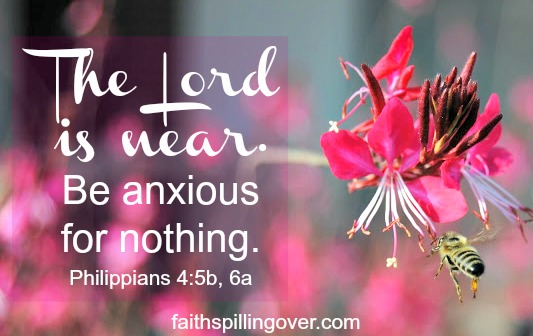 In that moment of relational conflict, I can let go of my need to be right and choose God's peace. "And let the peace of Christ rule in your hearts, to which indeed you were called in one body. And be thankful." Colossians 3:15
In that moment of anxiety, I can choose to surrender my fears and believe God's promises. "Be strong and courageous. Do not be afraid or terrified because of them, for the LORD your God goes with you; he will never leave you nor forsake you." Deuteronomy 31:6
We can choose. We can choose to look beyond our problem and lift our gaze up to God and His presence. We can choose to hold on to God's promises instead of our problems.
We can choose to live Holy in the Moment.
Ginger Harrington's book Holy in the Moment came along at just the right time for me. It's one of the most encouraging books I've read in a while. Her transparent sharing about her battle with anxiety pulled me in from chapter 1, but no matter what your personal struggle is, this book encourages you to Believe, Choose, Love, Abide, Surrender, and Rest in God moment by moment.
Holy in the Moment: Simple Ways to Love God and Enjoy Your Life
helps us see holiness in a fresh, new way. Part 1, "Love God in Every Moment," encourages us to make choices right here, right now to make more room for God to come into our nitty gritty lives. "Choosing holiness on the hard days comes down to believing God is our savior who walks with us in all things," Ginger writes.
I appreciate the practical wisdom she offers; each chapter ends with ideas we can apply to our own spiritual lives. Part 2, "Embracing Truth in Every Moment," gives us real-life tips for letting go of our own stinking thinking to embrace God's truth instead. Part 3, "Enjoy Life for Our Best Moments," reminds us that sometimes the holiest choice we can make is to enjoy the life and people God has given us.
Holy in the Moment is helping me make those small daily choices to let God transform my thoughts and attitudes. If you feel overwhelmed by life, burned out, anxious, or stressed, it might help you find refreshment and renewal you need.
Now it's your turn: What helps you choose God and His perspective in your hard moments?

If you purchase this book through my Amazon Affiliate link, I make a small commission towards the expense of running this site at no extra cost to you.
If you'd like fresh servings of Faith Spilling Over delivered weekly to your inbox, enter your e-mail address in the box in the sidebar. I'd love to send you my free guide, 10 Days to More. You'll find 10 ways to study and engage with God's Word.
Linking up with Jennifer Dukes Lee's #TellHisStory, Holley Gerth's Coffee for your Heart, Crystal Storms' #HeartEncouragement,  Brenda Bradford Ottinger's #ChasingCommunity, Lyli Dunbar's #FaithonFire, and Arabah Joy's Grace and Truth. Check out these communities for more encouragement.