I can't always remember God's greatest promises when I need them. Like the day in the parking lot at Target when my car didn't start. Or when my mind goes into overdrive trying to figure out how I'm going to make all my to-do's fit into my day or make ends meet for the month. I know God has promised to be faithful, but sometimes in the heat of the moment, I can't for the life of me find a promise for my situation.
God's promises give us words to pray and confirmation we're praying in line with God's will. They reassure us because we know our faithful Father will fulfill His Word to us. Yet, sometimes we can't remember what His promises are when we need them most.
Last week a reader shared that her brain goes on overload when she tries to find a promise relating to her circumstance.  My friend gets overwhelmed when she looks at her Bible and wonders what God's promises are and where to find them. I've felt that way myself, so I did some searching in the Scriptures to make a list for us.
Below you'll find promises and prayers for 10 different situations.
The first 3 are so obvious that you might roll your eyes and wonder why I even included them. However, I listed them first because they may be God's greatest promises of all, yet we often take them for granted.
10 of God's Greatest Promises in Scripture:
"If we confess our sins, he is faithful and just to forgive us our sins and to cleanse us from all unrighteousness." (1 John 1:9)
Lord, forgive me for taking your most precious promise for granted. You promise to cleanse me from sin when I repent, and you made a way for me to draw near to you. Thank you for the forgiveness that sets me free.
2.  When we feel discouraged by our circumstances today, God promises eternal life.
"For God so loved the world, that he gave his only Son, that whoever believes in him should not perish but have eternal life." (John 3:16)
Father, I believe your Son died for my sins, and I look forward to spending eternity with you. Lord, I confess I'd rather be free from my present difficulties, but help me remember that no matter what happens today, I have a secure future and eternal security with you.
"And I will ask the Father, and he will give you another Helper, to be with you forever, even the Spirit of truth, whom the world cannot receive, because it neither sees him nor knows him. You know him, for he dwells with you and will be in you." (John 14:16)
Dear Heavenly Father, thank you for never leaving me alone. I receive the gift of your Holy Spirit. Spirit of God, help me. Thank you for dwelling inside me. Help me turn to You moment by moment today.
4.  If we experience weakness, the Lord promises renewed strength.
Lord, I ran out of energy to face this situation a long time ago, but I am placing my hope in you today. You are my faithful and loving Father. I trust you to renew my strength and joy. Help me to soar by the power of your Spirit.
5.  When we don't know what to do, God promises wisdom and guidance.
"If any of you lacks wisdom, you should ask God, who gives generously to all without finding fault, and it will be given to you." (James 1:5)
Father, I don't know what to do, but I trust you have a perfect plan for me. Would you give me the wisdom I need? You are a good Father, and I trust you to guide me. Help me know your way for me.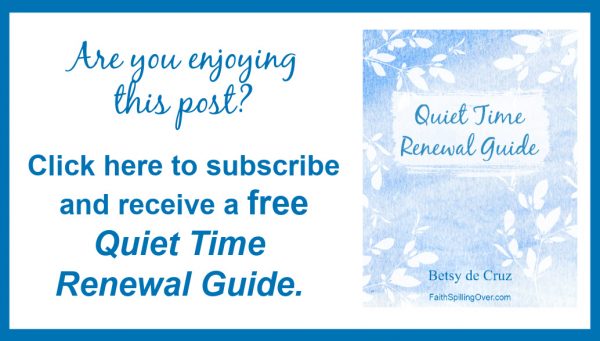 6.  When we feel we can't handle things any longer, God promises sufficient grace.
"But he said to me, 'My grace is sufficient for you, for my power is made perfect in weakness.' Therefore, I will boast all the more gladly about my weaknesses, so that Christ's power may rest on me." (2 Corinthians 12:9-10)
Lord, I feel like I can't go on one more day, but you say your grace will enable me. Show your strength in my weakness. Lord, I confess I'd rather not go through these difficulties, but I trust your all-sufficient grace and power to get me through. Help me believe You are all I really need today.
7.  If we worry about the future, God promises He has good plans for us.
"For I know the plans I have for you," declares the Lord, "plans to prosper you and not to harm you, plans to give you hope and a future." (Jeremiah 29:11)
Lord, I confess I feel fearful as I think about the future. I don't know what's ahead, but I know I'm in your hands and you promise me a hopeful future. Help me to trust you and believe your plans for me are good.
8.  When we fear not having enough, God promises to provide all we need.
"And my God will meet all your needs according to the riches of his glory in Christ Jesus." (Philippians 4:19)
Heavenly Father, help me trust You will care for my needs. Forgive me for unbelief and set me free from fear. Thank you for your promise to provide for me and my family. Help me to believe you fully.
9.  When our burdens weary us, God promises spiritual rest.
"Come to me, all you who are weary and burdened, and I will give you rest. Take my yoke upon you and learn from me, for I am gentle and humble in heart, and you will find rest for your souls. For my yoke is easy and my burden is light." (Matthew 11:28-30)
Jesus, I come to you and lay my burdens at your feet. Thank you for your love and compassion for me. Teach me to walk with you, Lord, so that I will find rest for my soul. I want to abide in You today.
10.  When we feel beaten down, God promises unconditional love.
"For I am convinced that neither death nor life, neither angels nor demons, neither the present nor the future, nor any powers, neither height nor depth, nor anything else in all creation, will be able to separate us from the love of God that is in Christ Jesus our Lord." (Romans 8:38-39)
Lord, thank you for expressing your love to me through Jesus Christ. Give me the grace I need to look beyond my present circumstances and remember nothing can separate me from your love. Your steadfast love and mercy will surround me all my days.
If we turn to God's promises on a daily basis, we're more likely to remember them in our desperate moments.
When we read them, meditate on them, and turn them into prayers, we're making deposits of truth in our hearts that we can draw on later in our time of need.
Which promise most speaks to your situation today? How about writing it on a card or sticky note, so you can see and remember it? Commit it to memory and make it your prayer.
A closer relationship with God can help us combat fear like nothing else can. I wrote More of God: A Distracted Woman's Guide to More Meaningful Quiet Times to help overwhelmed and distracted women recover a fresh sense of God's presence, learn to hear His voice, and grow their prayer lives. Click on the image below for more info: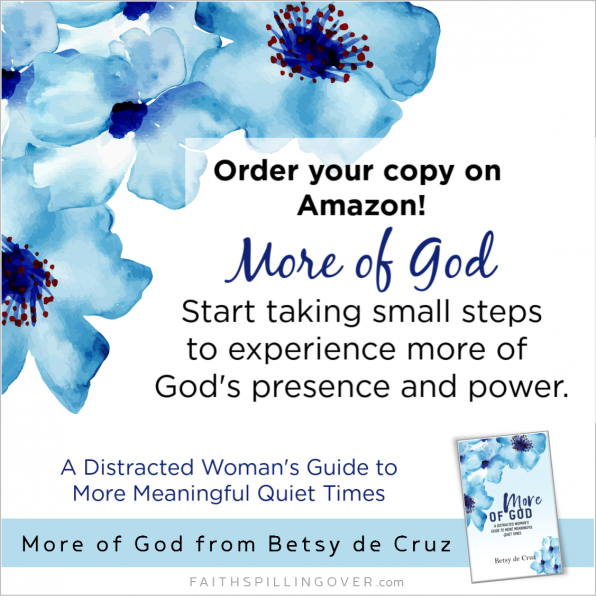 Are you facing the challenges of life on an empty tank? Need help renewing your relationship with God?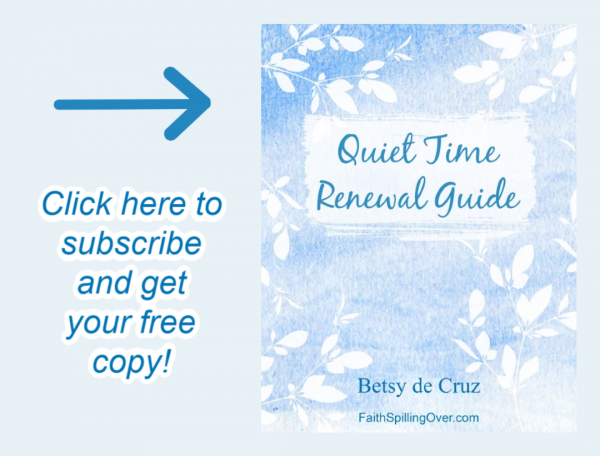 Note: This post contains an affiliate link. If you purchase, I receive a small commission towards the upkeep of this site, at no extra cost to you.