When life drives you crazy, do you have a hard time calming your thoughts to pray? Just when we need God most is often when we have the hardest time slowing down to connect with Him. Life gets complicated. How can we learn to pray simply when our thoughts are racing?
When we need to pray most is when we have the hardest time doing it.
Just the other morning I sat down to read Scripture and pray, but my thoughts scattered in a thousand directions. Rather than finding peace in God, my mind went into overdrive to plan the details of my day.
My life turned crazy this past month.
When I committed to lead a women's Bible study at my church—which was a blessing and a gift—I couldn't have envisioned that my husband would need a laser procedure for a torn retina. While I struggled not to worry, I also had the responsibility of coordinating and providing transport with our family's one car, juggling my husband's medical needs, regular ministry activities, and my son's summer job.
God gave grace for each day and restored health to my husband's eye, but I'd be lying if I said I felt calm each moment.
Your life probably has its own brand of crazy.
Changing seasons and routines can throw our spiritual lives off kilter. Stress grows when the kids are driving you crazy already, and school doesn't start for months. Changes at your job or in your family can mess with your mojo.
It's hard to pray when you're coming unglued.
When you're struggling to survive the crazy, long and leisurely prayer times don't happen. But that doesn't mean you can't pray briefly.
I'm learning to pray short and simple, using Scripture as my guide.
When our minds are muddled and we don't know even know what we need, much less how to pray for it, the words of Scripture offer reassuring guidance. No matter what's causing our crazy, God's Word works like a healing balm on stressed hearts and minds.
Try these 4 steps to pray Scripture when you need calm:
1.  Go to a familiar verse or passage.
2.  Depending on your preference, read it aloud or silently with a prayerful attitude.
3.  Then try praying it once more, using your own words.
4.  Throughout the day, whenever you feel stressed, try to go back to that verse or prayer in your own words.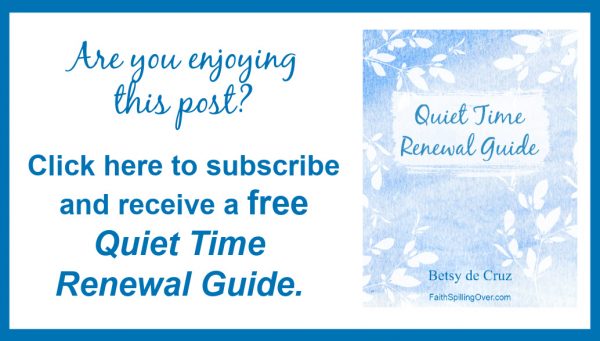 Let's look at how we can pray Psalm 42:8 as an example: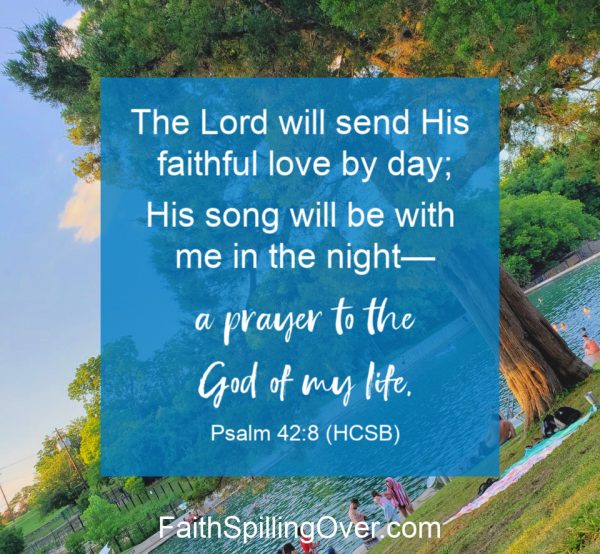 Prayer: Lord, I praise you because your faithful love is with me each day and night. God of my life, help me sense your presence.
When calm is hard to come by, you can pray simple words from Scripture like these:
"I cling to You; your right hand upholds me." (Psalm 63:8)
"I love you, O Lord My Strength." (Psalm 18:1)
"I know my Redeemer Lives." (Job 19:25)
"Do not fear; I am with you." (Isaiah 41:10)
"The Lord is my Shepherd. I lack nothing." (Psalm 23:1)
A short, simple prayer is all it takes to open a window for God to come in. No matter how small the window we open, He always comes when we call. And He brings us a little more light, peace, and joy than we had before. Why not try one of these short prayers from Scripture today?
Now it's your turn: Do you have a hard time praying when life grows stressful? If you were going to choose one of these short prayers for your day, which one would it be?
Need ideas on how to get more out of your quiet time? I wrote More of God: A Distracted Woman's Guide to More Meaningful Quiet Times to help overwhelmed and distracted women recover a fresh sense of God's presence, learn to hear His voice, and grow their prayer lives. Click on the image below for more info:
Note: This post contains an affiliate link. If you purchase, I earn a small commission towards the maintenance of this site at no extra cost to you. Photo credit: Melika