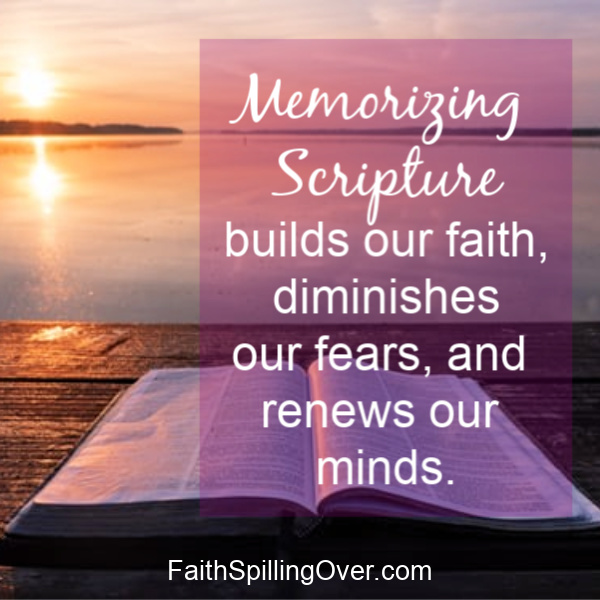 You may think I'm unspiritual, but memorizing Scripture, always sounded like more of a drag than a blessing. How on earth could I memorize Scripture when I can barely memorize my own phone number? Trying to remember Bible verses didn't feel like a good fit for someone who constantly forgets names. I viewed it as one more box to check off my "Good Christian" list rather than as a life-giving spiritual practice. It made me feel like I was in school rather than on the path to spiritual growth.
I'm a distracted learner with a terrible memory.
How could I memorize Scripture and why would it even help me?
When I finally bit the bullet and actually started memorizing Scripture, I found the answers to my questions. As I made slow progress memorizing some of my favorite Bible verses, I realized how memorizing Scripture builds my faith, diminishes my fears, and renews my mind when it goes off on bunny trails of worry and fretting.
Last year I began memorizing short passages instead of isolated verses, and I rediscovered the spiritual benefits of Bible memorization:
Greater Peace
I experienced God's peace in new ways as I meditated on His Word. You may have already read this post where I shared the story of how listening to John 14 over and over gave me peace after I received unsettling news last fall.
Then in December, my family and I moved from Austin to Dallas, Texas. Although we had the blessing of help from friends, moving is not what you want to be doing at Christmastime. (Rather than peace and joy, I felt stress and frazzle.) However, my morning times of Scripture memory provided a few moments of peace each day. Memorizing John 1:1-14 helped me marvel at Christ's coming, even during a season where I did not feel holiday vibes.
Increased Love for God's Word
When we take the time to commit God's Word to memory, we are giving ourselves and God a signal that His Word is an important priority in our lives. We cultivate a heart attitude of treasuring Scripture. By our actions, we are showing our Lord that we agree with Psalm 119:72, "The law from your mouth is more precious to me than thousands of pieces of silver and gold."
A Renewed Mind
I love Scripture memory because it gives me something different to think about when the wheels of my mind are spinning out of control in the wrong direction. When I feel worried, anxious, fearful, or depressed, returning my thoughts to the passage I'm memorizing can get my mind back on the track to God's truth. I'm reminded again of God's goodness and love.
Greater Faith
Turning our minds to Scriptural truth about God's faithfulness builds our faith when challenges cause us to doubt. When we're in the middle of hard circumstances, memorizing the Word helps us meditate on God's greatness. It enables us to rehearse His power and love in our minds rather than repeat over and over to ourselves the worse-case scenarios we imagine. Fear is a story we make up about all the bad things that might happen. Greater faith results when we turn our minds to God instead.
Spiritual Strength
God's Word wields power; it's a weapon against the lies and attacks of the enemy. Scripture strengthens us for battle and encourages our weary hearts when we're not sure we can go on. No matter how weak we feel, God can show His power in us and through us as we meditate on His Word. Meditating on Scripture strengthens our hearts when life's challenges leave us feeling weak.
Closer Fellowship with God
Through the power of the Holy Spirit, we can experience God's presence and hear His voice through His Word. As we repeat the words of Scripture, we draw closer to the Author of Scripture. We come to know the God of the Bible as we hold the words of the Bible more closely to our hearts. In the car or in the kitchen, as we rehearse His Word, we sense His presence. The very presence of God brings comfort, joy, hope, and peace.
This year, I am recommitting myself to memorize Bible passages. Will you join me?
Subscribe to FaithSpillingOver to receive your free guide: Life and Peace Scripture Memory Plan. (Just hit reply to my subscriber welcome letter to ask for your guide.)
We'll start off the year by memorizing Psalm 119:1-16. This passage helps us develop a healthy heart attitude towards Scripture and commit ourselves to treasuring God's Word.
Wondering how to memorize a passage of Scripture? Read on:
DAY ONE:
Read through the entire passage and pray that the Lord will strengthen your faith and renew your mind while you work on memorizing it.
Read the first verse 5 to 10 times
Try saying the verse from memory, going back to look only when needed. Repeat it until you know it perfectly.
Write verse one.
DAY TWO:
Review the first verse.
Read the second verse 5 to 10 times
Try to say verse two from memory, going back to look only when needed. Repeat it until you know it.
Write verse two.
DAY THREE:
Review the first two verses.
Read the third verse 5 to 10 times
Try to say the third verse three times from memory, going back to look only when needed. Repeat it until you know it perfectly.
Write verse three.
Follow these steps until you know the entire passage.
Additional Tips to Memorize Scripture
Have you ever worked hard to memorize a verse or passage, only to forget it later? The key to retaining Scripture you memorize is constant review. (Not very sexy or exciting, but it's the plain, simple truth.) Each day review the verses you memorized previously. These tips will help:
While you memorize, focus on the first 3 words of each verse. Knowing those by heart will often spark your memory when you can't remember what comes next.
Every few days, read again over all the verses you've memorized.
Listen to the passage in the kitchen, in the car, or on the walking trail. Say the words as you listen.
Say the words out loud while you're making coffee in the morning.
Listen to them at night before you go to bed.
I may be a distracted learner with a terrible memory, but I can still reap the rewards of memorizing Scripture. Will you join me? How about getting started today by memorizing one verse?
As we hold God's Word close in our hearts and minds, we'll experience His presence and receive His peace in new ways.
Now it's your turn: What has been your experience memorizing Scripture? Any tips you can share with us?
Are you facing the challenges of life on an empty tank? Need help renewing your relationship with God?