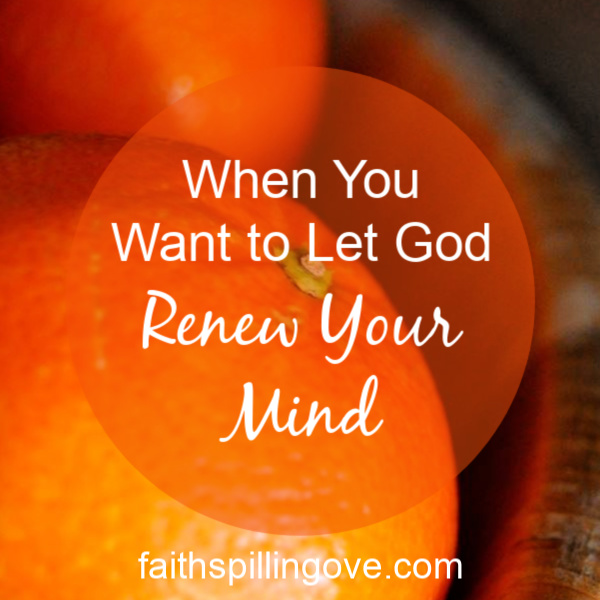 Can I let you in on a secret? After my quiet time with God, I start most days on a hopeful note, but then I often need a mental makeover by 5:00 pm. Work and ministry responsibilities, email, errands, housework, and phone calls wear me out, and I need an attitude overhaul by late afternoon.
Negativity knocks at my door. Before I know it, I'm fretting over all the unfinished items on my list. Then I stress over what I'm going to cook for dinner, as if it were an issue of epic proportions.
Some days worry sets in, and I listen to a replay of all my doubts and fears about the future. Unfortunately, my thoughts often affect my behavior. (Let me tell you, it's not pretty.)
God's Word tells us a transformed life starts with a renewed mind:
"Do not be conformed to this world, but be transformed by the renewal of your mind" (Romans 12:2a). I especially love the way the New Living Translation says it:

I want to let God renew my mind, but my own thoughts get in the way. I need to change the soundtrack going on inside my head that replays my to-do list, my worries, the latest bad news story, or the suspense thriller I maybe shouldn't have watched last night. I want to let God change the way I think.
I know of no better way to invite God to renew my mind than to meditate on His Word.
That's why I committed to memorizing one Scripture passage each month in 2019.
Last week, I wrote about memorizing single verses. Today, let's look at memorizing whole passages. Memorizing a whole passage helps us park our minds on it for a few weeks and really think about what it means for our lives.
How to Memorize a Passage of Scripture:
Start with an "I can do this" mindset. Personally, I have a hard time memorizing my phone number, but I have Psalm 23 down pat, and it has come to my aid many a time when my thoughts need rescuing.
Choose passage that encourages or challenges you, and read the whole thing through several times. Then you start memorizing it verse by verse.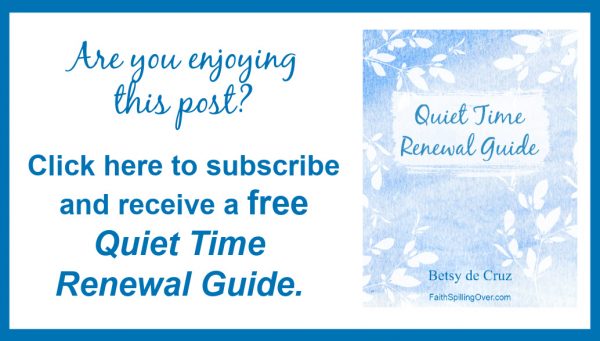 Follow these steps:
Read the first verse aloud 5 times.
2. Write down the reference number and copy the verse under it.
3.  Repeat the verse 5 times aloud. Say the number preceding the verse each time. (For example, if you're memorizing Psalm 23:1, say "One. The Lord is my shepherd…)
4.  The next day, read your verse 5 times and say it 5 times from memory.
5.  When you've memorized the first verse, go on to the next.
6.  Each day review the verse you previously memorized; then work on the one you're currently learning.
7.  Every few days, or once a week, review the entire passage.
Write out Each Verse by Hand
You can use an app like Bible Memory, but in order to memorize and meditate on it, I prefer to write Scripture out on an actual page. Studies show physically writing something down activates the brain to think, remember, and make connections in ways that go far beyond typing it on a screen.
I believe there's a connection between hand and heart. When I write something down, it becomes mine.
A mini spiral notebook or a small Moleskine work equally well. Write one or two verses on each page as you work through the passage verse by verse.
More Tips:
Work on Scripture memory the same time each day, so it becomes a habit.
Saying the number each time with the verse may sound weird, but it helps you keep track of the order of the verses in a long passage.
Pay special attention to memorizing the number and the first three words to each verse.
Listen to your passage on the way to work or on the walking trail.
Do it together with your family or a group of friends for encouragement. (Be prepared. Your kids will memorize circles around you!)
When we memorize passages of Scripture, we're equipping ourselves to make a powerful choice.
The next time negative thoughts come knocking at our door, we can choose to flip our thought pattern by running Scripture through our minds instead. This afternoon, rather than griping about making dinner, I might get out my Scripture memory book.
Now it's your turn: Can you think of low moments in your day when reviewing a scripture verse or passage might help you flip your thoughts?
Are you facing the challenges of life on an empty tank? Need help renewing your relationship with God?