Praying for God's peace when we feel fearful sounds great, but what if your worries distract you so much you can barely pray? If you've ever tried to pray about your problem, only to end up more worried than ever, you are not alone. How can we trust more and fear less?
My heart felt anything but peaceful last week when I read Jesus' words in John 14:27: "Peace I leave with you, my peace I give to you… Let not your hearts be troubled, neither let them be afraid."
How could I receive God's peace and cultivate a trusting heart when my husband and I had just received terrible news? I tried to pray, but my mind kept zipping ahead to worst case scenarios. When time came to lay my head on my soft, snowy pillow at night, my shoulders tensed instead of relaxing. After tossing and turning, I gave up on sleep and got out of bed.
You probably have your own personal brand of anxious thoughts.
Maybe sometimes they keep you up at night. That's why I want to share what happened next.
In the kitchen I brewed some chamomile tea and turned on an audio version of the Bible. Finally, I settled down to listen to John 14. The first words calmed my anxious thoughts: "Let not your hearts be troubled. Believe in God. Believe also in me."
As I listened several times to the words Jesus spoke to His disciples, my racing heart eased. I imagined Jesus next to me, speaking the words to me. A new peace that went beyond my understanding settled over my heart. John 14:27 began to make sense.
If worry is holding you hostage, may I encourage you to do 3 things?
1. Turn to the Scriptures
When our minds are going a million miles a minute in the wrong direction, Scripture anchors our thoughts to the truth. When our faith flounders, the Bible gives us words to declare and believe. God's Word restores peace to worried hearts because it reminds us again how God loves us and cares for us.
The inspired Word of God has power to defeat strongholds of worry and fear when we read and think on it. Scripture fuels our faith and transforms our thoughts.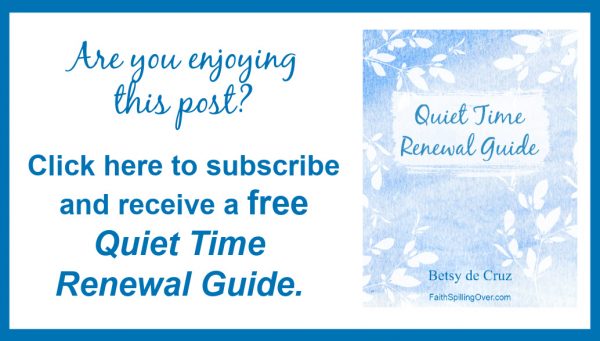 2. Meditate on God's Word
Over several days, I listened to John 14:1-27 before bed at night, out on the walking trail, and in the car. Some days I prayed through it. Slowly the truths of the passage replaced my worries. I feared less and felt more peace.
If you're struggling to overcome fear, choose a passage of Scripture that encourages your faith. Read it, say it, and listen to it for several days. Write it out in a journal or on notecards. Turn to it throughout the day. God will transform your thoughts as you meditate on passages like these that remind you of God's power, love, and care for you:
John 14:1-27
Psalms 27, 56, and 138
Isaiah 12
3. Pray the Scriptures
I memorized John 14:27 and asked Jesus to give me His peace. As you meditate on Scripture, you will also find words that inspire your faith and help you pray. Some of the words of the Bible were written by people experiencing fear. Pray words like these along with them:
"When I am afraid, I put my trust in you" (Psalm 56:3).
"Surely God is my salvation; I will trust and not be afraid" (Isaiah 12:2a).
As we pray God's Word, our faith grows. When our words echo His, we grow closer to Him. His presence brings peace, so we fear less.
My situation hasn't changed, but I have. Each day God gives me the peace I need for that day and the grace to believe His goodness. I can rest in knowing He will work out His perfect plan for me at the right time.
Friend, no matter what situation you face, you can rest assured God will come through for you too. Let not your heart be troubled. Turn your thoughts today to Scripture's timeless truths. You will experience more peace and fear less.
Now it's your turn: What helps you find greater peace and fear less?
Are you facing the challenges of life on an empty tank? Need help renewing your relationship with God?