Sometimes when I read my Bible, my brain goes on autopilot. My eyes glaze over, and I say to myself, "I've read this a gazillion times." Recently, I opened to Luke 2 and thought, "This is the Christmas story AGAIN, for crying out loud, and it's only October!"
I started reading reluctantly, but the Holy Spirit brought it to life for me. I noticed something new:
"But Mary treasured up all these things and pondered them in her heart."
Another version puts it this way: "Mary stored them all up like a secret treasure in her heart and thought about them over and over." (NIRV)
What was Mary storing up in her heart? In this chapter, Luke reports a breath-taking chain of angel visitations, signs, prophetic words, words God spoke, words people said, and extraordinary events, all pointing to her son Jesus.
Mary must have recorded words and events in her heart. She remembered them later. Luke mentions this idea twice, so he must have thought it was important.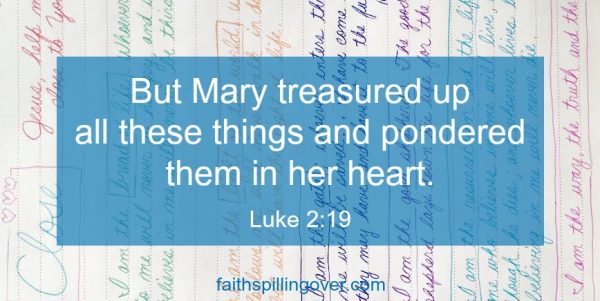 Record and Remember
These words speak fresh encouragement for my favorite simple discipline: spiritual journaling.
A journal is a powerful tool to help us pay attention to God's voice and His work in our lives, but journaling isn't rocket science. Even if you're not a nun locked away in a tower, you can still do this. You don't have to be Augustine or Teresa of Avila to keep a spiritual journal. You don't have to think deeply and write profoundly.
Start Simple
Why not start with something simple? It only takes a minute to jot down a Bible verse, a line from a song, or something you saw that moved your heart.
A simple record of what God speaks to you and what He does for you might become your most valuable treasure. Mine saves my life when spiritual amnesia threatens to overtake me, and God seems a million miles away. It reminds me of God's faithfulness and love when I'm worried or discouraged.
What to Record?
My spiritual journal is a way to corral my thoughts, scribbles, prayers, and favorite scriptures into one place. There's no right way to do it, but on any given day I record one or more of the following:
A Bible verse that speaks to me from my daily reading
My "Word for Today": many days I choose one word that sums up my Bible reading, so I can remember it later. You can read more about how to do that here.
A one-line prayer in response to what God shows me during my quiet time
A quick gratitude list
A confession list: about once a week, I spend intentional time asking God to show me what sins I need to repent from.
A question I have for God
A list of prayer requests
An answer to a prayer or question
A small drawing
A verse map: check out this link for my favorite Creative Bible study method.
A prayer map: more on this later.
A quote from a song or a book
Why Remember?
The benefits of spiritual journaling go far beyond the few minutes it takes each day to record one or two things. I treasure my spiritual journal because it helps me see what God is doing in me. About once a week, I look back at previous days and remember that God actually does speak to us. He's at work in our lives.
Now it's your turn: what's one thing God has spoken to you or done for you this week?