Do you ever read the Bible and then promptly forget what you read? If you're like me, you can't for the life of you remember what you read in Scripture that very morning by the time you need to live it out later in the day, in the heat of a bad moment.
Sometimes during a disagreement with your husband, you can't remember grace or wisdom. Or you run into construction on the freeway and forget about joy. And when you get home to fighting kids or a sick dog, you can't call to mind peace or patience. You know the Holy Spirit is with you somewhere, but you can't remember any words of wisdom.
Does this sound familiar?
God's Word offers us encouragement, guidance, and strength, but all too easily we forget the words we read by the time we really need them.
If they gave a prize for forgetfulness, I'd be a serious contender. I'm the kind of person who walks into a room and forgets what she came for. I turn to my phone for a recipe while cooking dinner and end up getting lost on Instagram instead.
When it comes to remembering the truth I read in Scripture, I've discovered one simple, yet powerful practice:
Writing it down.
I think God knew all about our forgetful tendencies when he commanded the kings of Israel to write out a copy of the Law for themselves. Have you ever noticed this verse hidden away in Deuteronomy?
Each new king of Israel was to write out a copy of the law. Not only did he have to write it for himself, he had to keep his copy with him and read it every day to learn two things:
To revere God
To follow carefully God's law.
Of course, God gave this directive to the kings of Israel; copying Scripture is not a commandment we have to obey. But for me, it has been life-changing and faith-renewing. I keep it simple; all I do is write out at least one Bible verse each day.
As my hand moves across the page, several things happen for me:
I think more deeply about what I'm writing. What do the words mean for my life right now?
The words become "mine" when I write them in my journal. I feel like they belong to me, and maybe they do. Because I have a record I can come back and read later.
Just like writing a to-do list or a grocery list helps us remember what's important, writing out truth from Scripture help us to etch God's words more deeply into our minds and hearts. The Holy Spirit brings them to life, and they come to mind more easily when we need them in the heat of the moment.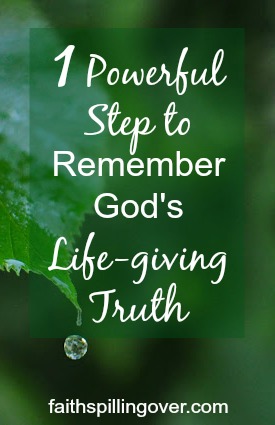 The same words of truth we write in our journals help us to stand on truth when doubt assails us. They help us to live out truth when frustration or stress threaten to undo us.
The next time you read Scripture, how about writing down one verse? Repeat it and pray it while you write it. Ask God to help you remember that verse later, and see if it doesn't make a difference in your day.
Two Bible Journaling Resources to Help You:
"Growing in Trust" Scripture Writing Plan
This weekend, I'll send my monthly "From Me to You" letter to subscribers, and this edition contains a printable two-week reading and Scripture-writing plan. Subscribe to my blog by Saturday, September 28th to receive it!
I'm honored and tickled pink that my friend Deborah Haddix featured my work in her handbook, but I've also found many creative ideas I'd never thought of before for Bible study and prayer.
If you're interested in journaling, this book will inspire you to seek new pathways to connecting with God through the pages of your journal. Deborah's book is full of spiritual encouragement, creative ideas, tips and even simple templates that have put a new spin on journaling for me.
This post contains an Amazon affiliate link. Purchasing through my link helps me earn a small commission towards the maintenance of my site at no extra cost to you.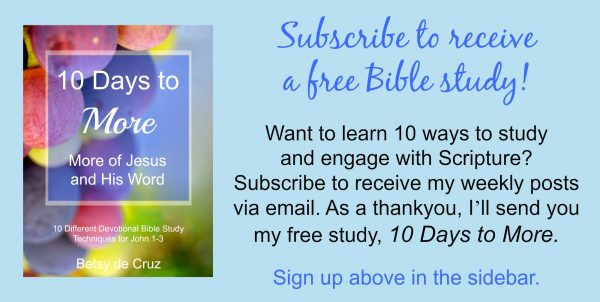 Photo credit: Melika