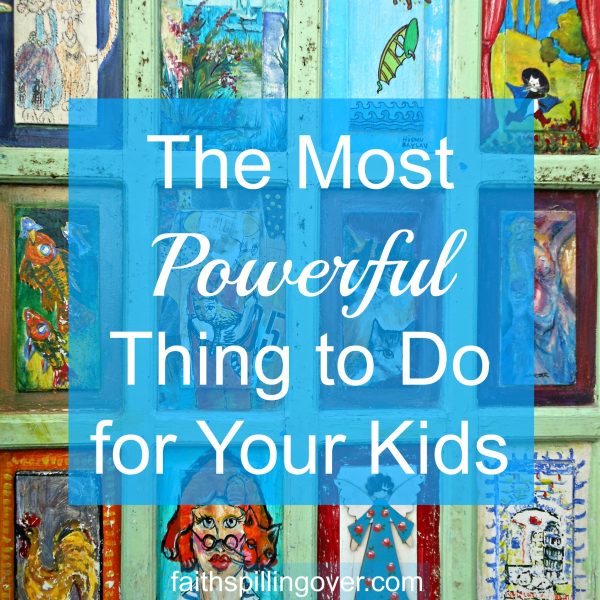 This parenting job sometimes makes me wonder if I'm messing up. My own sweet mother wants to know why I let my son pierce his ear or why on earth I'd help my daughter dye her hair red. My son wants to know why I'd rather he not get a tattoo.
My husband and I both wonder what kind of lasting spiritual impact we're leaving on our children.
We want more than anything to encourage life-long faith in our kids. We pray that our kids will live out their beliefs and follow God's call on their lives.  We want to be the best parents we can be, but we're not always sure what to do.
After 19 years of parenting, we have more questions and tougher decisions then we did when we started! We remember the sleepless baby years, the drive-you-crazy toddler years, and the challenging elementary school years. Right now we're in the roller coaster adolescent phase.  Each stage brings joy, challenge, and questions.
I don't know what parenting stage you're in, but I'm sure you also want to be the best parent possible. You want to have family devotional times together, but it's a struggle. You probably have as many questions as I do about whether or not you're doing the right things or making the right decisions.
What I do know is this:
The most powerful thing a parent can do is pray.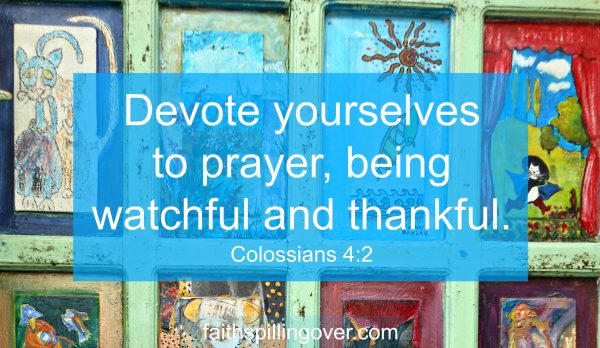 When my kids were little, I prayed for them every night as I tucked them into bed. I still do that when I can manage to stay up later than they do. Now we pray together at breakfast. I also keep their names on my prayer list. Recently, God sparked me to pray a specific request for them each day of the week.
I want to share with you seven things I'm asking God for on behalf of my children.
7 Ways to Pray for Our Kids
Sunday: Relationship with God
Lord, make your presence real to my kids. Make your home in their hearts. Fill them with your Holy Spirit and with a deep sense of your love for them.
Monday: Love for God's Word
Lord, I pray that my kids would love your Word, that they would read it, hear your voice through it, and seek to live it out.
Tuesday: Self Esteem
Heavenly Father, give my kids a sense of being fearfully and wonderfully made. May they know that in Christ, they bear your stamp of approval. Give my husband and I grace to communicate unconditional love to them.
Wednesday: God First
Over any relationship, hobby, or technological gadget, may my children give you first place in their hearts, Jesus. May pleasing you be more important than pleasing their friends.
Thursday: Integrity
Father, help them live with integrity based on obedience to your Word. Give them soft, repentant hearts, and make them transparent when they fail.
Friday: Equipped to Follow God's Call
Lord, would you give my children a clear sense of your call on their lives as they grow and develop? Would you use their studies to equip them to follow and serve you?
Saturday: Godly Friends and a Christian Spouse
Father, bless my kids with friends who will influence them positively, and make my children an encouragement to others as well. Give them Christian mates who will encourage their faith.
Will you join me this week in praying for our kids? We may not have this parenting thing down. Sometimes we mess up, but that's okay. God gives grace, and kids usually do too when we apologize. Half the battle is remembering that prayer is the most powerful thing a parent can do.
Now it's your turn: What do you ask God for when you pray for your children?
Re-edited from my archives.