"If we decided not to be Christians anymore, would we still be part of this family?" my son asked. His question shocked me.
"Of course you would," I said. "Dad and I would be sad, but we'll always love you no matter what."
The question opened the door to a great conversation about faith and family, but it shocked me for two reasons. I wondered if my son was actually contemplating a decision to reject Christianity. I also wondered if we had somehow conveyed that our love for him was conditional to his following Christ.
As Christian parents, of course we want to pass our faith on to our kids.
When our children were small, my husband and I started family devotional times. We kept things short and simple. We read Bible stories and prayed. When they started middle school, we graduated to reading the actual Bible. Each night, we'd read a passage and ask, "What's your favorite verse here?"
By the time they reached high school, we encouraged them to take ownership of daily Bible reading for themselves. We'd hand out Bible reading plans, and over breakfast, we'd give each person the opportunity to share what had encouraged or challenged them from their morning reading.
Our kids made personal decisions to trust Christ for salvation. We pray they'll own their decision by living out their faith for the rest of their lives.
But ultimately the decision to follow Christ is theirs.
When my son left for college, I worried. Would he have his devotional time? Would he go to church? His first semester, one of his classes—ironically a Christian Scriptures survey—challenged the authority of the Bible.
"This is a weed out class for Christians, mom," he said. "If you make it through the class with your faith still intact, you're set for life."
I worried even more, but I did my best to keep praying.
And you know what? My son still tries to read the Bible and pray each day. His expression of faith looks a bit different from mine, but he attends church. He called the other day to tell me how God answered one of his prayers.
My daughter starts college in the fall. I know this will be a testing time. As our children approach adulthood, they need us to pray for them and support them. They need us to continue sharing our personal faith in authentic ways and to create an atmosphere open to dialogue. And they need to know one thing about us:
Our kids need to know we'll love them no matter what.
Our children may make mistakes that cause us grief. They may stop going to church, have pre-marital sex, or try drugs. They might marry non-believers or leave the faith, but they'll still need to know we love them.
When we show unconditional love to our children, we mirror God's love
God didn't wait for us to clean up our lives before he loved us. He loved us while we were sinners. To reflect His love to our children, we need to love them no matter what.
Author Franky Schaeffer wrote a beautiful "Tribute to my Evangelical Mom" after his mother Edith Schaeffer's death. His tribute touches my heart because he describes how His mother loved him when he took drugs as a teen, when his girlfriend got pregnant, and when he made other choices she disagreed with. "Mom stood with me when I dropped out of the evangelical religion altogether," he writes.
Now a grandfather himself, Schaeffer says he ultimately discovered the truth of a loving God through His mother's life-long example. His tribute to his mom ends with the poignant words, "I know I'll hear her voice again. You win, Mom. I believe."
I hope my kids will stick with following Christ, but even if they don't, I want to be a mother like Edith Schaeffer. One who loves her kids no matter what.
Friend, if you are struggling with heartbreak over a wayward child, I want to encourage you to entrust your child into God's faithful hands.
Continue demonstrating God's steadfast love. Keep praying, becaue you never know when your prodigal will return home. Even if your child is wavering, do all you can to enjoy your own relationship with God and continue growing in your faith. And tell your child today, "I love you."
Because ultimately, love always wins.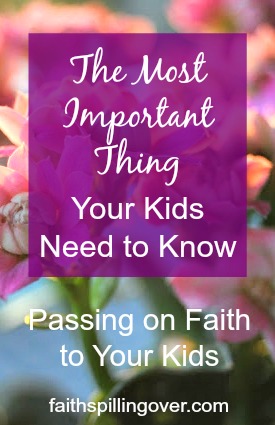 Note: This post was re-edited from my archives.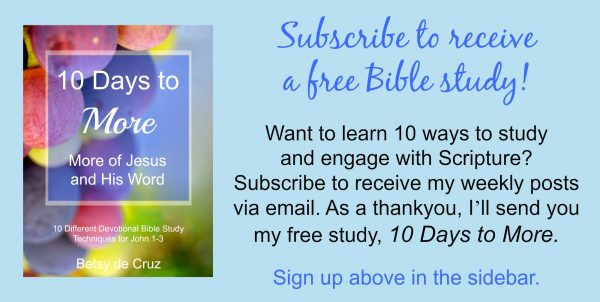 Photo Credit: Melika