Life can change overnight, but Jesus never does. As many of you navigate changes you never imagined, like losing jobs or cancelling weddings due to a worldwide pandemic, you may be looking for ways to steady your heart. (Personally, I am feeling wobbly on the inside.) We need more than ever to hang on to our steady Savior. Even when changes shake us, nothing alters the steadfast love of Jesus Christ.
When the landscape of your life changes because someone you know is sick or your city is on lockdown, Jesus Christ remains the same, and friend, He can steady your heart.
Our Savior is the same yesterday, today, and forever.
As you steady your heart on Jesus, He will give you the strength and courage you need.
I invite you to remember these truths I'm hanging onto myself:
1.  Jesus Died to Give You Life
The very name "Jesus" means "God saves," and this name was so important to Jesus' mission that God sent an angel to tell Joseph and Mary His name before He was even born. Because of His great love for us, God sent a Savior to "save his people from their sins" (Matthew 1:21).
Through His sacrifice on the cross, Jesus saved us from the punishment for our sin. All we have to do to receive salvation is to confess that Jesus is Lord and believe God raised Him from the dead. Scripture gives us the assurance that all who call on His name will be saved. (Romans 10:9,13)
No fear, no pandemic, and no crisis can take away the gift of eternal life.
2.  Jesus promised to be with you always. (A Truth to Steady Your Heart)
If Jesus already gave His life for you, He's certainly not going to leave you now. In fact, Scripture reports that Jesus promised His disciples, "And surely I am with you always, to the very end of the age." (Matthew 28:20b)
When reading the news unsettles me and fills my mind with fearful thoughts about the future, I find great comfort in remembering Jesus is with me right here, right now. He is with you, too.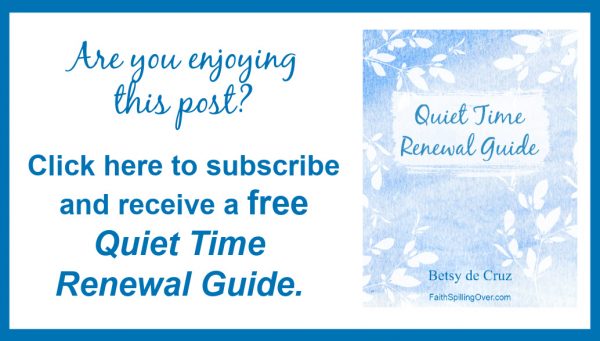 3.  He Promised to send You a Helper.
Before He died, Jesus promised to send the Holy Spirit, "another Helper, to be with you forever" (John 14:16b) Doesn't it give you peace to remember you don't have to grit your teeth and rely on your own strength? You have the Holy Spirit living inside of you.
Even when making it through the day seems to require more power that we can muster up, God can give us the strength we need. Pray in the morning, friend, and ask God for the grace you need for the day. By evening, you'll see He helped you make it through.
4.  He lives to intercede for you.
Hebrews tells us, "Therefore he is able to save completely those who come to God through him, because he always lives to intercede for them" (Hebrews 7:25). Jesus died to pay for our sin, and He lives so that we might draw near to God and find the mercy and grace we need for today.
Jesus cares about what you are going through right now. He lives to intercede for your need before the Father.
5.  Jesus will return for you.
When we feel discouraged by today's difficulties, let's remember we have an amazing future to look forward to.
Let's let these words sink in: "For the Lord himself will come down from heaven…with the trumpet call of God, and the dead in Christ will rise first. After that, we who are still alive and are left will be caught up together with them in the clouds to meet the Lord in the air. And so we will be with the Lord forever" (1 Thessalonians 4:16,17).
Doesn't this truth steady your heart? Jesus will come back to take us to Himself.
No matter what is happening in your life today, friend, you are not without hope.
What if you draw near to Jesus today? How could it make a difference in your day? Your steadfast Savior will steady your heart.
Now it's your turn: Which one of these truths most encourages you right now?
A closer relationship with God can help steady your heart like nothing else can. I wrote More of God: A Distracted Woman's Guide to More Meaningful Quiet Times to help overwhelmed and distracted women recover a fresh sense of God's presence, learn to hear His voice, and grow their prayer lives. Click on the image below for more info: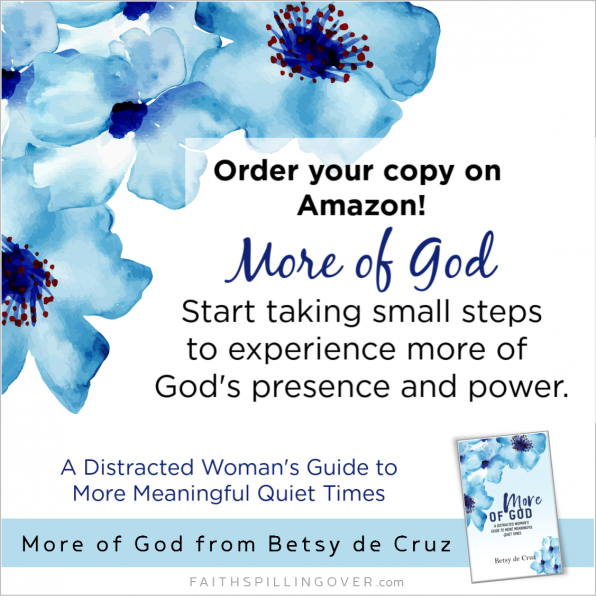 Are you facing the challenges of life on an empty tank? Need help renewing your relationship with God?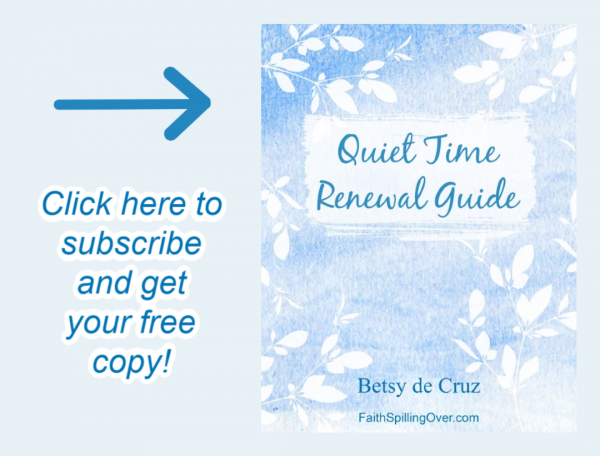 Note: This post contains an affiliate link. If you purchase, I receive a small commission towards the upkeep of this site, at no extra cost to you.
Photo Credit: Melika