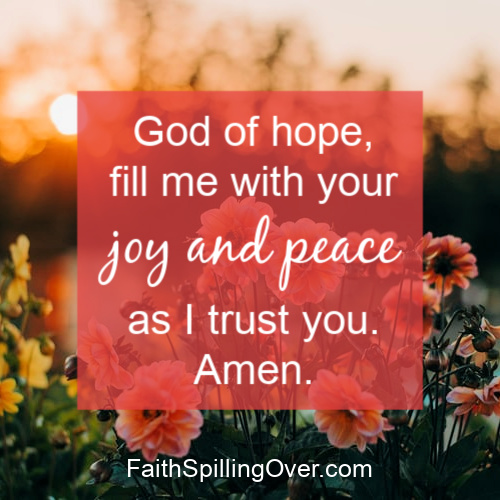 Sometimes what I live inside my head looks so different than the life I read about on the pages of my Bible. I read about faith that trusts the promises of God, but then when trouble strikes I can barely remember God's promises, much less believe them. I read about joy and peace, yet my mind shoots into overdrive as I imagine all the catastrophes that might happen in my present situation. How can I be a more joyful and peaceful person, even when life doesn't look like the "happily ever after" we see in Hallmark movies?
As I sat down recently to do some planning for the coming months, a simple question caught my attention: "What barriers are holding you back from the life you want?"
I realized I could summarize my biggest barriers with one simple word: Fear.
Fear holds me back from walking in faith, trying new things, and having a more joyful and peaceful outlook. I imagine you feel it too sometimes.
While we may not be afraid of things that go bump in the night, fear wears many faces. The anxious thoughts that wake us up at night. The nagging worry that our best friend hasn't called back because she's mad. The creeping suspicion that the terrible cold we can't shake might lead to pneumonia.
How to subdue those fears?
While I worked on my planning for the next months, God nudged my heart. He reminded me He is more interested in how I grow than in what I accomplish. As I prayed about how I'd like to grow as a person, the words "joy and peace" came to mind.
How to cultivate more joyful and peaceful spirit when troubles abound?
After all, even the people on Hallmark movies face problems before they get to the "happily ever after" part, right? I want to learn to walk through challenges with more of the joy and peace that come from walking with God.
It occurred to me that my two words, "joy and peace," have been there all along in my favorite Bible verse: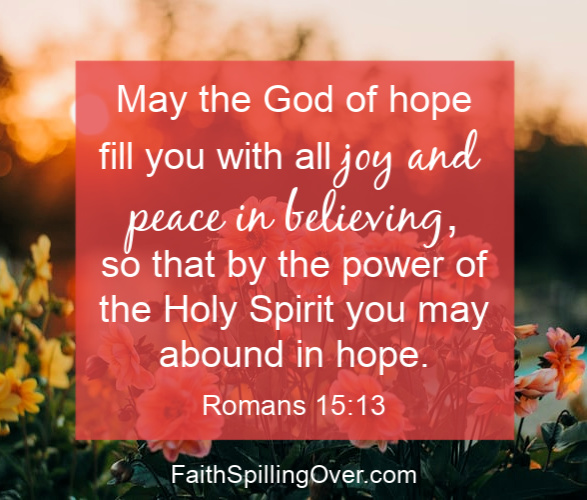 Maybe the key is believing.
God fills us with joy and peace as we believe Him. As we believe who God says He is and what He says He will do, hope grows in our hearts.
What if we believed God more this year?
We'd experience less fear and more joy and peace.  Our hearts would overflow with more hope.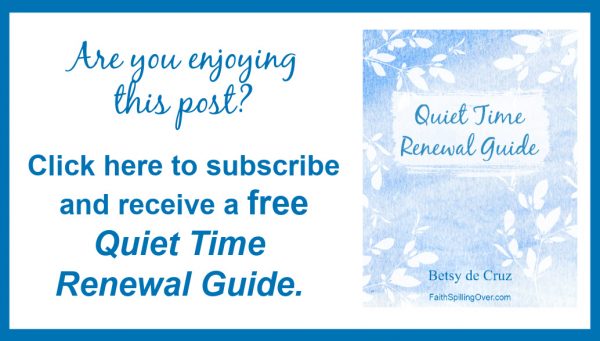 "Less Fear. More Joy and Peace" is my theme for the upcoming season.
As I think about what I need to do to believe God more fully and embrace the peace and joy He wants to give me, two steps come to mind. Will you join me in taking them?
1. Feed our faith with the Word of God.
"So then faith comes by hearing, and hearing by the word of God." (Romans 10:17, NKJV)
Spiritual amnesia tends to overtake me the minute I encounter a problem; I can totally forget God's love and care for me. I forget His faithfulness. That's when I need to feed my faith with a steady stream of truth from Scripture. The Bible reminds me of who God is, all He has already done for me, and what He promises to do.
We need a daily diet of Scripture. We can read it, listen to it, and memorize it. When we find nuggets of truth that spark faith in our hearts, we can write them out and even pray them back to God.
2. Stop giving fear so much real estate in our minds.
"…take every thought captive to obey Christ." (2 Corinthians 10:5b, ESV)
It's almost impossible to give fear just a little space in our minds.  When we focus on our worries, they tend to grow. Have you noticed it too? The more I bemoan a difficult situation, the worse it seems. When I let worry take control of my thoughts, my faith shrinks.
Instead of giving our thoughts free rein to worry and spin out of control, we can take steps to hold them captive to the Word of God. When a hard situation threatens us, it takes discipline and practice to stop the flood of fear and worry, but we can try these:
Friend, we won't get this right every time, but we can make slow progress.
My new motto is "Less Fear. More Joy and Peace."
Am I expecting every minute of my life to be more joyful and peaceful? That probably won't happen. Instead, I am hoping to make small steps of progress in growing to become a more joyful, peaceful person as I learn to trust God and lean on Him more fully.
Here is my prayer: "God of hope, fill me with your joy and peace as I trust you!"
Now it's your turn: What step could you take towards growing into a more joyful, peaceful person?
Are you facing the challenges of life on an empty tank? Need help renewing your relationship with God?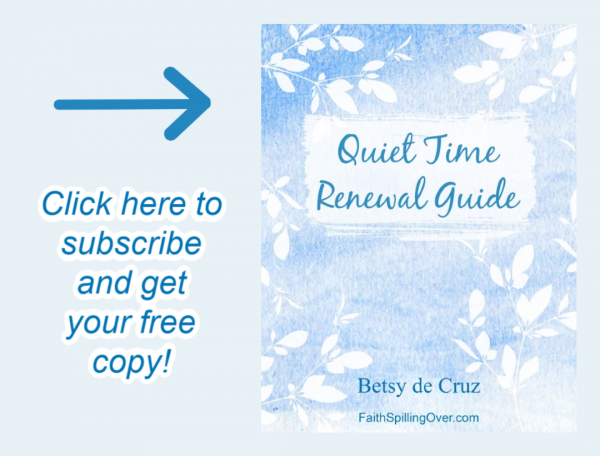 Photo Credit: Irina Iriser on Unsplash