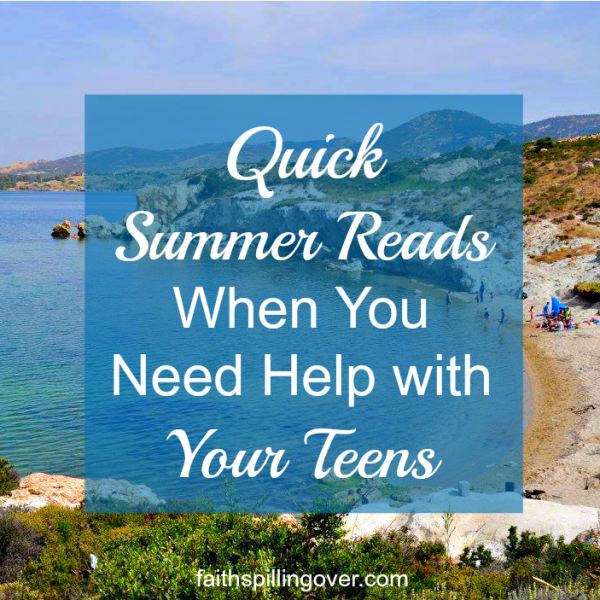 Does the thought of summer bring peace to your soul, or strike terror in your heart? While some moms breathe a sigh of relief in June at the thought of slower routines, others secretly feel apprehensive. Summer might mean more time with your kids because they're out of school, and you're wondering how you'll hold on to your sanity.
Summer could mean a nagging worry in your mind over what they're doing while you're at work.
If your kids are like my brothers were, they might be out on the roof right now, staging a fight for all the neighbors to see. One will shout and knock the other off the roof; the one who falls will scream in agony before landing onto the mattress they've dragged out into the backyard. (No joke. That's how we spent our summers while mom was at work. Not that you should worry about that.)
School ended a week ago, but you might already be wondering, Will I go start, raving mad by the end of summer?
Nervousness aside, summer offers us wonderful opportunities to focus on slowing down and spending time with our families. But more time together, coupled with soaring temperatures, can also mean more stress and conflict. In those moments that put your nerves on edge, can I encourage you to breathe deep and ask God's Spirit to fill you with the love, joy, and peace you need? I'll be doing that right along with you.
I'll take a blog break until June 2oth.
Last weekend, we celebrated my daughter's high school graduation, and this week we're taking some family fun days. I'll take a two week blog break, but I want to leave you with some links that will encourage your relationship with your teens and tweens. The first two are recent blog posts, and the others are my articles on Crosswalk.com.
I'll be back on June 20th with ideas for summer Bible study that just might keep you from losing your mind when your kids start pushing your buttons.
Helpful Links for Parents of Teens:
How to Have a Better Relationship with Your Child  
If you want to pass on your faith to your children, don't overlook the power of a good relationship. Here are 15 tips on building a better relationship with your kids.
How to Parent Your Teen Girl and Enjoy the Ride (These tips will also help parents of teen boys)
Parenting a teen girl is like riding a roller coaster, but we can enjoy the ride. Here are 4 ways to keep a positive outlook and grow a good relationship.
10 Things Your Teen Loves to Hear  
Surging hormones and adolescent angst can make your teen explode. He might know how to push your buttons better than anyone else, but positive communication that affirms him can improve your relationship and help lessen conflict.
10 Things to Never Say to Your Teen
In the heat of a crazy moment, we might say things without thinking that tear our kids down. We need to remember our words hold tremendous power over them.
When Your Child Says 'I'm not Sure I Want to be a Christian Anymore'
Encouragement to trust God with your teens or young adults who are drifting spiritually and tips for how to talk and listen to them.
Sex and the Christian College Student
When it comes to sex, there's a huge disconnect between what our kids see in the world and what they hear in church. This might give you some ideas about how you can talk to your teens and young adult children about sex.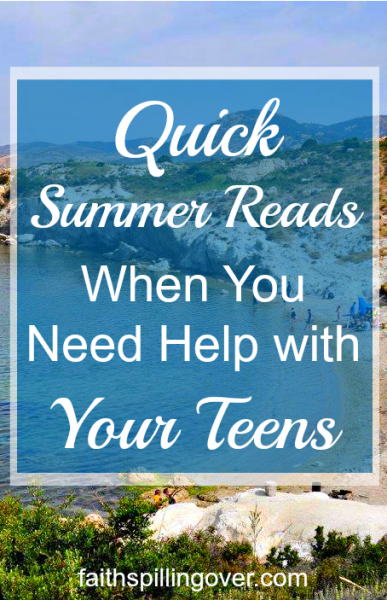 Now it's your turn: what plans does your family have for summer?
If you'd like fresh servings of Faith Spilling Over delivered weekly to your inbox, enter your e-mail address in the box in the sidebar. I'd love to send you my free guide, 10 Days to More. You'll find 10 ways to study and engage with God's Word.
I link up with Holly Barrett's #TestimonyTuesday, Kelly Balarie's #RaRaLinkup, Holley Gerth's Coffee for your Heart, Crystal Storms' #HeartEncouragement, Salt and Light with Shannon Guerin, and Arabah Joy's Grace and Truth. Check out these communities for more encouragement.