"Would this bright, beautiful girl even be interested in spending time with a middle-aged housewife like me?" When I met Bahar, she was a social butterfly with a million friends. I was a stay at home mom overwhelmed by two small kids. I could barely get a shower most days, let alone get outside my house.
I sensed the Lord leading me to encourage younger women in our church, but I didn't know what to do. I began to pray for a few women and call them occasionally.  The first time I called Bahar, I forced myself to dial the numbers with sweaty hands.  What if I was bothering her? What if she didn't really want to talk to me?"
As I got to know Bahar, I discovered we had several interests in common, including a passion for God's word.  I also realized how much we both needed someone to talk to.  That was twelve years ago. Today, she's one of my go-to girls if I need prayer, a word of advice, a listening ear, or someone to laugh myself silly with.
I've seen these scriptures come to life in our friendship:
1 Thessalonians 5:11, Proverbs 27:9
Many Christian women live overwhelmed by the demands of their families, jobs, ministries, or even their studies. Most of the time, we're just trying to hold ourselves together and we're doing it alone. We need the encouragement and accountability of spiritual friendships, but who has the time?
Insecurities hold us back. We look at other women and think, "She has it all together. What do I have to offer? Would she even like me?"
We don't realize other women look at us and think the same thing.
Do you have any faith sisters in your life?
If you don't, how about praying for some? Growing a friendship with a faith sister is one of the healthiest things a woman can do for herself. Look around and consider if you already have a friend or acquaintance you feel drawn to. Be more intentional about reaching out to her.
Three Ways to Make Faith Friendships Part of Your Life.
Keep it Simple
Start by telephoning your friend more regularly. (You might prefer texting; I find a phone call more personal.) Meet for lunch once a month. Perhaps you and two friends can make a threesome.
Be Intentional
Have fun with your faith sisters. Laugh with them, but be intentional to forge a spiritual connection. You might try one of these ideas when you see each other:
Share 3 things you're thankful for and 2 concerns you have.
Share prayer requests and pray together.
Keep each other accountable to read God's Word. Share with each other a favorite scripture you read the past week.
Read a short passage together. Take turns choosing it.
Stay Connected
Even if you can only meet once a month, stay connected. Keep in touch by phone or social media and keep praying for each other. Send a text or quick e-mail to cheer your sister on.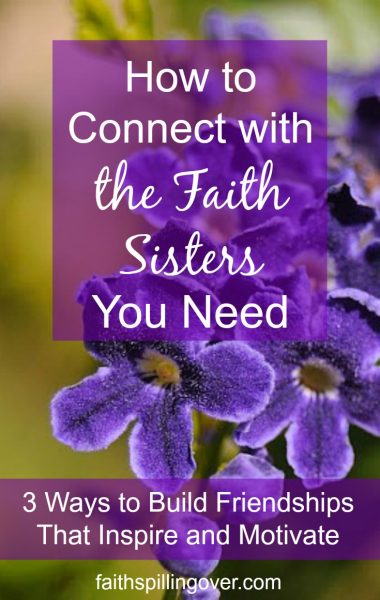 Fellowship with faith sisters helps us grow spiritually. We inspire and motivate each other. We hold each other up during hard times. Hopefully we have fun together too. Sometimes I laugh to remember my friendship with Bahar started with a phone call I was almost too scared to make.
Now it's your turn: Tell us about one of your faith sisters. Do you know someone who could use an encouraging phone call or text today?
Re-edited from my archives.