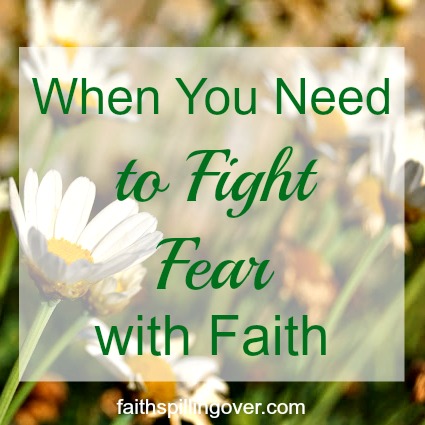 Have you ever noticed that what you focus on grows bigger in your mind?
Recently I woke up in the wee hours of the morning thinking fearful thoughts. The night before, our family had watched a classic thriller, The Day of the Jackal. We had fun watching, but guess what this "Faith Spilling Over" woman was thinking about when she woke up at 3:00 a.m.? I was counting out how many people the "Jackal" had murdered.
You can probably guess I had trouble going back to sleep. By today's standards, the movie was fairly harmless. But as I replayed in my mind how the main character did away with each person, a vague uneasiness settled over me.
Know what helped me? My Bible.
I pulled out my Bible, and the Holy Spirit brought the Word to life. Soon God's greatness and love grew bigger in my mind than my restless anxiety. Peace returned. I lay back down and went back to sleep.
Satan will pull on our fear strings any chance He gets.
The news we see every day on television is more chilling than my 1973 suspense flick: the shooting in Florida or the Istanbul bombing. Dwelling on horrific news makes God's love and power start to look small. We get the unsettling feeling that the world's not as safe as we thought.
 Whatever we focus on grows bigger in our minds.
What's your greatest fear? Illness? A car accident? Losing your job? Are you scared your kids will get in with the wrong crowd? Maybe the people from the gym or your new Bible study group don't really like you? Most of us have plenty to worry about.
God's Word offers wisdom when we struggle with fear: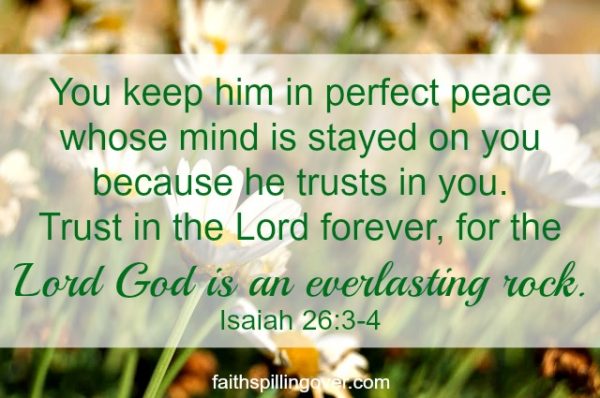 Isaiah 26:3-4 
As I read this, three steps for fighting fear with faith come to mind:
 1.  Stop Fear in its tracks.
Stand on guard and recognize Satan's attack on your mind through fear. Fear makes us forget God. Doesn't that sound like what Satan wants? We forget God's care for us. We focus on negative circumstances and expect bad outcomes. Our best bet is to stand guard and stop our thoughts when they start down the fear track.
2.  Shift Your Focus
When fear creeps into our thoughts, we need to change our focus. Our verse tells us to stay our minds on God. How do we do that when fear knocks at the door? The only way I know is to start declaring God's Word. Call to mind scripture verses that emphasize God's nature. Copy them down, put them on sticky notes, put them on your phone, read them out loud, and memorize them. Do whatever it takes to put God at the forefront of your thoughts.
3.  Choose Trust
Our Everlasting Rock is trustworthy, so let's affirm our trust in Him. Declare His Sovereign power over each situation you're worried about. If you're scared your project or presentation at work will fail, start praying for God's help. Each time that fear comes to mind, pray. Affirm and declare that you trust He will help you.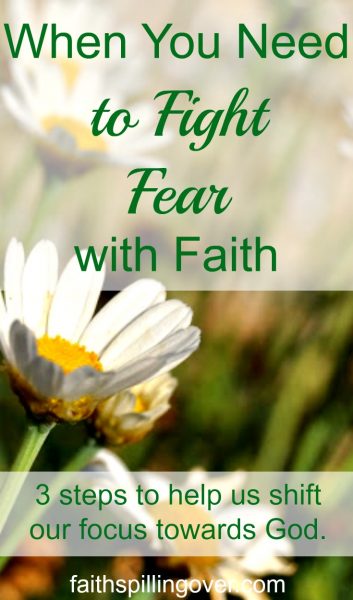 Fear makes us forget God and His care for us. Faith focuses on His love and power. We can fight fear with faith when we shift our focus towards God. When we keep our thoughts fixed on God, he keeps our hearts at rest in Him.
Now it's your turn: What fears are you facing? Does the news have you scared? How do you choose faith?
If you'd like fresh servings of Faith Spilling Over delivered weekly to your inbox, enter your e-mail address in the box in the sidebar. I'd love to send you my free guide, 10 Days to More. You'll find 10 ways to study and engage with God's Word.
I'm linking up with Holly Barrett's #TestimonyTuesday, Kelly Balarie's #RaRaLinkup, Holley Gerth's Coffee for your Heart, Crystal Storms' #HeartEncouragement, and Arabah Joy's Grace and Truth. Check out these communities for more encouragement.