During our recent trans-Atlantic move, I had a unique lesson in how to stay awake. After 4 hours in line at the Dallas airport and a 10 hour flight, our family had a 9 hour layover in Frankfurt.  For 9 hours, life felt like going through the motions. I was scared to death we'd fall asleep and miss our next flight! We walked. We sat and drank coffee. We walked some more. Heads nodding, we played cards and read books. Then we drank more coffee. It was a relief to finally get on the plane to Izmir.
Moving through eight time zones messes up your body. For a week, we had jet lag. I needed a fork lift to get myself out of bed in the mornings. My struggle to stay awake physically made me think about how much we need spiritual awakening.
Many of us are living life asleep.
Do you ever feel like your busy routines lull you to sleep? You might not have jet lag, but you're living on auto-pilot, making it through the day. God has so much more for us: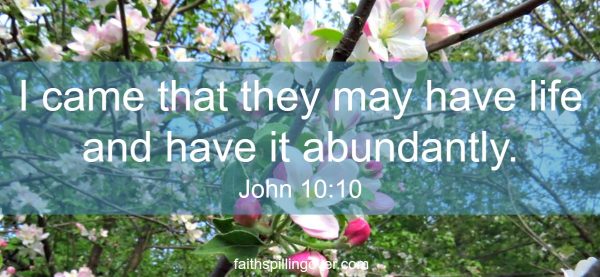 Jesus came to give us abundant life, a life full of joy and meaning. Knowing and loving God brings joy, yet the daily drudge can drag us down. You may be going through a busy season, an overwhelming season, or a downright difficult season. Take heart. This season will end, but you can take steps even now to wake up to the joys you're missing.
How can you stay awake to joy when life lulls you to sleep?
Take Joy in Small Things
Recently I had a revelation while hanging laundry on my balcony. Yes, the drudge was there. I was hanging laundry. But God opened my eyes to the loveliness of the sunlight glinting through the trees in the park below. How much joy do we miss simply because our eyes are shut to the small? Let's not miss out on the simple gifts from God, like a delicious meal or a soft pillow at night.
Treasure Your Time with God
Take time to savor God's presence. When you open your Bible, lean in close and wait for God to speak. When He speaks, hold tightly to His Word. Take it with you into your day. Put it into practice. You'll be blessed.
Give Thanks Always
Go on a treasure hunt to see what God is doing and what you can thank Him for. Keep your eyes open. Even in hard times, you'll see blessings. This always changes my attitude and awakens my heart.
Reach out to Your Peeps
After our move, I felt overwhelmed by culture shock and sadness over the friends and family we left behind. One day, I made a few phone calls to people back home, and I was amazed at how much better I felt. Making a phone call, reaching out to hug someone, or saying, "I love you" can make a difference in our day.
Keep Your Serve
Who can you serve today? Whether you open your home to a Bible study group or make a meal for a sick friend, you'll be blessed. Sometimes I also need to open my eyes to the joy of serving my family. I may not feel like sewing a button on that shirt or teaching my teenager to make a budget, but God blesses my work when I see it as a service opportunity in His Kingdom.
God's abundance is always within our reach. Rejoicing and giving thanks for small things keeps us aware. Treasuring our time with God enlivens us. Reaching out and serving people add meaning to life. What step can you take today to take hold of joy?