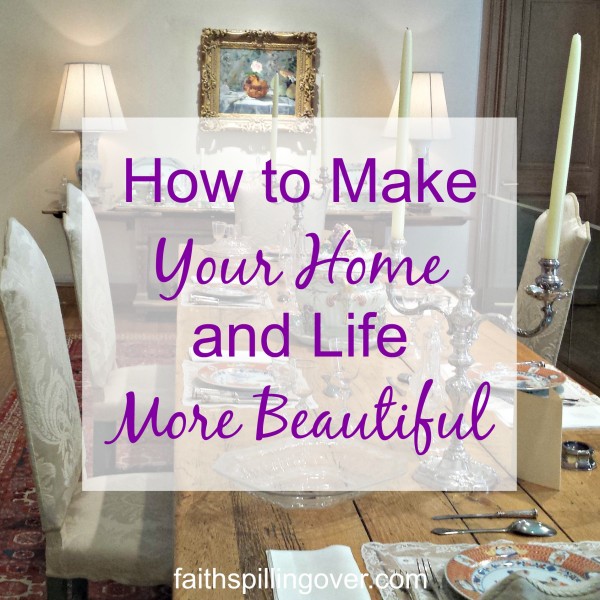 Recently I visited a stunningly beautiful home. Paintings on the walls included several Renoirs and a Monet. Antique porcelain and decorative treasures filled the rooms. Two collectors had spent their lives acquiring artwork to grace their home, now a museum. As I walked through the rooms, I was awed by how the owners used their expertise and invested their wealth to curate such lovely objects.
You and I may not be art collectors, but we can make investments to create more beautiful homes and lives.
Proverbs 24:3 tells us that wisdom makes a house beautiful:
The word "house" refers not only to the place we live, but also to our life. Over time, wise investments in our marriages, families, and homes create beauty. When we live by it, God's wisdom yields valuable treasures and blessings.
Here are 10 ways to make your home and life more beautiful:
1. Make Christ Your Foundation
You are a powerful influence in your home, and you're the only person you can control. Spend time with Jesus each day. He'll give you the wisdom, strength, and joy you need to shine His light.
2. Honor Your Husband First.
After God, put your husband in first place, before your kids, job, or ministry. Respect his leadership. Be attentive to his needs. Give time to your most important relationship.
3. Teach Truth to Your Children
Let your children see you live out the Christian life you want for them. Read scripture together. Go to church and serve God together in your community.
4. Pray
Pray for yourself and your family to ask for God's blessing and guidance. Make Christ the center of your home by praying together daily with your husband and your children.
5. Speak Life
I struggle with this. Just last night I snapped at my daughter for one tiny $20 mistake. Let's ask God's Holy Spirit to help us curb words of irritation and speak positive, hopeful words instead.
6. Make Relationships a Priority
Play with your kids, take walks, and go out for ice cream. Be a listener. Welcome guests of all ages into your home.
7. Be an Encourager
Pay attention to what your husband and kids do well, and tell them you appreciate it. Be a positive voice.
8. Gather Around the Table Often
Cook up some good food. (Or pop frozen dinner into the oven.) Have friends over for a meal when you can. Family dinner will have a greater impact on your kids than just about anything.
9. Fill Your Home with Music
Play worship music to lift everyone's spirits. Dance and have fun together. Encourage your kids to learn an instrument. (At first you may cringe to hear them practice, but later, they'll fill your house with beautiful music.)
10. Be Diligent to Care for Your Home
Create an environment of beauty by taking time to clean, de-clutter, and organize your home. Fifteen to twenty minutes a day works wonders. Redeem housework by praying while you do it.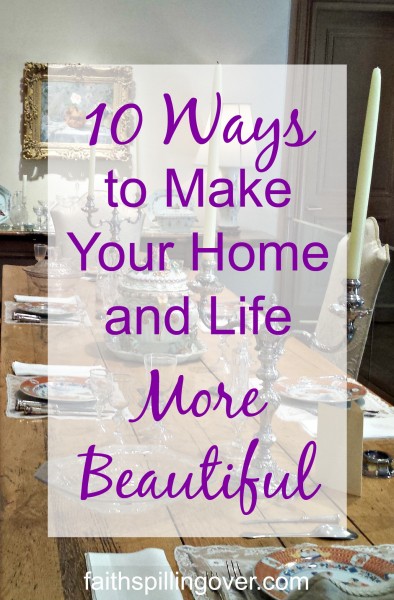 I don't mean to suggest that we have to be Super Women to invest wisely in our homes. None of us will do all of these each day. You might cook a delicious meal one evening and bring home takeout the next.  Some days I fail at honoring my husband or modeling faith well to my children.  I have to ask for forgiveness.
But if we seek to put God first and return to His wisdom again and again, he'll make our lives more beautiful.
Now it's your turn: What treasures do you want for your home?
If you'd like fresh servings of Faith Spilling Over delivered weekly to your inbox, enter your e-mail address in the box in the sidebar. I'd love to send you my free guide, 10 Days to More. You'll find 10 ways to study and engage with God's Word.
I'm linking up with Holly Barrett's #TestimonyTuesday, Kelly Balarie's #RaRaLinkup, Holley Gerth's Coffee for your Heart, Crystal Storms' #HeartEncouragement, and Arabah Joy's Grace and Truth. Check out these communities for more encouragement.