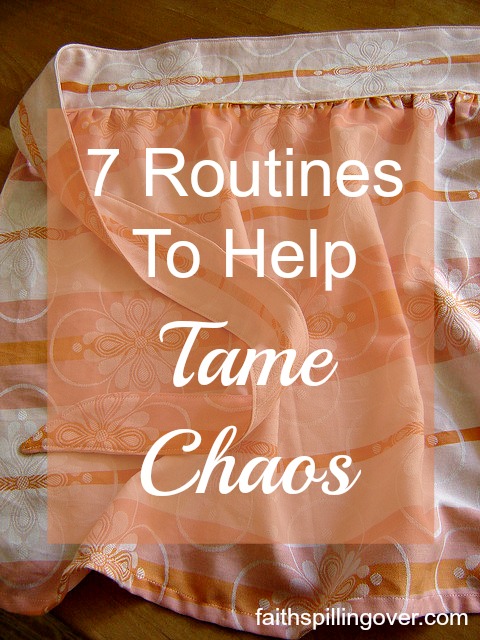 Most afternoons when 5 o'clock comes, I don't know what to do next. Do I start on dinner, vacuum the living room, check on my kids, or check e-mail? The other day when I got home from a meeting at 5, my daughter met me at the door.
"Mom, did you remember to get contact lens solution?"
Of course I hadn't. Camille had told me days earlier that she needed it, but I'm just not that organized. I turned around and headed back out the door. Dinner would probably be late again.
Does your life zip out of control as easily as mine? Work, social engagements, and relationships fill our days. If you're married, it's easy to leave your soul mate on the back burner while you get stuff done. If you're a mom, you probably wear many different hats: CEO, drill sergeant, cheer leader, cook, chauffeur, story reader, and teeth inspector. Some days it feels like chaos rules while we move forward as best we can.
 A few daily routines help me tame the chaos.
Although the word "routine" might make free spirits cringe, I find routines life-giving. They bring a sense of order, calm, and reassurance to our busy lives. Well-established routines enable me to do certain things on auto-pilot, so I'm free to focus more attention on what's important.

1. Start Your Day the Night Before
This is one habit I'm learning from my husband. Each night, he sets the table for breakfast and looks at the following day's schedule. I'm trying to lay out my clothes and get the coffee maker ready before bed. A simple evening ritual of two or three steps gives you a jump-start on the following day.
2. Morning Time with God
Spending a few minutes reading my Bible and praying over my activities brings peace and order to my morning. Usually I jot down a verse, which fuels my faith for the day ahead.
3. Plan Your Day
Making a to-do list keeps me on track with what I have to do. Most mornings, I review yesterday's list and move important things I left undone to today's list. I cross my fingers and put the hardest tasks at the top of the list, hoping I'll tackle them first.
4. Pinpoint Your Most Crucial Household Task. Do it Daily.
Your most crucial household task is the one that drives you insane if it's left undone. Our house can be falling down around my ears, but a dirty kitchen floor drives me crazy, so I sweep and/or mop almost every day. You might tidy up your living room or wipe down the family bathroom. Do this job at the same time every day, and you'll get lightning quick at it.
5. Do One Load of Laundry.
Washing one load a day helps me get laundry done on auto-pilot. I load the machine at night, and start it in the morning.
6. Family Dinner
With older kids, we move dinner time around to accommodate their schedules. We make it a priority to sit down and talk over a meal whenever possible.
7. Relax Before Bed
Turn off the TV or the internet a half hour before bed and do something that helps prepare you for a restful night's sleep.
Disclaimer:
I have to confess that I've put off writing this post for weeks because I keep thinking, "I'd better get myself together first." I've established some of these habits better than others, but a little progress in the right direction is a good thing, don't you think?
Now it's your turn: Do you have any daily routines that help you reduce stress? Which of these habits would you pick to work on?