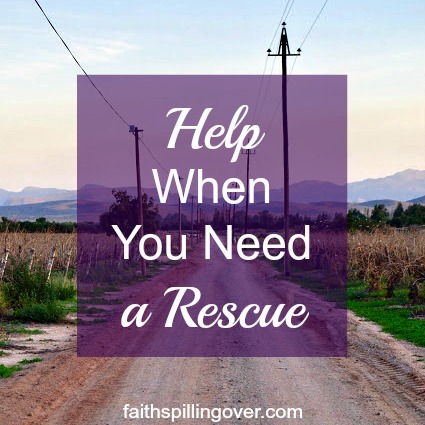 Getting lost comes naturally to me because my inner GPS malfunctions on a regular basis. This sounds lame, but I rely on my husband to get me places. Last week he was out of town, which resulted in my daughter and me landing in a dark, muddy ally downtown at 7:30 pm. This was after 30 minutes of following Mrs. Google Map's voice down all the back alleys of our city center.
Left. Right. Straight.
Even after using Google Maps and calling our host two times, we ended up lost in a dark, cold, muddy ally. True story.
Feeling a bit panicked, I contemplated giving up and going home, but we had the salad and the songbooks for our Bible study group. Plus my daughter was actually leading the study, so going home didn't look like a good option. We finally found our way out of the alley and made it to a school, where we called our friend Jill one more time.
"Where are you?" she asked. "Let me come get you."
So we heaved sighs of relief and waited in front of that school for Jill to rescue us. When she found us, we followed her all the way to her warm living room bright with laughter and smiles.
Sometimes life makes you feel like you need a rescue.
The road ahead looks uncertain. Hard circumstances confuse us and make us wonder when God will come through. When life doesn't turn out like we hope, it's easy to stray a few inches (or miles) from the belief that God is really for us. We feel lost.
No matter how far we stray, Jesus will come find us right where we are. He'll get us back on the right road home to the Father.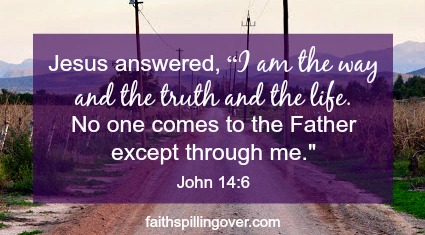 Jesus will always come rescue us, but sometimes His help looks different than we expected.
Jesus is the Way
When I feel lost and unsure of what to do next, it helps to remember Jesus IS the way. As I seek to stay close to Him, He'll show me my next steps. I don't have to focus on the road ahead. I just have to keep my eyes on Jesus. He is my way.
Jesus is the Truth
When life gets hard, do you wonder if God really loves you? Do you doubt His promises when you can't see what you thought He promised coming true for you? Friend, you are not alone.
I love remembering that Jesus is the truth. His life and death are the expression of the Father's love and mercy for us, and His Word contains the truth our souls need to keep thriving in hard places.
He is the Life
When we have Jesus, we have the key to abundant life. When we remain in Him, we grow. He changes us and our reactions to obstacles. Firmly rooted in Christ, we can experience fruitfulness in any circumstance. I'm learning that untold joys are found in sorrow and struggle. Where we feel scarcity and lack, we find abundance through Christ.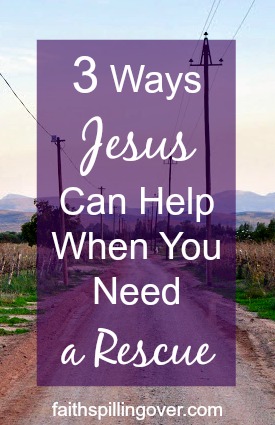 Friend, maybe you need a Rescue today?
When my daughter and I felt lost, our friend Jill came to our rescue.
Maybe you're feeling lost too? If you call on Him, Jesus will find you where you are and come to your rescue always. If life has you feeling stuck or wondering what's ahead or struggling to believe God's good promises, how about drawing near to your Rescuer?
Will you pray with me? Lord Jesus, You are the way. Show me my next steps. You are the truth. Help me believe. You are the Life. Give me grace to receive your abundance. In Your name I pray.
This post is part of a series on the "I am" statements of Jesus. Here are other posts you may have missed:
Hope When You Don't Know How to Plan a New Year – "I am the Good Shepherd"
When You Hope for More Light in Your Life – "I am the Light of the World"
When You Are Hungry for the Best Bread Ever – "I am the Bread of Life"
Hope for Christmas When You Got the Unexpected This Year – "I am the Resurrection and the Life"
If you'd like fresh servings of Faith Spilling Over delivered weekly to your inbox, enter your e-mail address in the box in the sidebar. I'd love to send you my free guide, 10 Days to More. You'll find 10 ways to study and engage with God's Word.
Linking up with Kelly Balarie's #RaRaLinkup, Holley Gerth's Coffee for your Heart, Crystal Storms' #HeartEncouragement, Salt and Light with Alisa Nicaud, Lyli Dunbar's #FaithonFire, and Arabah Joy's Grace and Truth. Check out these communities for more encouragement.