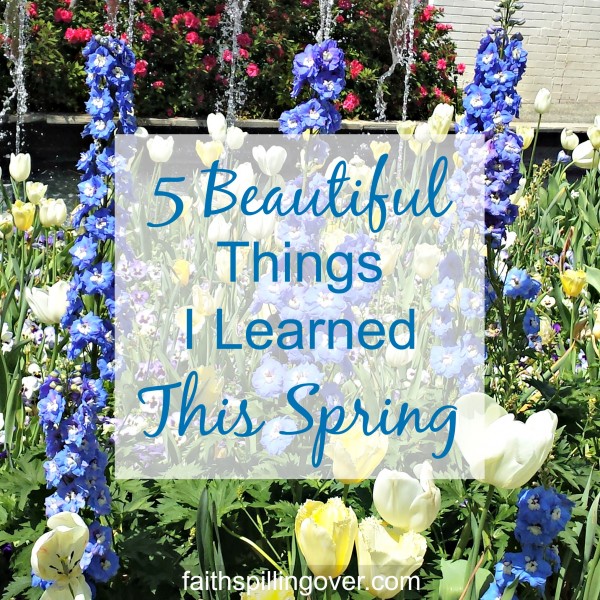 Spring is a special season God gives us each year to celebrate life and new beginnings, don't you think? My joy level increases. God reminds me again that each day is a twenty-four hour gift with opportunities to learn and grow. I'm celebrating spring by sharing with you five things I'm learning make life happier. I hope they encourage you as well.
1. God's Word Works
A few weeks ago my family got some unsettling news that left me worried. All I could do was go to my Bible and read God's Word, pray it, and proclaim it. I wrote this verse on an index card and literally carried it around with me for a few days:
You know what I discovered? God's Word really works. My anxiety diminished, and I felt renewed hope and peace.
2. Look at a Flower When You Want to See a Simple Miracle.
I always say flowers are miracles from God. I never get tired of looking at them. A sweet friend from Austin came to stay for Easter weekend, and we went with my teens to the Spring Bloom Festival at the Dallas Arboretum. I couldn't get over how beautiful the flowers were. So many tulips and so many colors in one place took my breath away.
3. Books Are Your Friends.
This past month I read Jen Hatmaker's For the Love. It's the most unique Christian book I've read in a long time. I laughed myself silly at Jen's views on leggings as pants and her story about how she keeps seeing someone's old-lady hands sticking out of her sleeves now that she's past 40. More importantly, Jen encouraged and challenged me with insights on pursuing a life marked by grace. Let's give up trying to force ourselves and our loved ones to live up to impossible standards.
4. No Treasure Outweighs Your Family
Other families have reunions. We have Fry Fests. That's because my mom and two aunts were born into the Fry family. We still call them the Fry Girls. Family members ranging in age from 1 to 75+ gathered in Dallas for a good ol' Texas "visit," which included good food.
We laughed ourselves silly when Aunt Beulah told the story of her biggest prank back in high school in Fabens, Texas. She and her friends secretly poured green ink into the school's water supply. All sinks, toilets, and hoses ran green for a week, and when the school authorities threated to find and punish the perpetrators, she broke out in a sweat that lasted until the water ran clear again. (I hope her high school principal isn't reading this.)
5. It's Never too Late to Start Again.
Can I just say I'm not a hard core exercise person? I love to get outside and walk each day, but five years ago, I stopped doing my daily Pilates routine. In January, I started daily Yoga with Adriene on youtube. That morphed into my own personal blend of yoga and Pilates while listening to favorite Christian music. So far, I've managed to stick with it most days. (Okay, maybe not the last four.) It's relaxing, empowering, and makes a difference in the way I feel.
Isn't it amazing how we never stop learning? God always has new roads for us to travel and new things to show us along the way.
I'd love to hear from you. What are you up to this spring? Have you learned or tried anything new?