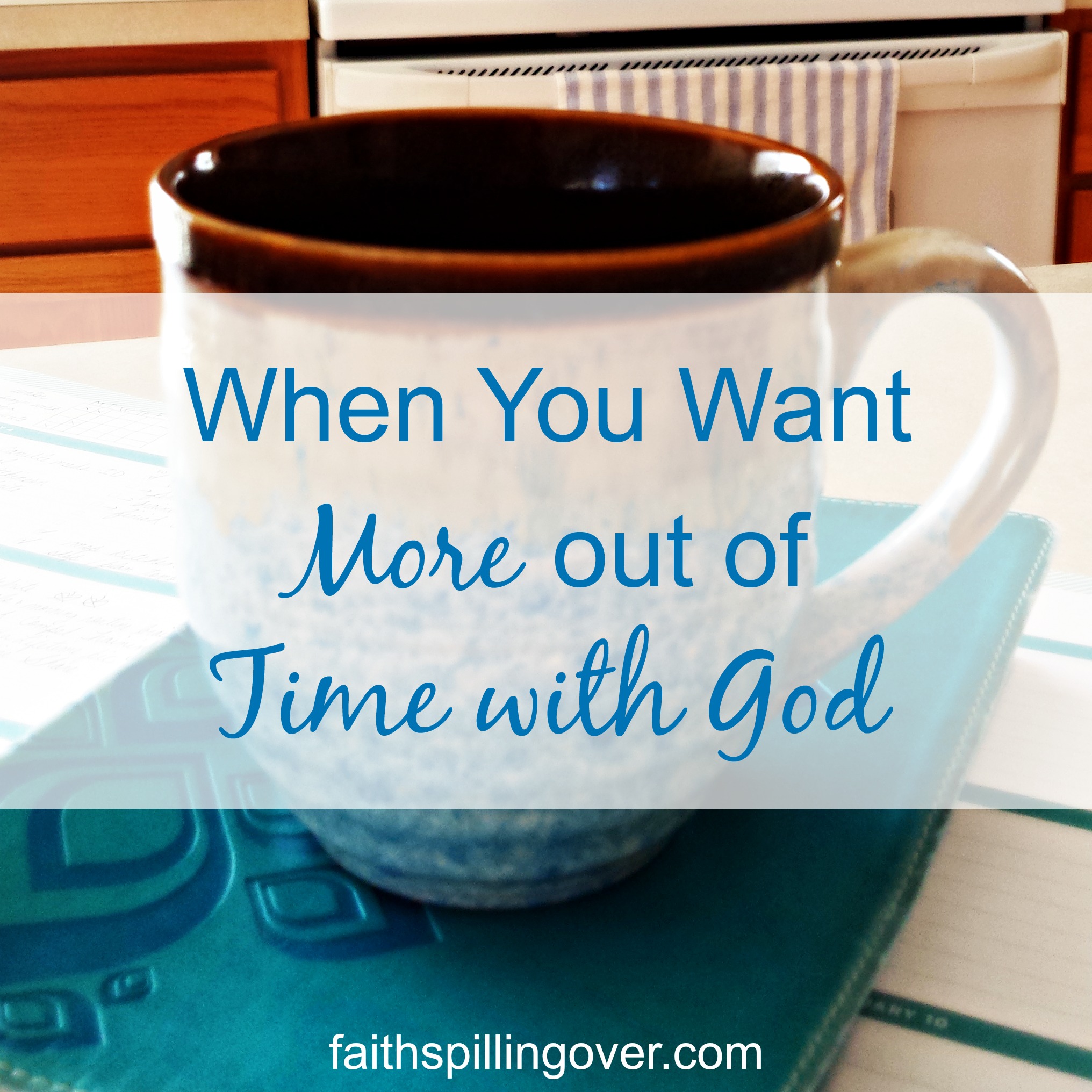 Morning times with God fill me with joy and faith, but later on in the day traffic jams, lost library books, and leaky washing machines turn me into a hot mess faster than nobody's business.  During my quiet time I often sense God speaking. I feel peace. But during my hot mess times I whine, and I can't for the life of me remember what I read in the Good Book that very morning.
Um, isn't the Bible supposed to affect how I live my life? How is it that the same woman who heard God's voice in the morning gripes at the kids for messing up the kitchen and snaps at her husband because the poor man left his tea bag in the WRONG saucer?
How can I carry what I read in the morning into the rest of my day?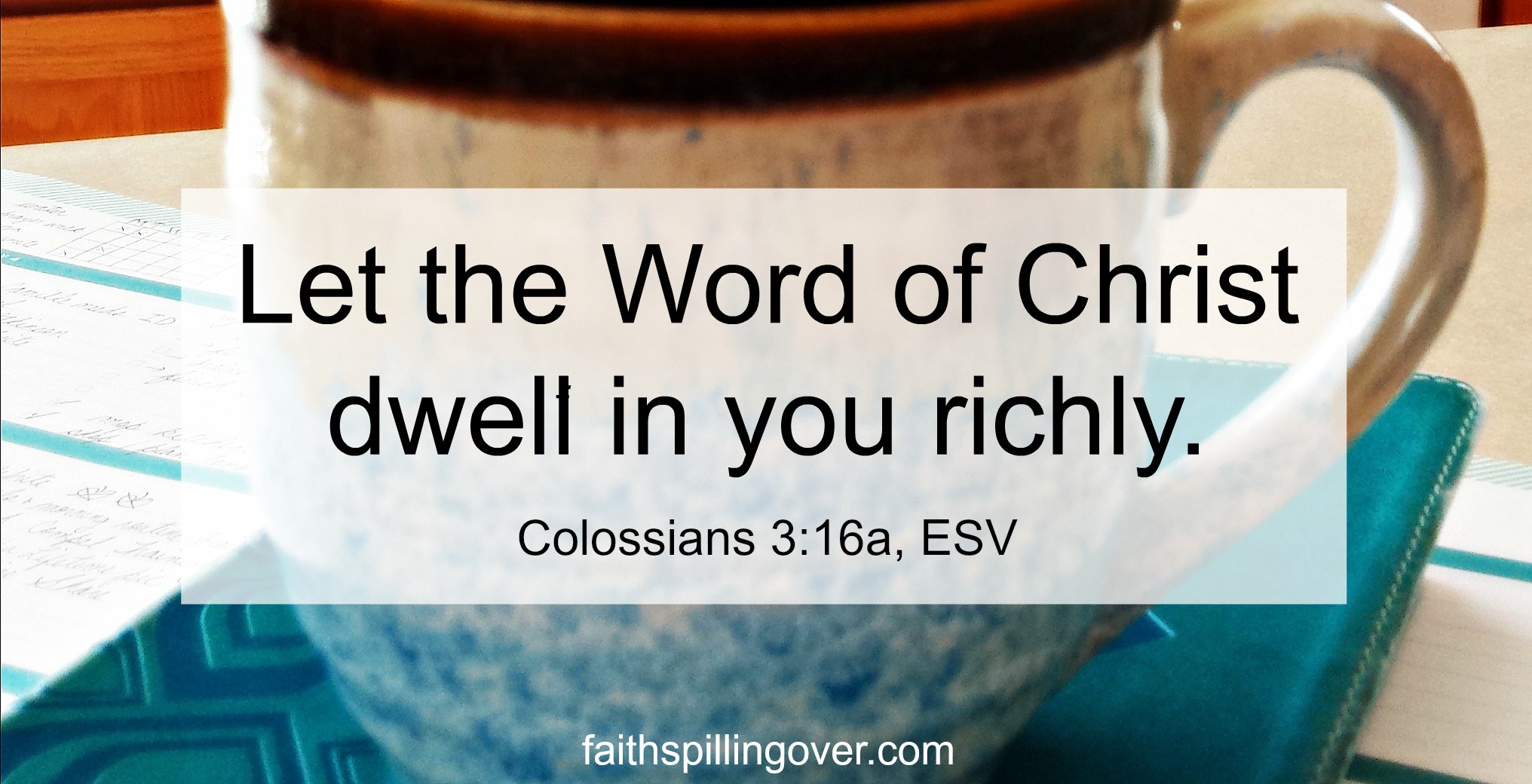 I want the Holy Spirit to bring the Word to life in me. I don't want to just read it; I want to live it. But how can I live it if I can't even remember it?
That's why I write down one verse each day.
We've heard about how we're supposed to keep a spiritual journal. Only that sounds like something for nuns. Not for stressed-out, side-tracked, busy women like me who can't seem to get it all together. Besides, keeping a spiritual journal intimidates me because what am I supposed to write, anyway?
What I can write is one Bible verse.
I call it Spiritual Journaling for the Busy and Distracted. Want to Join me?
Write Down One Verse.
Last week I wrote about reading less and choosing one verse to focus on. I copy my verse and read it a few times. Then I do one of two things:
Write a One Sentence Prayer
I take a few minutes to respond to what God is saying to me through the verse. Whether it's a prayer of thanks or a request, I write one sentence in hopes that I'll remember it later in the day. Here's a snippet from my journal:
OR
Choose One Word
Now this is going to sound crazy, but it's working for me. A friend suggested choosing ONE WORD from my one verse. So here's what I'm doing:
I read my verse several times and hone in on one word that sums it up.
I write the word down and ask, "Lord, what do you want to say to me?"
Then I jot down one or two thoughts that come to mind.
The last two weeks words like Wait, Glory, Welcome, Listen, and Believe have encouraged me. One word is easy to remember later on in the day.
Mind you, on many days I forget all about my verse. But on the days I remember? I have a default prayer I can lift up to God in hard moments, or just one word that sparks my thoughts toward what God spoke to me earlier. But even on days I forget, guess what I find in my notebook the next morning? Yesterday's verse. It's there waiting for me to read again.
Obviously writing a prayer or choosing a word doesn't mean I'm putting it into practice. Only when I give the Holy Spirit full reign in my life am I empowered to resist the urge to snap and rev into explode mode when I see a towel on the bathroom floor. But I dare to hope that as I write it down day by day, God's Word will gradually have its way in me.
Now it's your turn: Ever have hot mess moments when the word of God goes out the window? What helps you to keep it present in your mind?
If you want to give journaling a try, here's a tip and ideas for supplies to help you get started.
Tip: choose a journal or notebook with thicker paper to prevent ink bleeding through or showing on the other side of the page.
I love these PaperMate InkJoy colored pens. Every time mine run out, I buy a new set. For highlighting in my Bible and embellishing verses or drawing in my journal, I use these watercolor pencils you can use both wet and dry
I personally love the old-fashioned, low-budget composition style notebooks, like the first one pictured below, but the paper in them tends to be thin, so I'm including links to journals with thicker, quality paper: lined (dark brown), bullet journal style (teal), and blank (light brown).
Note: This post contains Amazon affiliate links. If you purchase products through my links, I make a small commission towards the expense of running this site at no extra cost to you.
If you'd like fresh servings of Faith Spilling Over delivered weekly to your inbox, enter your e-mail address in the box in the sidebar. I'd love to send you my free guide, 10 Days to More. You'll find 10 ways to study and engage with God's Word.
I'm linking up with Holly Barrett's #TestimonyTuesday, Kelly Balarie's #RaRaLinkup, Holley Gerth's Coffee for your Heart, Crystal Storms' #HeartEncouragement, and Arabah Joy's Grace and Truth. Check out these communities for more encouragement.