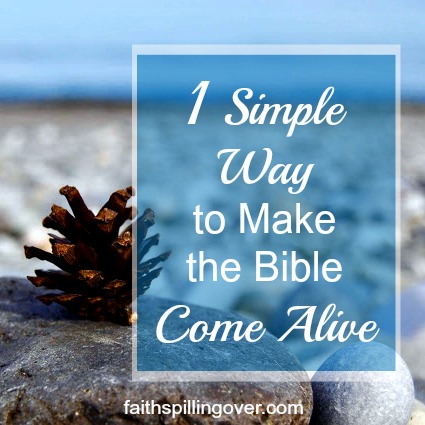 When you try to read the Bible, do you ever feel like it goes in one ear and out the other? It happens to me all the time. In the morning, I'm encouraged by a truth or promise I find in scripture, but by the time I clean up the 5th mess in the kitchen, I don't have a clue about what it was.
After that 5th clean up, if my kids happen to push my buttons, I can snap or throw out a quick retort as fast as anyone. If someone hurts my feelings, I let my joy go down the drain. I don't look at all like a woman who spent time with Jesus that very morning.
How Can I Let God's Word Change Me?
When I read scripture, I want to engage with God and let Him change me, yet most mornings I'm reading His words with only half my mind. I have one eye on the book of Ephesians, and the other on my to-do list. Then there's the temptation to take a quick look at Instagram or the news. I want to let God's Word change me, so I can look a bit more like Jesus and less like a stressed-out Superwoman wannabee. Obviously, the "Read with Half Your Mind" method is not going to help me much, so what's a hopelessly distracted woman like me to do?
To get God's Word into my heart and mind, I know I need to find focus when I read it, yet most mornings I don't have time for serious Bible study. Do you? Maybe we make it too complicated. We think Bible study means diving into a stack of Bible dictionaries and concordances, and we never get around to it.
I may not have time to do elaborate Bible study, but most mornings I can find time to write out one or two verses.
Writing out scripture is a small, simple, yet powerful way to get God's Word in me.
God must think it's powerful too because he gave the kings of Israel these instructions:
Copying scripture sounds mindless, but it's not. Writing out a few verses makes God's Word come alive in so many ways:
The physical act of writings helps you focus on the words and think about them.
Scripture becomes more personal to you.
You're more likely to remember it later.
You make your own record of what you're learning or what God is speaking.
What You Need:
A Journal
Pens in several different colors (In a pinch, you can make do with blue, black, and red.)
About 15 minutes to read a passage, choose a few verses, and copy them.
What to Do
Write your verse, thinking about the words as you go.
Circle, box, or underline significant words or phrases in different colors
You might embellish one word to make it stand out, or include a simple drawing in the margin.
Let the words be your guide for a few minutes of prayer.
Writing out scripture is simple to do, but it's a powerful way to connect with God. For just a few minutes, God's Word comes alive and becomes part of us as we write it out. And that's one small step towards transformation.
Are you looking for a new Bible study this summer?

I wrote 10 Days to More to encourage women to draw nearer to Jesus and to explore different ways of interacting with God's Word. Add your email in the subscription box on the sidebar of this blog. I'll send you a free copy. You'll find encouragement and ideas to spark renewal in your relationship with Jesus. Together, we'll look at a different way to do devotional Bible study each day.