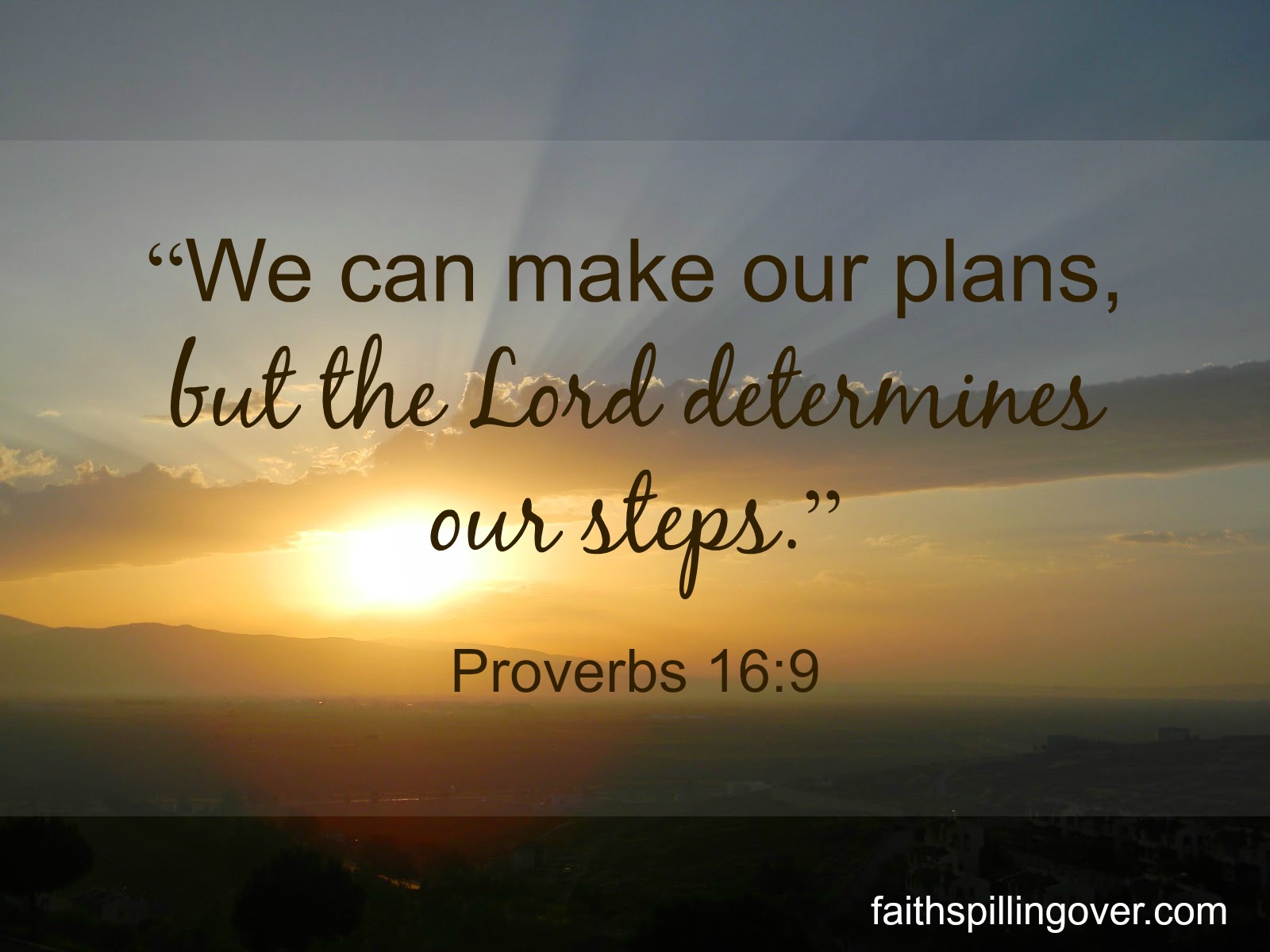 Sometimes life doesn't turn out like you planned it.
I'm an organizer by nature. I love to make plans and jot down to-do lists for my days. But nine times out of ten, my plans don't quite turn out as I expect. I might be barreling along making great progress on my projects when God changes things on me:
The car breaks down.
A child gets sick.
I get an emergency phone call.
A friend needs to talk.
My husband needs help.
I'm sure these things happen to you too. I confess that sometimes it grates on me when things don't go according to my plan. But I want to learn. I want to let go of my plans when it becomes obvious that God's plan is different. I'm learning to adjust my expectations and accept the day as it comes.
God has a plan.
We may not always like the little changes that crop up in our day, but we can trust God's plan. We can trust that God is working out His design to form Christ in us.  His agenda is different than ours.
Sometimes God's plan for us involves more than just a slight change in our agenda for the day. We go through major upheaval when events change the course of life as we planned it, and that's when surrender is harder. When I was single, I planned to start a new job. Instead I got severe rheumatoid arthritis and 6 months of being homebound. When I was 28, I got engaged and planned to marry, but my fiancé changed his plans.  I didn't marry until 4 years and lots of heartache latter.
At times like those, surrender about knocks the life out of you, and you're not so sure that you trust God's goodness after all. Maybe you've been there.
You planned to have your first baby in your second year of marriage, but you did't get pregnant.
You planned to work several more years, but you got laid off.
God is in Control
Whether you struggle with daily glitches that change your agenda, or with major changes that bring heartache, I want to encourage you that God is in control. He has a plan mapped out for you. He sees your struggle, and He has compassion on you. His design for your life is good. Even when you can't understand His plans, you can trust that He loves you and He's planning something more beautiful than you can imagine.
"For I know the plans I have for you," says the Lord. "They are plans for good and not for disaster, to give you a future and a hope." Jeremiah 29:11
Now it's your turn: When was a time when you experienced a change in your plans?
I'm linking up with Kate Motaung's Five Minute Friday. Writers all around the world join in a flash mob of free writing. Five minutes. No editing. This week's prompt is "Plan." Join us over at Kate's place for fun and encouragement. Also joining with Dance with Jesus, Counting My Blessings,. Grace & Truth and The Weekend Brew.
Did you enjoy this post? Subscribe to get fresh servings of Faith Spilling Over delivered to your inbox. Enter your e-mail address in the box at the top of this page.