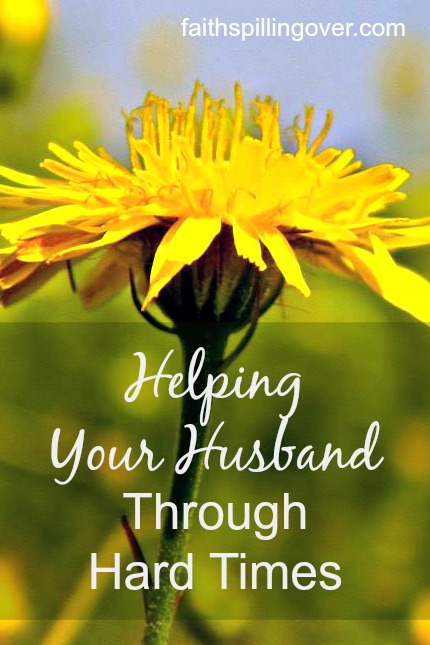 I'm married to an amazing man, so it's easy for me to forget he's not Superman. Jose is one determined, diligent guy. He started his second master's degree at age 45 and finished his PhD at 59. He's dared to do things many people would shrink back from. At 46, Jose left behind the life he knew to start a new job in a new country and learn a 4th language.
He's not afraid of challenges. When God called him to start a new church in our city, I was scared.
I wanted to say, "Um, I like my life just the way it is, thank you very much."
But I knew that if God was giving my husband a vision, He was calling me to support that vision.  What I didn't know was that it would take three years of constant struggle for our little church to finally start growing.
Sometimes the very challenges he embraces can get a good man down.
Like most men, my husband's gone through periods of discouragement. Your life may be different from ours, but your husband has probably faced discouraging times too. Tight finances, illness, and problems at work cause stress. Unemployment undermines a man's confidence.
When a man meets with discouragement, a good wife can help him through it.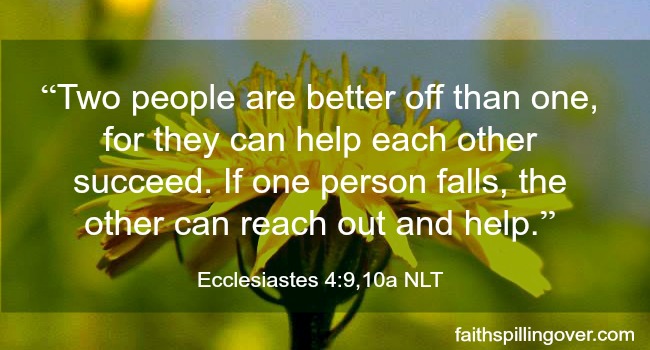 How to Be Your Husband's Helper When He's Down
Stay Positive Yourself
It's hard to see your man suffer, isn't it?  When Jose goes through hard times, I tend to join in and fret. Rather than helping my husband get back up, I end up pulling him down further.  When our husbands are downhearted, that's when they most need us to hold on to God's promises and keep a smile on our faces.
Focus on Christ
A despondent man may be temporarily unable to give much to meet his wife's needs. We need to place lower expectations on our husbands and higher expectations on Jesus. Our Savior meets our needs for love and encouragement like no one else can.
Pray for Him
Our husbands desperately need wives who will faithfully intercede for them. The best way to help your man is to pray for him daily.
Speak Positive Words
Let your husband know what you appreciate about him. Without preaching at him, gently remind him that God is on His side and has a solution to his challenges.
Know When to Keep Your Mouth Shut
This is where I fail. I give too many suggestions about what my husband could do to get out of a rough patch. My husband appreciates a word of advice–particularly if he asked for it—but when I go overboard, it gets to him. Most men interpret too many suggestions as criticism.
Remember the Power of Touch
Don't you find a pat on the back or an affectionate handclasp reassuring? I'll bet your husband does too. A simple hug communicates, "I love you. I care about you. I appreciate you."
When your husband is down, remember that God has given him a great helper: you!
Hang in there and stay positive. Keep praying. Sooner or later, God will see him through, and who knows? The next time you're discouraged, God just might use your husband to encourage you.
Now it's your turn: What do you think is the best way to help your husband through hard times?
If you'd like fresh servings of Faith Spilling Over delivered weekly to your inbox, enter your e-mail address in the box in the sidebar. I'd love to send you my free guide, 10 Days to More. You'll find 10 ways to study and engage with God's Word.
I'm linking up with Holly Barrett's #TestimonyTuesday, Kelly Balarie's #RaRaLinkup, Holley Gerth's Coffee for your Heart, Crystal Storms' #HeartEncouragement, and Arabah Joy's Grace and Truth. Check out these communities for more encouragement.