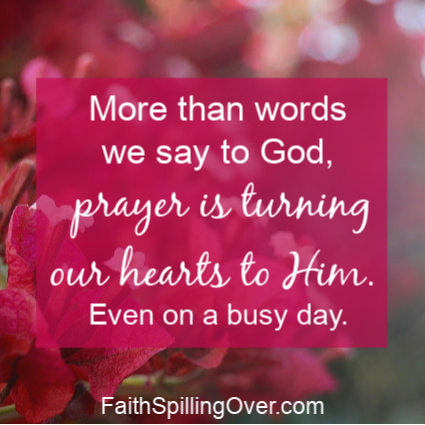 I keep waiting for life to calm down, but it never does. I think I could walk peacefully with Jesus if I didn't have both paid and volunteer work to do, errands to run, a husband, two young adult kids, and a dog.
When Jesus said, "Abide in me," and Paul said, "Pray continually," I don't think they envisioned we'd sit around doing nothing all day, but I'm not sure how to reconcile an active life with praying continually and abiding in the peace of Christ.
I can manage to have a short quiet time most days, but when I'm done, I usually jump up and race through the day. I'm like a horse charging out of the starting gate that just keeps running until the finish line. My finish line comes when I fall into bed at the end of the day.
I need a way to pray when I'm busy.