A friend of mine says more couples divorce over the cap left off the toothpaste than for any other reason.  Her statement is personal opinion, but it makes an important point. We tend to blow little irritations out of proportion!
You may have read in the book of Proverbs about the quarrelsome, nagging wife who's like a constant dripping on a rainy day. The Message translation brings this verse to life: "A nagging spouse is like the drip, drip, drip of a leaky faucet" (Proverbs 27:15, MSG). In fact, Solomon also says the poor Proverbs man would rather live in a desert than with her (21:19).
Unfortunately, I have drippy faucet tendencies. Maybe you do, too. Our husbands bring home the wrong brand of detergent from the grocery store, and we let them know. Drip. We see the toilet seat left up, and we remind him one more time. Drip, drip, drip.
All those little drips tear a man down.
My husband Jose is faithful and responsible. He demonstrates love through serving and speaks calm into my chaos. To give you an idea of the kind of man he is, let me tell you about Bad Breakfast Wednesday. Jose usually makes breakfast, but Wednesdays are my turn. One Wednesday I was running late. I let the oatmeal boil over, dropped a raw egg on the floor, and turned into a ranting, hot mess.
My husband quietly picked up a dish rag to help me. Then after breakfast, he helped with the dishes. Even though Wednesday wasn't his turn.
Instead of tearing my husband down, I'd rather seek to build him up.
Is my husband perfect? No. He has bad days. He makes mistakes and forgets things. But when I'm busy noticing every little thing he does wrong, I miss the bigger picture of all the good things he does right.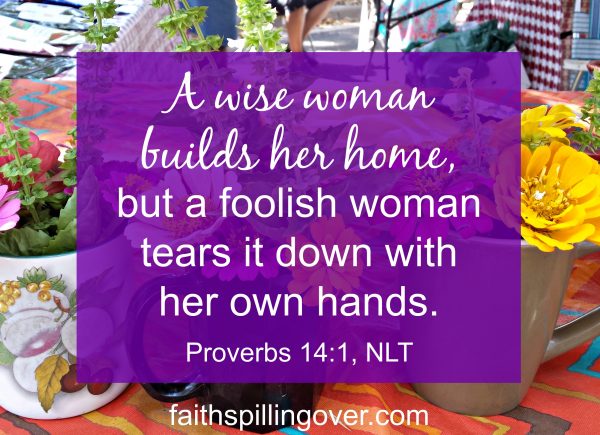 I don't want to be that quarrelsome, nagging wife who points out every little shortcoming. Instead, I want God to help me recognize areas where I need to grow myself. Instead of tearing my marriage down, I'd rather work to build it up. So, I'm asking God for grace to take one simple step:
Let Go of the Small Stuff
You know the small stuff you need to let go of. All those little quirks and things you wish were different about your husband:
He wears an old t-shirt and jeans instead of the new clothes you bought him.
He forgets to take out the trash.
He doesn't notice your new haircut.
What would happen to our marriages if we decided for one week to zip our lips and not mention the small things that drive us crazy? Instead of blowing small irritations out of proportion, let's be proactive to do two things to build our marriages up:
Focus on the Positive
Let's go on a treasure hunt for our husbands' positive qualities. What were the positive qualities you loved when you married your husband? What do you like about him now? What evidence do you see of his faithfulness and service at work or home? What do you appreciate about him as a father?
Communicate Your Appreciation
How about letting him know what you love and appreciate about him? Thank him for the things he does around the house. Write a note, send a text, cook a special meal, or tell him how much he means to you.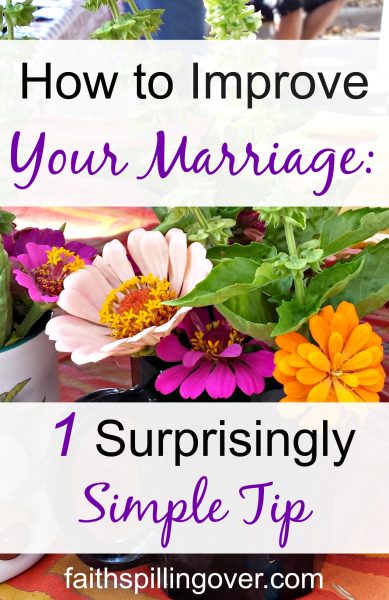 The surprisingly simple tip for a better marriage is "Let Go of the Small Stuff."
It's so simple, yet we all know that when your husband breaks your favorite coffee cup or forgets your date night, letting it go is hard. How about trying it for one week? Let's keep our lips zipped when it comes to faultfinding, and express appreciation for positive things instead. Will you join me?
Now it's your turn: Do you have any drippy faucet tendencies? What do you appreciate about your husband?
Note: This is re-edited from my archives.
These Resources Can Help Build Your Marriage:
This post contains Amazon affiliate links. Purchasing through my link helps me earn a small commission towards the maintenance of my site at no extra cost to you.