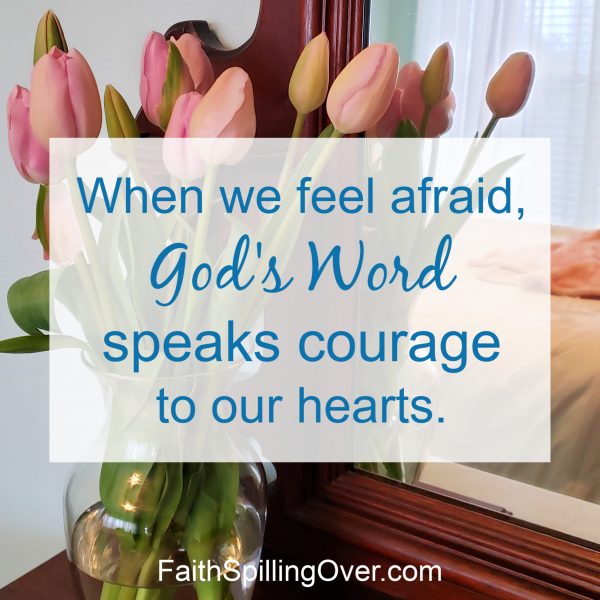 My heart lurched as I saw the police standing outside the door of our home in the Middle East.
"Where have you been all day?" they barked. "We've been waiting for you."
Our family had attended church and gone out with friends. (How could we know the police were looking for us? And what on earth did they want?) I tried to steady my nerves as Jose and I invited them into our living room.
"What are you doing here in Turkey?" they asked.
I started sweating bullets and prayed the Lord would give us wisdom for what looked like an interrogation. Although my husband and I had moved to Turkey to open a business, our main motivation was to share the love of Christ.
We loved making friends with our new neighbors and enjoyed the plates of stuffed grape leaves and baklava they brought to our door, but we also lived with constant low-grade anxiety. What would happen if people discovered why we were really there?
You may be living with low-grade anxiety yourself, friend.
The Covid-19 crisis has brought a backdrop of uneasiness into our lives, and on top of that, many of us face difficult circumstances we can't control. When the cancer comes back, you pray the chemo will do its job this time. When you lose your job, you wonder if unemployment will see you through until you find another one.
Whatever our circumstances, Scripture offers encouragement to quiet our fears.
When I feel afraid, I find encouragement from an Old Testament prophet.
Daniel faced fear multiple times during his years living as a displaced Jew in Babylon. He must have felt afraid when he refused to eat meat sacrificed to idols, when his friends refused to bow to the golden statue, and when the king threw him in the lion's den for praying to the God of Israel.
In Daniel 10, we see the old prophet trembling with fear. After seeing a vision of war against God's people, he fasts and prays for three weeks before receiving an answer from God in the form of an angel.
Daniel had seen a fearful vision from God, but often you and I are battling visions of our own making:
What if she doesn't like me?
What if my teen wrecks our car while learning to drive?
What would happen if I got the Corona virus?
Let's listen in on these words the angel spoke to Daniel:

I see 3 truths to help us when we feel afraid:
1.  We are greatly loved.
The first thing the angel tells Daniel is "You are greatly loved."
Friend, you and I are greatly loved by God. No matter what we face, we can trust God's steadfast love. We can rest knowing He treasures and cares for us as the apple of His eye. Nothing that happens in our lives can separate us from His perfect love that casts out fear.
2.  God's presence strengthens us.
The angel's touch strengthened Daniel.
Perhaps God sends angels we never see to stand by our side, but we also have something even better: the constant presence of the Holy Spirit. Friend, the very presence of God lives inside you, and you will get through your present challenge with the strength His Spirit gives. God's touch will strengthen you.
3.  God's Word quiets our fear.
The angel's words gave Daniel new strength and courage.
God's Word does the same for us: It renews our courage and gives us hope. When we feel afraid, let's turn to it. The Bible reminds us God is for us, not against us. He has plans to bless us with a future and a hope. Scripture speaks the same word to us as it did to Daniel: "Fear not, peace be with you; be strong and of good courage" (Daniel 10:19b).
Back to our police visit in Turkey, things calmed down when I passed around a plate of chocolate chip cookies. We realized the police questioning was a regular follow-up to our residency application; this same routine would repeat itself many times during our 16 years there. All was well.
All will be well with you too, friend.
You may feel afraid, but take heart. God sees you and hears your prayer. You are greatly loved. Your Heavenly Father's touch will strengthen you and calm your fears. His Word will speak courage to your heart. God is for you, not against you.
Now it's your turn: What kinds of situations make you feel fearful? How do you find courage in the Lord?
Are you facing the challenges of life on an empty tank? Need help renewing your relationship with God?