Like many of you, I experienced total shock when I went to the grocery store and saw empty shelves. We've never seen this in our lifetime, and many of us are struggling with fear, anxiety, and panic. We wonder how we will weather the crisis we're living, but God remains our present help and refuge. I'm reminding myself that His love endures forever!
We may run out of certain supplies during the present Covid-19 crisis, but we have an unending supply of encouragement in God's Word. The hope and wisdom Scripture offers will never run out. Even when we feel desperate, when kids cooped up at home are driving us crazy, or when we're worried about our jobs and future, God's Word has eternal principles to help us weather any crisis.
I'm trying to remember that Jesus Christ is the same yesterday, today, and forever. The same basic Christian life principles that have enabled me to live with hope so far will not fail me now. I wanted to share these with you in case you could use some encouragement about now:
Look to the Lord
"I keep my eyes always on the Lord. With him at my right hand, I will not be shaken." Psalm 16:8
Friend, let's keep our eyes on the Lord and remember He is with us. It's so easy to get caught up in the scary events of each day, but staying glued to the news on our phones and televisions can suck us into a black hole of worry.
When we feel worried, let's turn to the Lord and pray that He will keep us close and care for us. When we feel lonely, we can call on Jesus to show Himself to us. Let's keep our eyes on Jesus. He sits enthroned above any crisis, and His faithful love never leaves us. Let's look to Him today.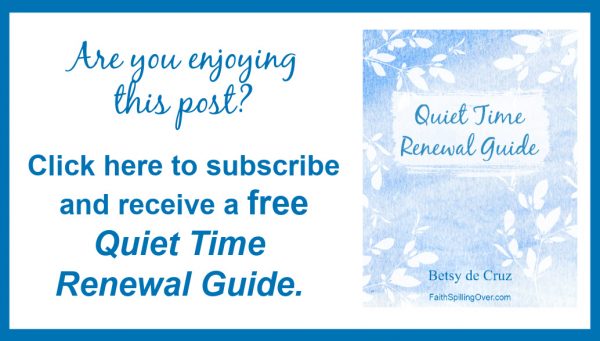 Trust the Lord
"Blessed is the man who trusts in the Lord, whose trust is the Lord. He is like a tree planted by water, that sends out its roots by the stream, and does not fear when heat comes, for its leaves remain green, and is not anxious in the year of drought, for it does not cease to bear fruit." Jeremiah 17:5,6
So many things could bring anxiety to our hearts right now: job insecurity, the stress of empty supermarket shelves, and the worry over how our kids are going to make it through the school year. Yet none of this takes God by surprise. None of this changes God's plan to bless us and give us a future filled with hope.
The Bible contains powerful promises for those who trust God. We don't have to fear a time of crisis because we know God will continue to show us faithfulness and steadfast love. He is the Promise Keeper. Let's trust Him.
Praise the Lord
"I will exalt you, my God the King; I will praise your name for ever and ever. Every day I will praise you and extol your name for ever and ever. Great is the Lord and most worthy of praise; his greatness no one can fathom." Psalm 145:1-3
Just yesterday, I realized my mind has been so stuck on the Corona virus crisis that it hadn't even occurred to me to continue offering praise to God! Yet He is still the eternal, unchanging God who keeps His covenant with His people and shows them steadfast love and mercy. His goodness never runs out. He is our rock and our refuge now and forever. Let's praise Him today.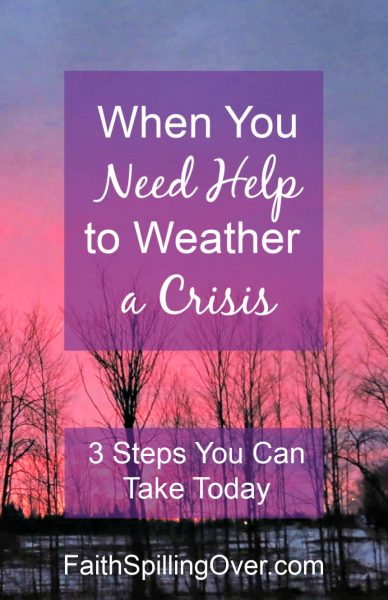 Let's practice our faith today, friends. We may feel like crawling under a rock, but let's grow our faith muscles and practice looking to God, trusting God, and praising God. He is with you today, and I promise: He will help you weather this crisis.
Now it's your turn: What is helping you weather the crisis? How are you doing?
A closer relationship with God can help us combat fear like nothing else can. I wrote More of God: A Distracted Woman's Guide to More Meaningful Quiet Times to help overwhelmed and distracted women recover a fresh sense of God's presence, learn to hear His voice, and grow their prayer lives. Click on the image below for more info: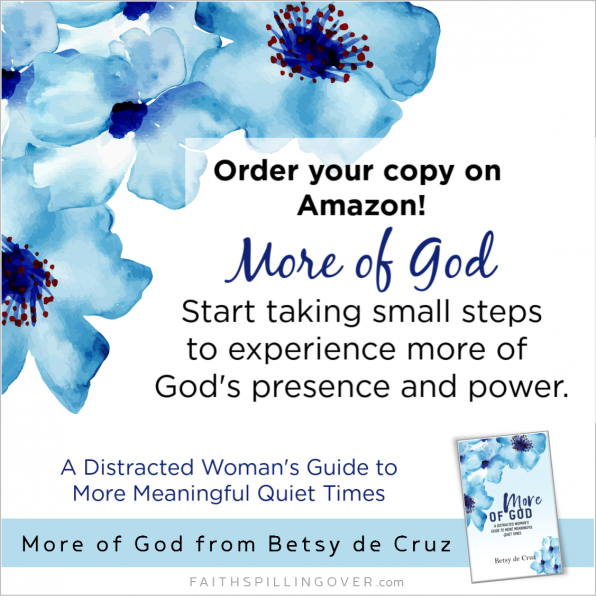 Are you facing the challenges of life on an empty tank? Need help renewing your relationship with God?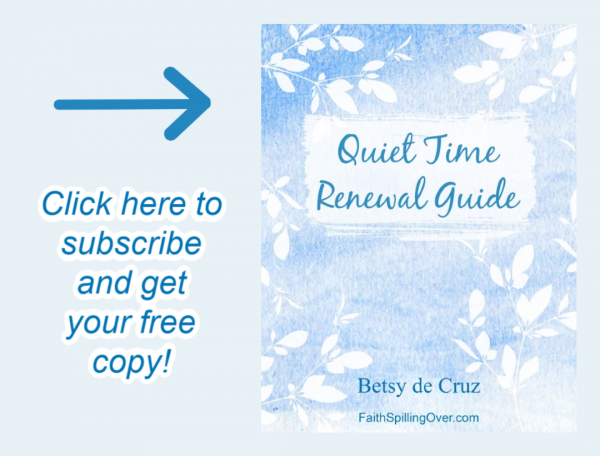 Note: This post contains an affiliate link. If you purchase, I receive a small commission towards the upkeep of this site, at no extra cost to you.