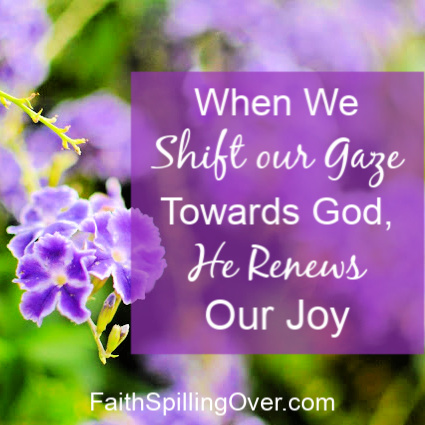 My husband and I embarked on the craziest, most impossible faith venture of our lives. Ten years ago God called us to plant a new church in a Muslim city where, humanly speaking, no one was interested in the gospel. We had no idea what we were getting ourselves into, nor how much we'd need to shift our perspective towards God when things got hard, fast.
We left the warm security of the church where we'd served seven years to start a Sunday Bible study meeting in our living room. The only people crazy enough to join us were a newly arrived Mexican couple who couldn't speak the local language yet.
Sunday after Sunday we'd sit on the living room couch and stare at each other, wondering if anyone we'd invited would come.  Visitors rarely joined us. We were 9 people, if  we counted the kids.
Not exactly a shining start.
Yet we prayed fervently, with great expectations that God would break through and change our situation. Of course, He would! Didn't God want more people to come to Christ in our neighborhood? We prayed and we hoped.
Can you relate to hoping and praying God will change your situation?
Maybe you're praying for a new job or new life in your marriage. Maybe you're praying for healing or even just for God to lift discouragement off you and give you fresh hope again. When we pray and don't see the answers as quickly as we'd like, it's easy to lose perspective, isn't it?
In my difficult ministry experience, it only took about 5 weeks for discouragement to set in. My faith plummeted; I lost perspective and started questioning God. Why wasn't He answering our prayers? Had we even heard Him in the first place?
I couldn't see God coming through for me, and maybe right now, you can't see Him either.
Sometimes We Need to Shift our Perspective
The second year of our church planting effort, I was wallowing in the depths of despair—not really living the Christian superhero life—when I had a lightbulb moment. I realized I was looking at my whole life through the lens of whether our church plant was succeeding or failing.
I needed to shift my perspective away from my situation and towards God.
Regardless of how our church went, I needed to look to the Lord and leave the results of my work to Him. No matter what, I could find joy from being His child. (You'd think a Christian worker would have already known that, but I didn't.)
When It's Hard to Change Your Focus
If you're in the middle of a tough situation and all you can see is what is going wrong in your life, my friend Abby McDonald has written a book to help you:
The book Shift is about Changing our Focus to See the Presence of God in the middle of our problems. Especially when we're not seeing God work the way we hope." Shift explores the life-changing truth that when we adjust our lens to focus our eyes on God Himself rather than on what we wish we were seeing in our lives, He reveals Himself to us and to those around us."
If you're struggling right now and wondering why God isn't changing your hard circumstances, the book Shift will help you see Him with fresh eyes. Like a friend, Abby comes alongside us and weaves real life stories into her message of hope. Shift encourages us to seek God in the middle of our struggles and focus on His presence with us.
As I think back to our church-planting experience, I realize God did, indeed, work a miracle. Four years after starting, we gained legal status and a public meeting place. We grew from 9 people to 30. It sounds small, but given our location in the Middle East, it was a small miracle!
However, the greater miracle happened inside me. I learned to shift my perspective towards God and find joy in Him despite the challenges I was living, and that lesson still serves me today.
I highly recommend Abby's book, but whether or not you buy it, will you do something today? Will you pray to ask God to help you shift your gaze towards Him?
Prayer: Lord, I don't always understand why things happen the way they do, but would you help me today to turn my eyes away from my circumstance and towards you? Help me to see you more clearly and sense your presence with me today. In Jesus' name, amen.
Now it's your turn: Have you had a tough experience lately where you needed to shift your focus back toward God? What did you learn through it? 
Are you facing the challenges of life on an empty tank? Need help renewing your relationship with God?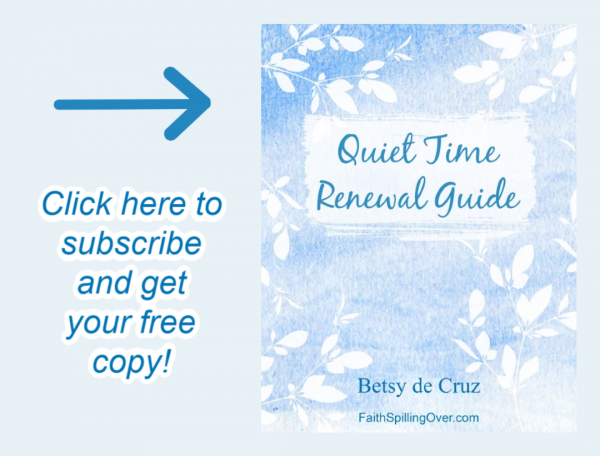 This post contains an affiliate link. If you make a purchase, I earn a small commission towards maintaining this site, at no extra cost to you.
Photo Credit: Melika