One of my favorite things about summer is the mindset of taking more time to read. As a pre-teen, I'd ride the bus to the cool, air-conditioned library downtown and spend hours there, returning home with an armload of books.  Books were my best friends during the long vacation.
Now as an adult, I have a harder time finding opportunity to read, even in the summertime. People talk about how summer is the perfect time to read, and although I love to imagine myself out by the pool reading under an umbrella, that opportunity doesn't always come as easily in real life as in my imagination.
Today I want to share 3 tips to reading more and a summer list of some of my favorite books.
3 Tips to Reading More:
1.Make reading part of your bedtime routine. For years I told myself I didn't have time to read, but I noticed my husband: each evening before bed, he reads for ten minutes. Those 10 minutes add up to 10-12 books a year.
2. Take a half hour to read on Sunday afternoon. I started doing this last spring in an effort to rest more on Sundays. Instead of using Sunday afternoon to catch up on chores, I try to read and take a nap. I've been amazed at the difference it makes in how I feel Monday morning.
3. Take a book with you to the doctor's office, the dentist, wherever waiting is involved.
9 Books to Encourage your Faith and Help you Grow:
Heather Holleman surprised and delighted me with an inspiring, original message I'd never heard before: God has already seated us with Christ in the heavenly realms. So therefore, He has freed us from the pressure to seek beauty and wealth, or prove our worth through achievement. He makes us radiant as we adore Him, access His heavenly riches and seek to abide in Him.
I can't recommend Seated with Christ highly enough! It's a life-altering message based on Ephesians 2:6.
This book will boost your faith with inspiring true stories and challenge you with a 2-verse Bible story you never noticed about a guy who killed a lion in a pit on a snowy day. It will encourage you to pursue the dreams God has placed in your heart.
I wrote this book to help busy, distracted women take small steps to let more of God into their day so they can experience more of His presence and power. More of God is a distracted woman's guide to more meaningful quiet times, but it will also help you walk with Jesus all day long. You'll find inspiration and practical steps for drawing closer to God.
If you'd like to read my book with a small group, you can find discussion questions here.
"Whether you're in the midst of a major life transition or are weary of the low-grade anxiety that daily life can bring, Emily helps create space for your soul to breathe so you can live life with God at a gentle pace and discern your next right thing in love." (from the cover of the book)
This book revolutionized my view of Sundays and Sabbath rest. (It's the book that inspired me to start reading and taking naps on Sundays!) If you're feeling frazzled, overcommitted, and weighed down by life, it will help you find refreshment in God.
If you feel worried and stressed, or could use some calm, this book will help you find renewed peace and joy. With humor and wisdom, Max walks us step by step through Philippians 4:6-7; he gives us practical tools to leave behind anxious thoughts and rest in God's sovereignty, mercy, and presence in our lives.
Katie Reid's new book is good news for busy and tired women! Katie gives us a fresh slant on the story of Mary and Martha from Luke 10. Instead of reprimanding us modern day Martha's for not being more like Mary, it encourages us to embrace the way God created us and find new rest and grace for living in Him.
Ginger Harrington's book Holy in the Moment encourages us to make daily choices to Believe, Choose, Love, Abide, Surrender, and Rest in God moment by moment. Ginger's transparent sharing about her battle with anxiety pulled me in from chapter one. If you feel overwhelmed, anxious, or burned out, this book will help you find refreshment and renewal.
The Spirit-Led Heart by Suzanne Eller reminds us we have a Helper and shows us how to receive that help God wants to give us. It encouraged me to walk in a closer relationship to the Holy Spirit and let Him empower me, show God's love to me, and guide me to impact the people around me.
I treasured reading these books. Each one encouraged my walk with Jesus, and it's a joy to share them in hopes that you'll enjoy them as much as I did.
Now it's your turn: What book are you reading right now?
Are you facing the challenges of life on an empty tank? Need help renewing your relationship with God?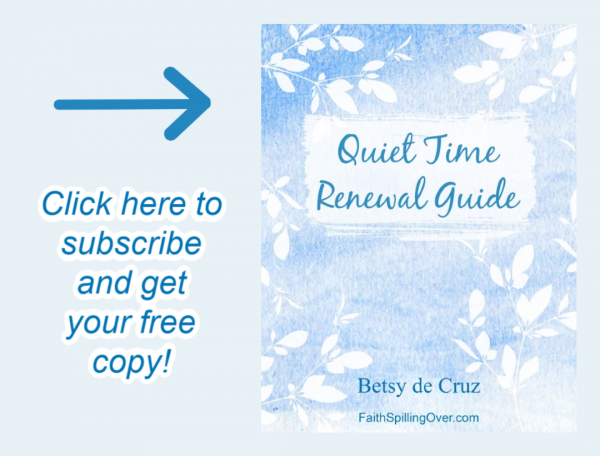 Need ideas on how to get more out of your quiet time? I wrote More of God: A Distracted Woman's Guide to More Meaningful Quiet Times to help overwhelmed and distracted women recover a fresh sense of God's presence, learn to hear His voice, and grow their prayer lives. Click on the image below for more info: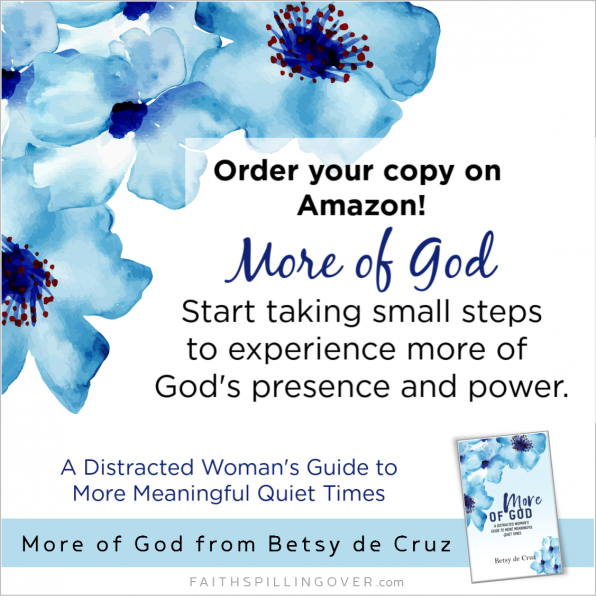 Note: This post contains an affiliate link. If you purchase, I earn a small commission towards the maintenance of this site at no extra cost to you. Photo credit: Melika