Have you ever wondered how you can live a life of joyful, courageous faith when you're shaking with fear and doubt on the inside? Maybe you thought following Christ meant you'd experience less trouble. And you wonder how on earth to rise above the circumstances you're living to find the hope-filled abundant life Jesus promises.
We need a glimmer of hope when life makes us feel like we're in over our head and we're sinking fast. Overwhelmed. Doubtful. Anxious. Sometimes we just need a steady hand to hold us tight and help us find our way again.
That steady hand is Jesus. He is the way, the truth, and the life.
Jesus is the way when we don't know how to move forward.
He is the truth that triumphs over the enemy's lies.
Jesus holds the keys to the life we long for.
We all know we need Jesus, but sometimes we're too shaken up or exhausted to reach for him. Lauren Gaskill's book Into the Deep is a companion to lead us back to Jesus and a renewed faith when we're in over our heads. It helps us find new strength to keep swimming when we feel like sinking.
Into the Deep: Diving into a Life of Courageous Faith encouraged me to remember that with God I can find new strength and joy for my challenges. Even in the hard times, He sheds His light and love into my heart when I seek Him.
Two things about Into the Deep encourage me:
Transparent stories that help us realize we're not the only ones
Lauren comes alongside us and shares her story with humble honesty that's refreshing. She shares doubts you've had, but were too embarrassed or fearful to mention. She openly describes her battle with anxiety and panic attacks, so that others can find the calming voice she has found.
When we read her experiences with physical illness, depression, and pain, we feel a bit relieved to know we are not alone in our struggles. We also know that she's actually lived out her message first hand. Her personal stories pulled me into the book and brought her spiritual lessons to life.
Truth and tools to help us pursue God and build faith
Into the Deep is full of stories and illustrations from Scripture. We read about the faith of Abraham, David, and Jesus. Lauren encourages us to develop a faith like the ancients had by remembering what she calls the three "P"s.
1. Rest in God's Promises.
2.  Ask for Provision.
3.  Resolve to Persevere.
Looking at the life of Joseph, Lauren gives practical guidance on making difficult decisions by faith. From the life of Esther, she gleans wisdom to encourage us to let our light of faith shine before others. Each chapter ends with a prayer and application questions to help us move forward.
Into the Deep is a Voice of Reassurance We All Need
Friend, if you're thinking your challenge is so great that you're not going to be able to make it, Lauren reminds you "even the fiercest storms have an expiration date." This book offers reassurance that God will see you through. His love will carry you, and His Spirit will empower you.
I found Lauren's joy contagious and her courage inspiring. I think you will, too. So, if you are facing challenges and need a companion to help you find your way to a closer relationship with God and embrace courageous faith, go get your copy of Into the Deep.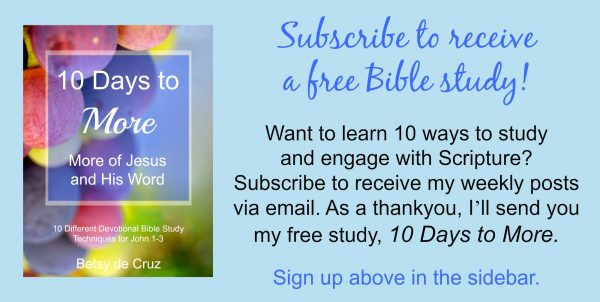 Note: This post contains an affiliate link. If you purchase through Amazon using my link, I earn a small commission towards the maintenance of this site at no extra cost to you.