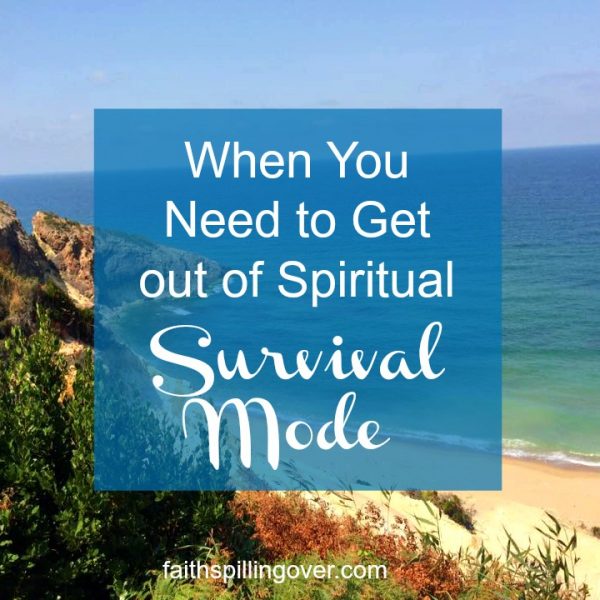 Have you ever noticed how easily survival mode kicks in and you drift into auto pilot when schedules get busy in the fall? Slower summer days are gone, and you start to feel hurried and stressed as you try to adapt to new routines. Driving kids back and forth to school. Juggling new job assignments with family, kids' activities, and sports events.
Overwhelm sets in, and we start to wonder, "Is this the abundant life Jesus was talking about? It feels more like survival."
This fall my plate feels unusually full as my husband and I start a new ministry, and I juggle a new part-time tutoring job with writing. Last Tuesday I noticed my pulse racing and my muscles tensing in the struggle to get stuff done. After dinner when my husband sat down in the living room with a cup of tea, I ignored my own mantra to "Be present to people in front of you." And I continued working doggedly at my laptop. Not the kind of wife I want to be.
It's easy to run out of energy and fall into survival mode, where all we can handle is the minimum to get by. In our work. Around the house. In our relationships with the people we love most.
Even in our relationship with God.
Busy schedules can choke the abundant life right out of our souls, but we have an open invitation from Jesus: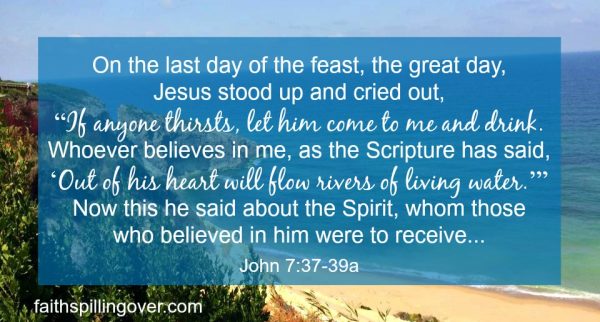 I see three invitations to leave survival behind and step into abundance:
Come to Jesus
No matter what state our heart is in, no matter how grumpy, stressed, or complaining our attitude, we have an open invitation from Jesus to come to Him. Did you notice Jesus only gives one prerequisite? He doesn't say, "Get yourself together, get with the program and come." He says, "If anyone thirsts, let Him come." He waits for anyone who is thirsty, and we can accept that invitation in a myriad of ways:
Going on a five-minute walk alone to be with our Savior.
Turning on worship music in the car while we navigate traffic.
Taking a minute to turn our hearts towards Him in prayer in the middle of a messy day.
Open Your Heart to the Spirit
Not only does Jesus say, "Come and drink, He also gives a promise about the Holy Spirit: "Out of his heart will flow rivers of living water." What if we intentionally open our hearts to the work of the Holy Spirit?
Every once in a while, let's take a moment to pray: "Lord, I need a drink from your Spirit. I open my heart to you. Would you come in and fill me with your love? Bring fresh strength and perspective. Renew my joy and hope today."
Feed your Faith
The passage doesn't say this directly, but did you notice that Jesus quotes the Scriptures to encourage His listeners? The hope and encouragement the Scriptures bring can move us out of survival mode and into abundant life. Even mini-bites of truth can feed our faith.
If you've left Bible reading behind…
How about trying it again for one week? Starting with a short book like Philippians, take the baby step of sitting down for five minutes each morning to read a few verses of Scripture.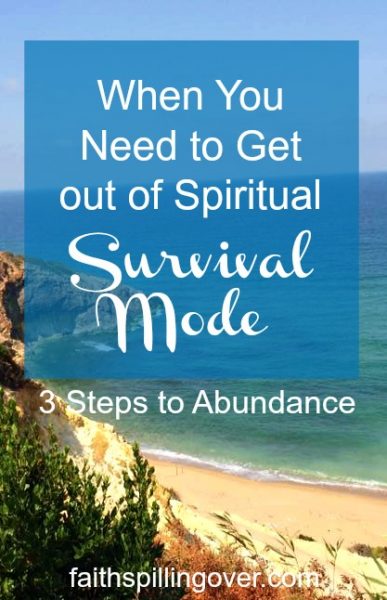 If you're finding your quiet time dull and dry…
How about changing things up a bit? If you subscribe to my blog, I'll send you a free resource, 10 Days to More. In just 10 days, you'll discover more of Jesus and His Word as you read your way through John 1-3, trying a different devotional Bible study technique each day. These short studies will help you find new ways to feed your faith with the Scripture.
When we're feeling overloaded and overwhelmed, we don't have to stay stuck in survival mode.
Even small steps towards Jesus can open the door to renewal. The only requirement is to be thirsty for more of Him. So how about taking a small step to draw near and drink today?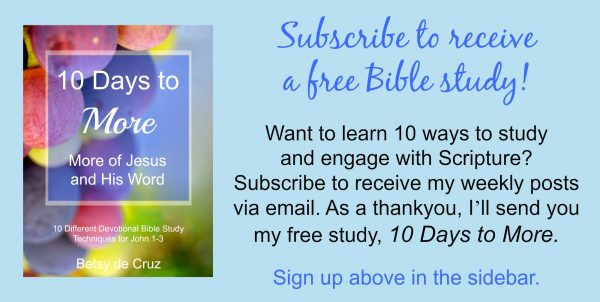 Photo credit: Melika