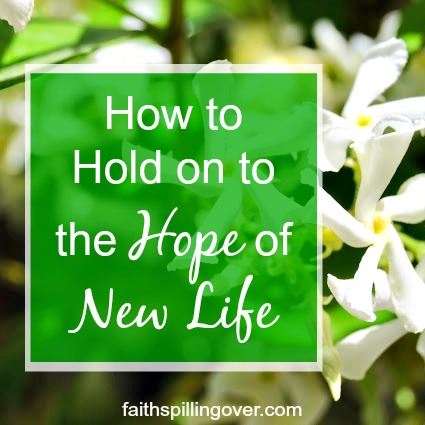 Even though God's people celebrate resurrection and new life at Easter, maybe you feel like you're hanging on to hope by the skin of your teeth? Maybe the hallelujah choruses at church ring empty for you. Perhaps spring's messages of budding trees and flowers haven't quite made their way to your soul.
Friend, maybe you're struggling through yet another family crisis this Easter, and your hope has drained away. Has loss or sickness stolen your joy? Celebrating the Resurrection comes hard when our hope is all but dead. Yet God's Word tells us He specializes in bringing the dead to life.
The hopeful message of Easter is this: your story isn't over.
My story wasn't over when the doctor told me I had rheumatoid arthritis.
That sounded terrible to a 27 year old who could hardly walk because it hurt too much. Months of being unable to do anything but the simplest tasks had eroded my hope, and I wondered if I'd ever have a normal, pain-free life.
Yet a year later, God mysteriously healed me. And today I'm a walking miracle. We can all look back at God's redemption stories in our lives, but when we're in the middle of a hard story now, holding onto hope is hard, isn't it?
Jesus' story wasn't over when He hung on a cross dying.
And it wasn't over when He was laid to rest in a tomb. God had already planned a miracle so astounding that no one could have imagined it. That one death was going to result in eternal life for countless millions of people.
Even if sickness, loss, or heartbreak has left you heartsick this Easter,  your story's not over.
How do you hold on to the hope of new life while you're waiting for God to work?
1. Rest in God's Resurrection Power
We don't have to work in our own strength to solve our problems. The same power that raised Jesus Christ from the dead lives in us.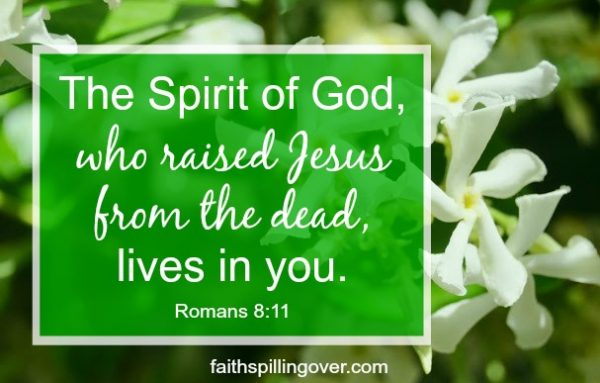 God's word tells us He is able to do immeasurably more than all we ask or imagine, according to His power that is at work within us. Friend, when you feel weak, remember that God's power rests on you. Whatever your situation, God's power will enable you to take that next right step. Your next right step might be:
Making that hard phone call.
Getting up out of bed.
Going to the doctor one more time.
Spending 10 minutes reading God's Word to fuel your faith.
2. Remember Redemption
Let's remember God has already redeemed us.
Colossians 1:13-14 says, "He has delivered us from the domain of darkness and transferred us to the kingdom of his beloved Son, in whom we have redemption, the forgiveness of sins."
Our redemption from the grip of sin and death holds a promise not only for eternal life, but also for the here and now. No matter how hard the situation we're living, we can always look forward to redemption because our God is in the business of restoring, redeeming, renewing. Throughout Scripture, we see God redeeming His people from slavery, reaching out to restore, rescue, heal, and deliver. That gives us the hope that He'll do the same for us. He can turn any situation around for our good.
3. Keep Company with Christ
While we're struggling to walk in God's resurrection power and waiting for Him to redeem the hard things in our lives, let's keep company with Christ. Revelation 3:20 tells us He stands at the door and knocks, waiting for us. Let's open our doors wide and let Jesus in. Let's keep our eyes and hearts fixed on Him as we go about our day, and let's turn our worries and fears over to Him, one at a time as they come up in our minds.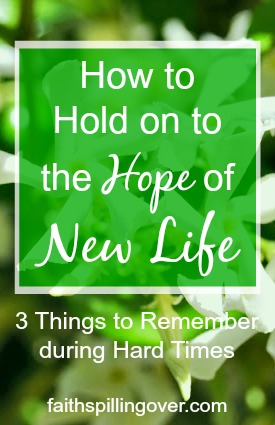 Your story's not over yet, friend. No matter what circumstance you face, God can redeem it.
So if you're hanging on to hope by the skin of your teeth this Easter, take heart and breathe in deep. Your story's not over. Your Redeemer lives. He's making something far more beautiful out of your life than you could imagine. He is a God of miracles who brings new life out of death.
How has God rescued and restored you in the past? How does remembering that help you hold on to the hope of new life today?
If you'd like fresh servings of Faith Spilling Over delivered weekly to your inbox, enter your e-mail address in the box in the sidebar. I'd love to send you my free guide, 10 Days to More. You'll find 10 ways to study and engage with God's Word.
Linking up with Jennifer Dukes Lee's #TellHisStory, Holley Gerth's Coffee for your Heart, Crystal Storms' #HeartEncouragement,  Brenda Bradford Ottinger's #ChasingCommunity, Lyli Dunbar's #FaithonFire, and Arabah Joy's Grace and Truth. Check out these communities for more encouragement.